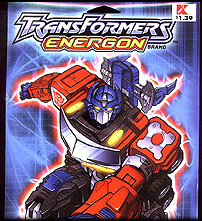 TransFormers Energon Valentines Review Capsule
Not as amusing as some other offerings, but notable this year were the TransFormers Energon Valentines. Eight designs and 10 stickers in a box for a little over a dollar. Fans will take note that instead of the typical Dreamwave art used for these toys, these items use very early pre-release art for the figures that were rarely used during the Energon product line.
Overview
TransFormers Energon Valentines, being based off of a current property, do not pack the high octane kitsch that some other sets would offer. Still, due to the unusual artwork and in many cases amazingly vague phrases, we find these to be funny.
These unusual items come in a small box that's far thicker than it needs to be. 32 valentines (4 each of 8) and 1 sheet of 10 stickers are included.
Valentines
The set has four sheets of eight valentines. You can cut them up or leave them on a sheet or give them to your sweetie, or scan them and use them as avatars on some message board. Just don't link to them on my server again.
You know the deal-- click them to see the full image. We were largely impressed by the fact that such a thing existed, as such we had to drop the couple of bucks.
What you see is pretty much what you get. The sayings are somewhat amusing because odds are these are given by small children to other small children in an awkward situation that elementary school teachers and parents believe is adorable. Meanwhile, the kids dread it-- hence the usefulness of a valentine that reads "You're High-Voltage!" or "You Rock!" rather than "Let's do it, baby!" Of coures, "Have an Action-Packed Valentine's Day!" is a great one, mainly due to the fact it doesn't imply who will be supplying said action. Kudos on a vague greeting, American Greetings!
TransFormers fans will also undoubtedly enjoy the premise of fan-favorite Strongarm appearing on a valentine. Hey, we do. Strongarm is the bomb or whatever the kids say these days.
Stickers
The set also comes with a small sheet of stickers. Seven characters, three faction logos, and nothing especially great to make you feel you absolutely need to have these. If you want/need Energon stickers though, these are a good deal for what comes in the box.
The selection is small, but that's OK-- the art ain't all that great in the first place. It focuses on the main characters and we assume the first characters to have been designed for Energon, and the fact two combined mode characters are shown here will undoubtedly delight at least two fans. Not us, though, we're beyond that at this age.
Packaging
The box design is a good one-- we spotted this while walking into a Kmart out of the corner of our eye, not even looking at it. That's good packaging.
Unlike other sets, the packaging strives to match the character colors well and doesn't try to do anythiing too goofy to confuse the eye. Which is a shame-- we saw the Godzilla ones a mile away and these didn't stand out in the slightest.
Fin
It's hard to evaluate a product like this. We mostly present it here for our own personal amusement because it's an item most fans likely will not think about, ever. It's cute, but not exactly an essential addition to any collection. Still, the stickers are nice, no?
---
Text and photos by Adam Pawlus
Review posted on February 14 2005
Sample purchased from a K-Mart for like a buck and change, February 2005.