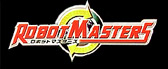 In Japan, TransFormers are rarely the force they are in the USA, but some characters are really popular, while repaints are cheap to make. Enter Robot Masters, a new line with few completely new designs, but a lot of striking repaints and new weapons for all figures. Filled with small, cheap toys, Robot Masters is shaping up to be a great line for those who like to think small, because it seems the toys just aren't going to get all that big-- few top the average height of an American $10 Energon toy. In Japan, the names of the factions really didn't change like they did in the USA-- and as such, they use the normal Japanese names instead of a mix of Maximals and Autobots.
| | | |
| --- | --- | --- |
| DESTRON | vs. | CYBERTRON |

Much like how TransFormers Universe is about repaints in a new storyline, Japan saw the opportunity to make a mountain out of a molehill with Robot Masters. For the initial batch of toys, 10 releases hit stores, only two of which were completely original molds-- and one of those molds was already repainted! The story is fairly simple in that it has to do with time-hopping Beast Megatron coming to some time around the present day to mess around with Earth and its resources, and Beast Convoy (aka Optimus Primal), Starscream, and even the original Convoy (Optimus Prime) show up-- and a bunch of other old Japanese leaders are on tap for the future.

Since the line is essentially Takara's attempt at Universe, Hasbro said they probably won't be importing these. At Comic-Con International 2004, we were told there were no plans to bring any of them over, and at the Official TransFormers Collecting Convention the following weekend, designers said they probably wouldn't bring over any new molds but perhaps repaints might show up if they made sense.
Right now, like Universe, the storyline for these toys seems confined to print, or more accurately, the comics shown in the little catalog that comes with them. Since the line focuses on smaller toys, it seems like there's ample opportunity to please fans with repaints of figures to look like other figures, or opportunities for smaller molds of popular older characters. So far, we've seen a G1 cartoon-friendly Starscream, and a Machine Wars-era mold repainted to look like Mirage from the classic line named Reije.
There are dozens of excellent sources for additional information on these robots in disguise on our link page. To find out current and upcoming product, please consult our checklist. As an added bonus, we included a little information about each character as well as a list of characters for a Fan's Choice poll that was held in Japan in 2004... which may be moot, as a few of the figures were more or less "confirmed" a week later.
Pages last updated March 6 2005.