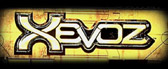 Toy Fair 2004, New York City
Mere weeks after Xevoz toys first started selling at Toys "R" Us stores in January 2004, Hasbro unveiled a number of new items in ther New York Showroom on Valentine's Day (or President's Day) weekend in February. While we weren't sure of the names of these toys at the time, we did snap a bundle of pictures an all of the items in that showroom were found on American toy store shelves, somewhere, by August 2004.
While we didn't see names, or really know where the line was going, (or know what it is we were looking at,) we did snap some images with our trusty-but-not-so-good digital camera. While the Alpha Ranger, Skull Jack, and Razorclaw figures were available the rest of the line was seen for the first time in this showroom-- without any names for us to go on. So these pictures sat in the bowels of our ancient and beloved G3 tower until very late Summer of 2004 when we launched this section.
Hasbro was banking on getting the line some press, as they gave out free Alpha Ranger toys to the army of reporters that came through their showroom that week. As the line was still brand new at the time, and its initial appearance in stores received little to no fanfare, it was nice to see a small push for these new Stikfas-based action figures.
The 16bit.com Staff and our friends got a look at the figures before the show and as we were all (and are) lazy people, we asked the Hasbro folk at the show how the game works. And while they were kind enough to explain the concepts behind the Battle Helix and Power Glyphs, well, we're gamers of the video variety so we usually just sit back and enjoy the toys for what they are, even though there's a sizable game aspect to this whole thing.
Comic-Con International 2004, San Diego, California
Later in 2004, Hasbro showed off a number of items in San Diego, California during Comic Con International. While technical difficulties prevented us from getting pictures, we did make a note of the new items which were introduced at the show. They were: Infil-Traitor, Thunder Shaman, Frankenpunker, and Hyper Guardian. The Firedrake vs. Rune Slayer two-pack was also shown, and Hasbro gave out a promotional comic book, Xevoz #0.
A large portion of Hasbro's floorspace was devoted to the line, along with Star Wars, TransFormers, and G.I. Joe. In addition to having nearly the entire known line at that point in time on display, the Hasbro folks brought in huge tubs of Xevoz parts for kids to play with and assemble in a variety of configurations in a table near the middle of the booth.
The fine folks over at the Raving Toy Maniac did shoot the Xevoz display case at Comic Con, and you may find their page right here.
---
Pages last updated September 7, 2004.