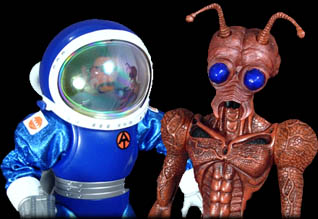 The Secret of Planet Xenome Review Capsule
Available in multiple flavors, The Secret of Planet Xenome is nifty throwback to the old Adventure Team line of large-scale Joes as well as old-school science fiction toys. With two big figures for $30, it's easy to like-- and even easier to like since we found ours at a grocery store for $15 a whack. This review focuses on the variant with the "Latin" Astronaut and the red Alien creature.
Overview
One of the nicer things about Hasbro's Adventure Team subset is that they decided to add some really neat accessories, like an octopus, a Yeti, or a huge friggin' aligator. In this case, Hasbro opted to include a second full-size figure. In the 1970's, Hasbro focused on Joe's adventures rather than his military exploits, and this fun series of figures attempts to do the same with 21st Century toy technology.
| | |
| --- | --- |
| | |
This set includes the red alien figure, the Latin astronaut with a beard and fuzzy head, removable helmet, rocket, rocket launcher, a jet pack, and removable armor.
Note: the aliens and figure ethnicities appear to come in seemingly random combinations. Yellow and Blue aliens are available with different heads and hands. The astronaut was offered in Latin, African American, and Whitey flavors. Some of these had beards, and the hair color sometimes varied from figure to figure. 16bit.com purchased three samples for review to encompass three aliens and three ethnicities which were reviewed in early 2005.
Figures
Take a nicely posable G.I. Joe figure, give him some giant bulky life support gear and a fancy helmet, and you've got yourself a heck of a nice toy. Add in a nice-- but fairly stiff-- alien creature and you're going to make a lot of space toy junkies very happy.
We won't lie to you-- we're not big fans of 1/6 scale figures. Call us what you will, but plastic representations of humans with cloth parts are often referred to as "dolls" in these parts so on the whole we can't honestly say we're fans of the scale, but The Secret of Planet Xenome really wowed us when we saw the samples at Hasbro's booth at Comic-Con International in 2003. By removing the "science" of "science fiction," Hasbro managed to snag some really spiffy designs here and bring them to you, the nerdy consumer. And by you, we mean us. And we're quite happy.
| | |
| --- | --- |
| | |
The space suit is a nifty blue which feels neat but doesn't seem like it will hold up to heavy play. As such, be careful with your urban spaceman. The body shell is a two-piece component which snaps over the torso, and the helmet has tabs on the side that lock into place. The removable jetpack plugs in to the back of the helmet and the back of the shell, and the end result is pretty spiffy, as you can see. The helmet has a flip-up sun shield, but there's still a protective layer that will prevent him from dying in the cold vacuum of space. Fans of Gumby and Pokey are well aware that not all toy designers consider this when designing the costume and sometimes will be blown right out of their life support gear.
The figure itself has dedicated (read: non-removable) glove hands with an index finger that has been cut so he can hold the included gun. He is highly posable, which is good and bad-- the weight of all the accessories cause his knees to buckle and he's a little tipsy. As such, bring a doll stand to the table for this guy, or prepare to have him lean against something. The costume looks like a toy, and that's why we like it. It's charming, and we daresay a little goofy. The picture really says it all.
| | |
| --- | --- |
| | |
Because Hasbro is cheap In a bold move to save on tooling costs, the Xenome alien comes in three unique flavors that share some molds. The torso, arms, and legs are all the same but the head and hands are unique to each alien. His eyes are a striking, glistening purple and the body itself is mostly red with a black wash over it. The detail on this figure is incredible, but the articulation is somewhat lacking-- two fingers are jointed as are the wrists, neck, hips, shoulders, and that's about it. In other words, he's about as jointed as your average Batman or G.I. Joe Extreme figure. As this highly detailed B-movie throwback is meant to be an accessory and not the selling point, though, this is easily forgiven.
If you buy all of the variants, obviously, you're going to get some repetition, but you're going to get some quality figures too. The accessories ain't bad either.
Accessories
Technically, the alien is an accessory too, but we're focusing on the removable components of the action figure of the astronaut in this section.
The firearm is interesting because it has an Action Man logo on it, and as we're not Action Man-literate, we're assuming this means it's a recycled mold. The body shell seems to be all new, as is the helmet with flip-up sun visor and the rocket pack. These aren't especially colorful beyond the metallic blue, but it matches the body suit just fine and is all kinds of cool. This is quite the feat given that most large figures pride themselves on superb detail and incredible authenticity, and this is a goofy fun space design that's so kitschy it's awesome.
The Action Man style dogtags are pretty cool too, but nothing unique to the set. But here they are for your amusement, and they rest peacefully under the space suit.
Packaging
The Xenome sets come in a fairly nice box with an excellent retro-licious painting on the back. It boasts the alien variants, but really doesn't highlight the unique factors that make the figures different.
The box brings the storyline to light, and makes sure you know full well that Hasbro knows they're paying homage to B-movie aliens and that it's supposed to be cheesy. We think it's cool, though, which most likely makes us huge nerds. If you've read anything on this site before, though, you were aware of this. Also shown: the instruction sheet.
The painting on the back is quite amazing, and we hope to someday locate a poster of it or somehow get the original painting. (We dig it, OK?) Especially notable are the aliens-- take a good look at the close-up on the left there. You can see all three alien sculpts, but they're all in red. We do not know for certain if Hasbro once intended for all three aliens to be red, but we're glad they mixed up the colors a bit and gave us some truly unique releases.
Fin
We thought we missed these at retail and we're glad to say we didn't. We lucked out and found an entire case on clearance and snagged three of them-- and if you see them for a fair price, you may wish to do the same. The aliens are big and chunky, and the astronauts are a lot of fun too. The alien figure isn't too fancy, we'd say it's easily worth $10-$15 based on the size though. The actual astronaut feels like a $15-$20 piece. As a set, it was hard to drop $30 on these, and we didn't-- we got 'em for half price because we fully intended on getting the whole set. If you're only going to buy one or two, $30 is a great price. If you want all three, try and get a sale-- the figures aren't all that different and can be had fairly cheaply on the secondary market.
Fans of unusual space toys or things that are vaguely retro will love this, and it makes a decent toy-- it's somewhat durable and has a lot of neat colorful pieces. Fans wanting authentic space toys should keep looking, though, but one can't help think that Major Matt Mason would approve of Hasbro's Xenome offerings.
---
Text and photos by Adam Pawlus
Review posted on March 5 2005
Sample purchased in February 2005 at Fry's Marketplace for about $14.96