New for 2009 (in Germany, 2010 elsewhere)
A while back, Playmobil Germany updated with a
huge Flash file presentation of its 2009 German line
. It's sorted by month, so you can get a good look at what we'll be getting in the USA
next
year. All of the sets, save for the individually packaged Specials figures, trail Deutschland by a year. So what's in store?
July - Specials
Nothing you haven't already seen in the 2009 US catalog. Diver, dudes with swords, etc.
August - Fire Rescue, Elementary School
While the notion of buying your kids a school seems like handing an ex-con a toy prison, this is a fairly well done collection. The big school set [4324] has a science class, a computer lab, tiny chalkboards, all that stuff. What really caught my eye was a shop class [4326, pictured] featuring all sorts of power tools, and a music class [4329] which has a pair of bongos. Bongo Fury. Awwwww bongo fury... boogie. (Ask your parents. They won't get the reference either.) [Images from
Playmobil.de
]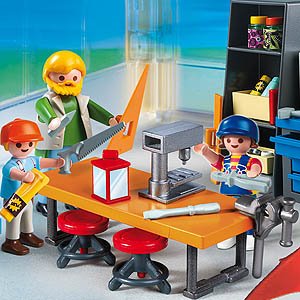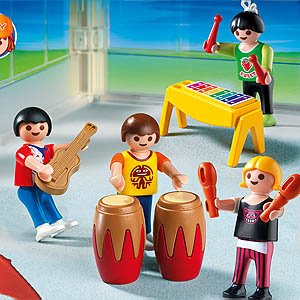 September - Drachenland (Dragonland) & Advent Calendars
These are similar to the sets Target carried last year, but the Dragon creatures and figures are seemingly new designs. Big castles, dragons with LED (light-emitting diode) mouths, barbarians... the works. It's a new fantastical magical line, which, while nifty, seems more like a traditional boy's toy action line.
The new advent calendars feature a stable (horses, donkeys, etc.) and Dragonland (knights, horses, tiny dragon). In short, a good mix.
October - Puppet Theater
This is their new take-along set.
Set #4239
seems to be a greatly expanded concept based on the
4664 Specials set
. It must lose something in the cultural translation, but it seems to be a nifty theater with an alligator and people in stupid hats, which seems to be the basis for all good toys.