2009/2010 Playmobil Themes Revealed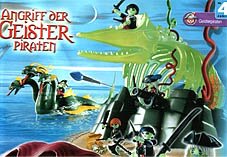 Over on the various Playmobil forums, a number of new sets and themes are being shown. I'd like to point you to
Playmoboard
, as accounts are free and it, like this blog, are in English.
New themes include
Ghost Pirates
and
Merpeople
, or
Mermaid stuff
. The Merfolk line seems like a follow-up to the fairies, only now it's under the sea. Highlights include seahorses galore and new fishy kids. There's also an evil sea witch.
Knights
continues, this time with loads of wolves and a lot of gold elements. Truth be told, I have a hard time discerning this as new, and the sets seem mostly to be on the small side. Aside from some catapults, it's a very redeco-oriented line.
The
Ghost Pirates
are pretty stunning, if you like such things. A giant glow-in-the-dark whale skeleton (unfortunately cast in green), huge clams, a giant manta ray, killer crabs, and a three-headed sea serpent make this a really cool, really supernatural line. A haunted ghost ship rounds things out, complete with tattered sails and a crew of the dead. This seems to build on existing themes, plus brings the giant sea life we've all come to know and love from LEGO's ill-fated Aquaraiders line. I must say, these look like a lot of fun.
The new
Specials
, sadly, are not so special. It appears we're getting a new Mongolian warrior (nice!), but we're getting yet another orange-clad sanitation worker, more kids-with-gifts, and some lady on a floaty pool thing. Where are the crazy awesome ninjas, monsters, and literary figures we used to get? Oh well. Check 'em all out!