Custom Watch: Playmobil Elvis!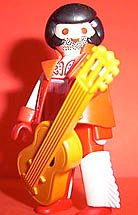 Oh, those crafty Germans. A new find called "King of Rock 'n Roll" is another unofficial figure produced mostly with off-the-shelf parts. While we're not sure
which
Elvis this is supposed to be, the idea is solid.
Obviously, we won't be seeing Elvis in a Playmobil figure until long after he's entered the public domain, if ever, and we'll all be dead by then. So with that in mind, enjoy this item, presently for sale on German eBay by cubbuc2003.
Labels: Custom Fan-Produced Items, Germany