New Flying Knight at Klickywelt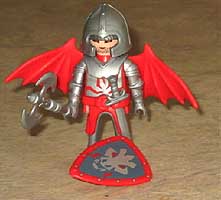 We don't have the full story yet, but
Klickywelt user streuner
posted three pictures of what appears to be a legit winged knight figure. the image shows a pair of wings, and the figure's backside reveals the wings to be removable from the knight.
According to the posts, it appears to be a USA exclusive, but details are few (und
auf Deutsch
.) Click the image to see the thread at Klickywelt.
Labels: Castle