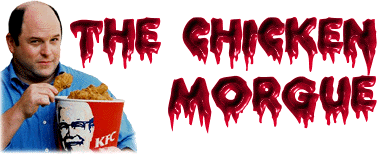 Sometimes, the quest for a cheap laugh has a casualty or two. As the entire group collapsed, that would be everybody.
Bertschy, Zac
Joining right after the first performance, Zac has brought a lot to each MSC performance. Namely, most of the scripts. When you see him, ask him about Hobo Magic. Writer, performer. Today you can see Zac's expertise on anime in a number of publications on the Web and off, and he currently works as a magazine editor in New York.
Bond, Amanda
Cast member during 2002. Ask her about "Satan Kitty."
Budinger, Timmy
While not often a performer in shows, Timmy portrayed "Dr. Karl" during our Fall 2001 season. He has also written for Comedy Corner and performed in the Charles Darwin Experience. Timmy can now be seen begging for change around town, but don't give him any because he'll just spend it on booze. It's better to just buy him booze when you see him perform as a member of New Kevin. Married in 2005-- sorry, ladies!
Clayton, Shaun
The last founderist of the founders, Shaun performed in the Charles Darwin Experience and is responsible for the appearance of pretty much everybody on this list. Founder of and performer in New Kevin. Founder of and writer of The Neurotic Eclectic. Currently resides in Los Angeles.
Cowan-Malloy, Ryan
Ryan just joined the group. Other than his participation in Ambidextrous Armada, we don't feel qualified to say more about him at this time because we don't know where he is but we heard he was working somewhere in Arizona.
Kurtak, Nitya
Nitya was drafted because she showed up and we picked her. Last we heard, she was in Florida.
Lavelle, Dan
Dan, after conquering the challenges of Luigi's Mansion, has decided to join MSC to put his undead-fighting talents to good use. Dan is currently studying hard in Tucson.
Leach, Rob
One of the initial recruits, Rob has brought a lot to the show, and is now best known as the origin of the phrase "Oh, that's a Rob bit." Rob is currently looking for fame, fortune, and foxy ladies in Los Angeles.
Pawlus, Adam
Cast member, writer, Web master. The mind behind Uncle Cardboard Box. Lives in LA and works for Entertainment Earth and writes for 16bit.com and Galactic Hunter. Married in 2004-- sorry, ladies!
Trammel, Alan
One of the first people to team up for the group, Alan left us and has now come back. You may have seen his work in another local comedy group, Ambidextrous Armada. Today, Alan's whereabouts are unknown but believed to be in Tucson, AZ.