Tankinator
HW Ride-Ons - #155 / 250

Hot Wheels 2016 Daredevils Basic Cars
Item No.: Asst. L2593 No. DHW91
Manufacturer: Mattel
Includes: n/a
Action Feature: Rolling wheels, articulated turret
Retail: $1.00
Availability: ca. August 2016
Other: Debut

PREVIOUS
RSS
NEXT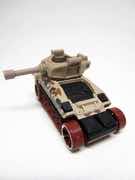 Designed - I think - for Mega Bloks figures, the Tankinator is a pretty awesome toy. It has rolling wheels like any car from Hot Wheels, but adds a jointed turret with 3mm rails for figures to grab and an opening to fit other figures inside. It's too narrow for LEGO men, but you can fit in Bit Figs or small, skinny toys without much of a hassle.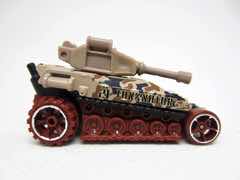 While I have no particular predisposition toward tank toys, this one grabbed me. The idea of fitting toys inside a Hot Wheels car appeals to me, mostly because the format is such a staple of a child's toy diet one might have to wonder how you can mix it up. Over the last few years, Mattel's crew invented a few clever ideas to carry mini-figures around such as the Minecart [FOTD #1,532] and Fig Rig [FOTD #670], plus others. So many others. While the original Fig Rig was clearly engineered with LEGO men in mind, subsequent cars are more geared toward the Mattel ecosystem.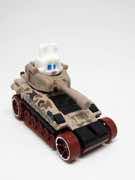 Two versions of this car are out already, and this is a tan version with camo on the sides. A green one was sold earlier. The rotating turret has several places for a brick figure to grip on, and surprisingly it actually rotates. The wheels spin freely and the tank works just fine on most tracks. Several of the details on a typical tank are here - treads, little boxes, a giant gun - in addition to some elements of the cartoonish hot rods of old. It's fairly heavy, and feels sturdy.
It's a nice little toy. It's not a perfect tank, and it can't fit your LEGO men, but the Tankinator is a clever new design for Hot Wheels that lets the toy car be more than a toy car. Moving parts and added play features mean a lot to me, because I'm not a "car guy." Realistic replicas of models I can actually drive don't interest me nearly as much as licensed cars from games, comics, TV, and the movies - and these original toy ideas are usually a good time, too. If you collect a lot of mini-figures, the Tankinator is one of those things you shouldn't miss. It's a dollar. It's fun. Get one. If you hate it, you probably know a kid or a co-worker to dump it on when you're done.
--Adam Pawlus
Additional Images


Click here to see more Mattel figures in Figure of the Day.
See more Hot Wheels in Figure of the Day:
Day 670: Mattel Hot Wheels Fig Rig Car
Day 675: Mattel Hot Wheels Star Trek U.S.S. Enterprise
Day 685: Mattel Hot Wheels Batmobile (Tim Burton, 2013)
Day 708: Mattel Hot Wheels Batman Live Batmobile
Day 718: Mattel Hot Wheels T-Rextroyer Die-Cast Metal Vehicle
Day 727: Mattel Hot Wheels Ratmobile (White) Die-Cast Metal Vehicle
Day 742: Mattel Hot Wheels Batcopter Die-Cast Metal Vehicle
Day 750: Mattel Hot Wheels Arachnorod
Day 770: Mattel Hot Wheels The Jetsons Capsule Car
Day 779: Mattel Hot Wheels Hiway Hauler
Day 786: Mattel Hot Wheels Speed-A-Saurus
Day 797: Mattel Hot Wheels Express Lane
Day 803: Mattel Hot Wheels Zombot
Day 817: Mattel Hot Wheels Scooby-Doo The Mystery Machine
Day 845: Mattel Hot Wheels Carbonator
Day 1,060: Mattel Hot Wheels Skate Punk
Day 1,116: Mattel Hot Wheels Let's Go
Day 1,157: Mattel Hot Wheels The Homer
Day 1,290: Mattel Hot Wheels Back to the Future Time Machine - Hover Mode
Day 1,321: Mattel Hot Wheels Loopster
Day 1,334: Mattel Hot Wheels Nintendo Cool-One (Super Mario)
Day 1,366: Mattel Hot Wheels Mars Rover Curiosity
Day 1,383: Mattel Hot Wheels Dawn of Justice Batmobile
Day 1.532: Mattel Hot Wheels Minecraft Mine Cart Die-Cast Metal Vehicle
Day 1.533: Mattel Hot Wheels Tankinator Die-Cast Metal Vehicle
Day 1,716: Mattel Hot Wheels Roller Toaster
Day 1,740: Mattel Hot Wheels Motosaurus
Day 1,768: Mattel Hot Wheels Aisle Driver
Day 1,831: Mattel Hot Wheels Radio Flyer Wagon
Day 1,873: Mattel Hot Wheels Glow Wheels Loopster

Want to buy this figure? Check Hot Wheels availability at our sponsors:
Entertainment Earth