Silver Batman
Chase?

Batman V. Superman Dawn of Justice Mighty Minis
Item No.: Asst. DNW96
Manufacturer: Mattel
Includes: n/a
Action Feature: Pops apart
Retail: $2.97
Availability: January 2016
Other: Look for a stamped "T" on the back of the bag for this one

PREVIOUS
RSS
NEXT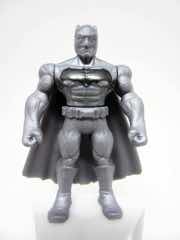 Glyos-compatible! But not intentionally. A few series of DC Comcis Mighty Minis are out there, and I picked up Silver Batman an a pile of clearance wares for $0.75 - which is about my speed. I love miniature figures and trading toys, but retail on these is pretty high at $3-$4 each - as recently as 2 years ago, you could get a fully-painted 3 3/4-inch Batman for as little as $5. As such, this isn't a good deal, unless it's on sale in which case it is awesome. The head, shoulders, cape, and legs pop off with a grand total of 4 points of articulation. I got my money's worth.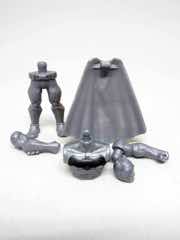 Mattel has a good history with miniature figures, especially with MUSCLE and CUTIE figures from 30 years ago. These are, arguably, better - fully-jointed and swappable parts is a figure dork's fever dream, although MUSCLE were 4 for $1 and these are $3-$4 each. Personally, I'd rather they be cheaper, but these are also painted. As a seemingly chase figure, Mattel created a way to make the unpainted figures more desirable - by telling you that you can't have them. Unpainted is something of a misnomer, as Batman does have a big grey bat symbol on his chest. Other than that, he's bare silver plastic - and those arms pop right in a Glyos Pheyden shoulder socket if you have one handy.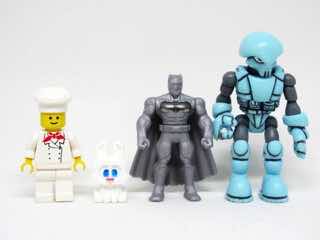 On an unpainted figure I can get a better look at the sculpting. The figure is cartoony with broad shoulders, and - surprisingly - not a bad Ben Affleck likeness. Take a look at that chin up close - it's actually pretty decent. He's a little back-heavy thanks to the cape, so to keep him standing you'll want to swing his hands forward a tiny bit. There's a decent sculpting job on the outfit, especially for the size - the plastic isn't too glossy, so it seems to work just fine as a visual.
Mini collecting is sort of its own thing - it's a fun diversion, it's reasonably cheap, but they're expensive relative to other products from the manufacturer. Is this $3 figure really better than a $15-$20 full-size 6-inch fully-jointed figure? Probably not - but you can get a whole collection for cheap, scratch that itch, and store them all in a small box until you sell them or start finding display shelves for tiny 2 1/4-inch figures. Whenever I start buying minis - and lately, I've gotten a bunch - I can totally see converting to this toy lifestyle because of the costs and space savings. At least if you buy 1,000 of these things, you won't have to do more than kit out a decent sized cabinet to fit your needs.
--Adam Pawlus
Additional Images


Click here to see more Mattel figures in Figure of the Day.
See more Batman figures in Figure of the Day:
Day 1: Funko Force 2.0 Comic-Con Exclusive Batman
Day 398: Kenner Batman: The Animated Series Clayface
Day 408: Kenner Legends of Batman Future Batman
Day 441: Kenner Batman: The Animated Series Harley Quinn
Day 443: Kenner Batman: The Animated Series Machine Gun Joker
Day 444: Kenner Batman: The Animated Movie Mask of the Phantasm Phantasm
Day 445: Ertl Batman Returns Penguin Commando Die-Cast Metal Figure
Day 446: Kenner Legends of Batman Knightquest Batman
Day 447: Mattel DC Universe Classics All-Stars Batman
Day 457: Kenner Batman: The Animated Series Ra's Al Ghul
Day 685: Mattel Hot Wheels Batmobile (Tim Burton, 2013)
Day 708: Mattel Hot Wheels Batman Live Batmobile
Day 714: Mattel Matchbox Batmobile Die-Cast Metal Vehicle
Day 735: Mattel Batman Classic TV Series Batman & Robin Action Figure Set
Day 740: Mattel Batman Classic TV Series The Penguin Action Figure
Day 742: Mattel Hot Wheels Batcopter Die-Cast Metal Vehicle
Day 756: Mattel Batman Classic TV Series The Joker Action Figure
Day 761: Mattel Batman Classic TV Series The Riddler Action Figure
Day 778: Mattel Batman Classic TV Series Batman Action Figure
Day 780: Mattel Batman Classic TV Series Catwoman Action Figure
Day 783: Mattel Batman Classic TV Series Surf's Up Batman Action Figure
Day 898: Mattel Batman Batman
Day 1.172: Mattel Batman The Joker
Day 1,197: Funko Batman Ice Freeze Batman Reject
Day 1,305: Funko Pop! DC Comics Super Heroes Orange Batman Vinyl Figure
Day 1,312: DC Collectibles Batman Tony Millionaire Batman Statue
Day 1,383: Mattel Hot Wheels Dawn of Justice Batmobile
Day 1,388: Bif Bang Pow! Peg Pals Batman Armored
Day 1,400: Funko Dorbz DC Comics Super Heroes Orange Batman Vinyl Figure
Day 1,512: Jakks Pacific Batman v. Superman: Dawn of Justice Jokers Wild Batman
Day 1,539: Mattel Batman v. Superman Mighty Minis Series 2 Silver Batman
Day 1,680: The LEGO Batman Movie Catman
Day 1,753: Funko 9POA Batman 1966 TV Series Batman and Robin Action Figures with Batmobile
Day 1,847: Funko Pop! DC Comics Super Heroes Retro Batman Vinyl Figure
Day 1,983: Entertainment Earth Justice League Batman Push Puppet
Day 2,100: Fisher-Price Imaginext DC Super Friends Batman & Swamp Thing Action Figures
Day 2,190: Kenner Batman: The Dark Knight Collection Tec-Shield Batman Action Figure
Day 2,199: Kenner Batman Returns Penguin Commandos Action Figures
Day 2,217: Kenner Batman: The Dark Knight Collection Iron Winch Batman Action Figure
Day 2,239: Fisher-Price Imaginext DC Super Friends Slammers Arctic Sled with Mr. Freeze Set
Day 2,249: Fisher-Price Imaginext DC Super Friends Slammers Batmobile with Batman Set

See more DC Comics figures in Figure of the Day:
Day 1: Funko Force 2.0 Comic-Con Exclusive Batman
Day 18: DC Direct Pocket Super Heroes Sinestro Action Figure
Day 114: Kenner Total Justice Mail-In Superman Action Figure
Day 135: Hasbro DC Super Heroes 9-Inch Green Lantern Action Figure
Day 159: Mattel DC Universe Infinite Heroes Green Lantern Action Figure
Day 179: Mattel DC Universe Infinite Heroes Green Arrow Action Figure
Day 199: Mattel DC Universe Infinite Heroes Black Canary Action Figure
Day 224: Funko Batman Blox Vinyl Batman Vinyl Figure
Day 278: Mixo Green Lantern Kooky Can
Day 329: Mattel DC Universe vs. Masters of the Universe Classics Metallic Green Lantern
Day 1,539: Mattel Batman v. Superman Mighty Minis Series 2 Silver Batman
Day 1,761: Funko Pop! Heroes Wonder Woman Diana Prince Pop! Vinyl Figure
Day 1,826: Sonic DC Super Friends Throwing Superman Action Figure
Day 1,847: Funko Pop! DC Comics Super Heroes Retro Batman Vinyl Figure
Day 1,928: Bif Bang Pow! DC Comics Pin Mate Wonder Woman
Day 1,983: Entertainment Earth Justice League Batman Push Puppet
Day 2,100: Fisher-Price Imaginext DC Super Friends Batman & Swamp Thing Action Figures
Day 2,217: Kenner Batman: The Dark Knight Collection Iron Winch Batman Action Figure
Day 2,239: Fisher-Price Imaginext DC Super Friends Slammers Arctic Sled with Mr. Freeze Set
Day 2,249: Fisher-Price Imaginext DC Super Friends Slammers Batmobile with Batman Set

Want to buy this figure? Check Batman availability at our sponsors:
Entertainment Earth