Dawn of Justice Batmobile
Batman - #230 / 250

Hot Wheels 2016 Batman Basic Cars
Item No.: Asst. L2593 No. DHP34
Manufacturer: Mattel
Includes: n/a
Action Feature: Rolling wheels
Retail: $1.00
Availability: ca. December 2015
Other: Debut

PREVIOUS
RSS
NEXT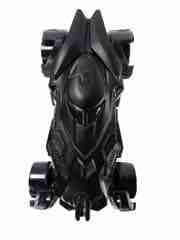 When you're young, there's a lot less going on in terms of character and toy history. With this Dawn of Justice Batmobile, we get a reminder of just how many high-profile takes on the bat-tle car from movies alone, and we've had numerous redesigns from movies and cartoons and comics. Since this toy was dirt cheap, easily found locally, and I was in line to buy some other stuff anyway, I got it. It ain't bad..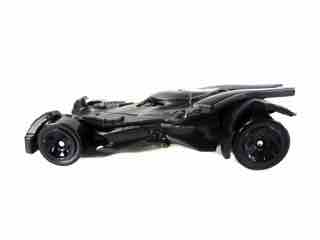 To succeed, all a Batmobile really needs to be is black and a little creepy. This one recalls elements of the Batman himself, with pointy "ears" sweeping back as a spoiler, a split windshield as "eyes", and a grille serving as a face to some extent. It's completely black, and it has guns. Batman's policy on firearms seems to change from incarnation to incarnation. It's kind of amazing to see how attitudes toward firearms in these stories change, specifically in the politically charged The Dark Knight Returns how the Dark Knight declared them to be "the weapon of the enemy. We do not need it. We will not use it." And they were on his car in the 1989 movie. It's an interesting character trait, because as a child of the Reagan 1980s the very notion of a kid hero without a gun seemed almost totally foreign. Look at Star Wars, look at Transformers, look at nearly any sci-fi property - they've got guns, and it wasn't the slightest bit strange. Seeing them out in front here, it's a different Batman to be sure - wait until you see some of the stuff they're making as accessories for costumes this year. Guns are just the tip of the iceberg.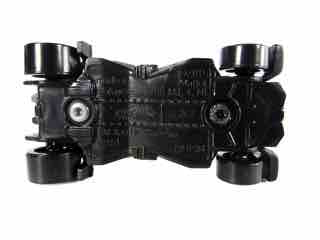 The paint is fine, but due to the nature of the vehicle it can't really succeed or fail. It can only be black. To deviate from this would be folly, and faux paint chipping at this scale would be a waste of effort. The car really does show a change in how we as a culture think - Tim Burton's fanciful car was stylized and alien. The Animated Series version was like a vintage hood ornament - retro and streamlined. Joel Schumacher made it look like it came from another planet, while Nolan gave us a slightly more practical military surplus vehicle. Now we're dealing with something that incorporates a lot of what came before with a design that evokes what Michael Bay did to the Transformers. We've got more guns, more panels, and pieces that look mean and sharp but also like they may pop off. Like much of our popular culture, this car and from the marketing this movie play off our fears rather than our optimism. The dreams of the 1960s and 1970s didn't come true, and our hopes for the future have shifted from utopia to survival. This is, of course, very depressing.
I feel a little silly looking at these sometimes, just because a car like this is unable to have a lot of merits or demerits. It looks right. The wheels roll well. The color is correct. It's fun to play with. For a buck it's completely worth your while and a fine example of why Mattel keeps Hot Wheels relevant after over 45 years. If you're minimally interested in toy cars, licensed properties, or a cheap toy for your kid, this is the go-to toy for the first half of the year. It's a buck - you waste more money than this on napkins and straws when you could just be padding the number you need when you go to the Panda Express. (Admit it, you do it too.) I got my money's worth, and if I had bat-fan buddies I'd hand these out like candy. I hope the mold remains in circulation and that you can get one if you're so inclined.
--Adam Pawlus
Additional Images


Click here to see more Mattel figures in Figure of the Day.
See more Batman figures in Figure of the Day:
Day 1: Funko Force 2.0 Comic-Con Exclusive Batman
Day 398: Kenner Batman: The Animated Series Clayface
Day 408: Kenner Legends of Batman Future Batman
Day 441: Kenner Batman: The Animated Series Harley Quinn
Day 443: Kenner Batman: The Animated Series Machine Gun Joker
Day 444: Kenner Batman: The Animated Movie Mask of the Phantasm Phantasm
Day 445: Ertl Batman Returns Penguin Commando Die-Cast Metal Figure
Day 446: Kenner Legends of Batman Knightquest Batman
Day 447: Mattel DC Universe Classics All-Stars Batman
Day 457: Kenner Batman: The Animated Series Ra's Al Ghul
Day 685: Mattel Hot Wheels Batmobile (Tim Burton, 2013)
Day 708: Mattel Hot Wheels Batman Live Batmobile
Day 714: Mattel Matchbox Batmobile Die-Cast Metal Vehicle
Day 735: Mattel Batman Classic TV Series Batman & Robin Action Figure Set
Day 740: Mattel Batman Classic TV Series The Penguin Action Figure
Day 742: Mattel Hot Wheels Batcopter Die-Cast Metal Vehicle
Day 756: Mattel Batman Classic TV Series The Joker Action Figure
Day 761: Mattel Batman Classic TV Series The Riddler Action Figure
Day 778: Mattel Batman Classic TV Series Batman Action Figure
Day 780: Mattel Batman Classic TV Series Catwoman Action Figure
Day 783: Mattel Batman Classic TV Series Surf's Up Batman Action Figure
Day 898: Mattel Batman Batman
Day 1.172: Mattel Batman The Joker
Day 1,197: Funko Batman Ice Freeze Batman Reject
Day 1,305: Funko Pop! DC Comics Super Heroes Orange Batman Vinyl Figure
Day 1,312: DC Collectibles Batman Tony Millionaire Batman Statue
Day 1,383: Mattel Hot Wheels Dawn of Justice Batmobile
Day 1,388: Bif Bang Pow! Peg Pals Batman Armored
Day 1,400: Funko Dorbz DC Comics Super Heroes Orange Batman Vinyl Figure
Day 1,512: Jakks Pacific Batman v. Superman: Dawn of Justice Jokers Wild Batman
Day 1,539: Mattel Batman v. Superman Mighty Minis Series 2 Silver Batman
Day 1,680: The LEGO Batman Movie Catman
Day 1,753: Funko 9POA Batman 1966 TV Series Batman and Robin Action Figures with Batmobile
Day 1,847: Funko Pop! DC Comics Super Heroes Retro Batman Vinyl Figure
Day 1,983: Entertainment Earth Justice League Batman Push Puppet
Day 2,100: Fisher-Price Imaginext DC Super Friends Batman & Swamp Thing Action Figures
Day 2,190: Kenner Batman: The Dark Knight Collection Tec-Shield Batman Action Figure
Day 2,199: Kenner Batman Returns Penguin Commandos Action Figures

See more Hot Wheels in Figure of the Day:
Day 670: Mattel Hot Wheels Fig Rig Car
Day 675: Mattel Hot Wheels Star Trek U.S.S. Enterprise
Day 685: Mattel Hot Wheels Batmobile (Tim Burton, 2013)
Day 708: Mattel Hot Wheels Batman Live Batmobile
Day 718: Mattel Hot Wheels T-Rextroyer Die-Cast Metal Vehicle
Day 727: Mattel Hot Wheels Ratmobile (White) Die-Cast Metal Vehicle
Day 742: Mattel Hot Wheels Batcopter Die-Cast Metal Vehicle
Day 750: Mattel Hot Wheels Arachnorod
Day 770: Mattel Hot Wheels The Jetsons Capsule Car
Day 779: Mattel Hot Wheels Hiway Hauler
Day 786: Mattel Hot Wheels Speed-A-Saurus
Day 797: Mattel Hot Wheels Express Lane
Day 803: Mattel Hot Wheels Zombot
Day 817: Mattel Hot Wheels Scooby-Doo The Mystery Machine
Day 845: Mattel Hot Wheels Carbonator
Day 1,060: Mattel Hot Wheels Skate Punk
Day 1,116: Mattel Hot Wheels Let's Go
Day 1,157: Mattel Hot Wheels The Homer
Day 1,290: Mattel Hot Wheels Back to the Future Time Machine - Hover Mode
Day 1,321: Mattel Hot Wheels Loopster
Day 1,334: Mattel Hot Wheels Nintendo Cool-One (Super Mario)
Day 1,366: Mattel Hot Wheels Mars Rover Curiosity
Day 1,383: Mattel Hot Wheels Dawn of Justice Batmobile
Day 1.532: Mattel Hot Wheels Minecraft Mine Cart Die-Cast Metal Vehicle
Day 1.533: Mattel Hot Wheels Tankinator Die-Cast Metal Vehicle
Day 1,716: Mattel Hot Wheels Roller Toaster
Day 1,740: Mattel Hot Wheels Motosaurus
Day 1,768: Mattel Hot Wheels Aisle Driver
Day 1,831: Mattel Hot Wheels Radio Flyer Wagon
Day 1,873: Mattel Hot Wheels Glow Wheels Loopster

Want to buy this figure? Check Hot Wheels availability at our sponsors:
Entertainment Earth