Nintendo Cool-One (Super Mario)
HW Screen Time - 4 of 5

Hot Wheels 2015 HW City Basic Cars
Item No.: Asst. L2593 No. DHT14
Manufacturer: Mattel
Includes: n/a
Action Feature: Rolling wheels
Retail: $1.00
Availability: December 2015
Other: #45 / 250

PREVIOUS
RSS
NEXT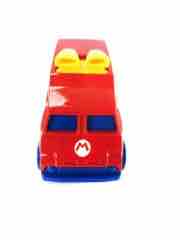 I was happy to see the 2016 Hot Wheels pop up, and very pleased to see the Nintendo Cool-One (Super Mario) car. I picked up a couple of Sega cars nearly a decade ago, so my knee-jerk "Where's Nintendo?" comment has finally been answered - and so far we've had Sega, Atari, and Nintendo cars making the rounds. It's pretty amazing when you think about it - even though you can't find all three on the shelves at once, the fact that any toy line incorporates the big three of the first major decade (and change) of gaming is a big deal. And now, tradition has been served by painting a car from 2004 with a Mario logo on it.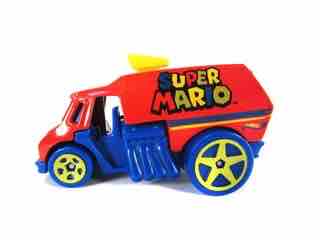 The main reason to buy this is if you're like me and operating as if there's a famine in the world of Nintendo licensing - in the 1980s, there were a few collectible figures and knick knacks, but not a lot of toys that - shall we say - you would be proud to own. Now you've got full lines of Nintendo figures standing nearly two feet tall, interactive figures that communicate with your games, and a store in New York who'll trade you a Metroid t-shirt for an Andrew Jackson. So while you don't need a $1 die-cast car with "Super Mario" on the side, it's not like logic, reason, and your options will stop you from buying a car in primary colors, because it also has Mario's "M" logo on the hood.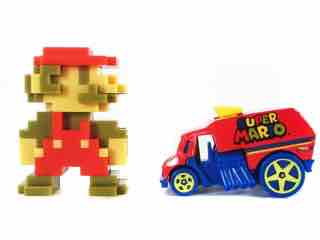 With huge back wheels cast in blue with yellow rims, this is a toy that looks a lot like "a toy." Terms like "kiddie" and "neon" are thrown out derisively by younger toy fans who don't seem to have yet connected with the reality of this hobby, and those terms seem to fit this particular vehicle more than the others Mattel pumps out. After all, bright primary colors aren't unusual but I can't name a lot of cars with garish rims and the (more or less) current logo for one of the most recognized characters in popular culture.
You should buy this car if you're loving the idea of a $1 Nintendo car - it's why I bought it. I'd repeat the process for Zelda or Metroid, too. I'd be lying if I said that the design was particularly awesome, though - it's just novel, and what it represents is more interesting than what it is. You can also get slightly better, all-metal cars with graphics from Nintendo game packaging in a higher-end collector assortment for $4-$5 - but this one is $1, so that's why I got it. It's a fun little desk toy if you're in to such things, otherwise you're probably better putting the dollar toward something in the increasingly desirable Jakks figure assortments.
Also, a package variant with snowflakes on the cardback is making the rounds. I don't know much else about it, other than it exists.
--Adam Pawlus
Additional Images


Click here to see more Mattel figures in Figure of the Day.
See more Nintendo figures in Figure of the Day:
Day 134: Applause Super Mario Bros. Super Mario with Koopa Troopa Action Figure
Day 369: Applause Zelda II: The Adventure of Link Link PVC Figure
Day 833: K'Nex Super Mario Blind-Bagged Series #2 Boo Action Figure
Day 926: Hasbro Pokemon Ash & Pikachu
Day 1,032: Jakks Pacific World of Nintendo Skyward Sword Link Action Figure
Day 1,083: Nintendo Super Smash Bros. Amiibo Samus Aran
Day 1,107: Nintendo Super Smash Bros. Amiibo Link
Day 1,125: Jakks Pacific World of Nintendo Metroid Action Figure
Day 1,162: Jakks Pacific World of Nintendo Metroid Samus Action Figure
Day 1,182: Jakks Pacific World of Nintendo Mario Action Figure
Day 1,186: Jakks Pacific World of Nintendo Luigi Action Figure
Day 1,280: Nintendo Super Mario Maker Classic Color Mario
Day 1,296: Nintendo Super Smash Bros. Amiibo Mega Man
Day 1,299: Nintendo Super Smash Bros. Zero Suit Samus
Day 1,320: Jakks Pacific World of Nintendo 8-Bit Link Action Figure
Day 1,335: Mattel Hot Wheels Nintendo Cool-One (Super Mario)
Day 1,336: Jakks Pacific World of Nintendo 8-Bit Luigi Action Figure
Day 1,341: Jakks Pacific World of Nintendo 8-Bit Donkey Kong Action Figure
Day 1,345: Nintendo Super Smash Bros. R.O.B., Mr. Game & Watch, and Duck Hunt
Day 1,347: Jakks Pacific World of Nintendo ComicConBox.com Metallic Metroid Samus Action Figure
Day 1,349: Jakks Pacific World of Nintendo 8-Bit Mario Action Figure
Day 1,363: Jakks Pacific World of Nintendo Shy Guy Action Figure
Day 1,367: Jakks Pacific World of Nintendo Convention Exclusive Jakks Giants Link Action Figure
Day 1,369: Jakks Pacific World of Nintendo Jakks Giants Mario Action Figure
Day 1,380: Jakks Pacific World of Nintendo Tanooki Mario Action Figure
Day 1,392: Toy Biz Video Game Super Stars Mario Kart 64 Mario Action Figure
Day 1,398: Jakks Pacific World of Nintendo Boo Action Figure
Day 1,404: Medicom Nintendo Series Legend of Zelda Link Ultra Detail Figure
Day 1,430: Sonic Drive-In Mario & Luigi Paper Jam Mario Figure
Day 1,433: Nintendo Shovel Knight Amiibo
Day 1,438: Jakks Pacific World of Nintendo Metroid Gravity Suit Samus Action Figure
Day 1,444: Jakks Pacific World of Nintendo 8-Bit Red Link Action Figure
Day 1,447: Jakks Pacific World of Nintendo 8-Bit Star Power Mario Action Figure
Day 1,454: Jakks Pacific World of Nintendo 8-Bit White Link Action Figure
Day 1,475: Jakks Pacific World of Nintendo Samus Mini Action Figure
Day 1,490: Jakks Pacific World of Nintendo 8-Bit Classic Mario Action Figure
Day 1,537: Jakks Pacific World of Nintendo Metroid Action Figure
Day 1,568: Good Smile Company The Legend of Zelda: A Link Between Worlds Link Deluxe Action Figure
Day 1,599: Nintendo Toad Amiibo
Day 1,601: The Octavirate Forge Shapeways NES Inspired Zapper Gun 5mm Grip
Day 1,605: Nintendo The Legend of Zelda Link Amiibo
Day 1,624: Jakks Pacific World of Nintendo Blooper Action Figure
Day 1,647: Jakks Pacific World of Nintendo Metroid Phazon Suit Samus Action Figure
Day 1,649: Nintendo Super Smash Bros. Little Mac Amiibo
Day 1,652: Jakks Pacific World of Nintendo Goomba Action Figure
Day 1,668: Jakks Pacific World of Nintendo 8-Bit Toad Action Figure
Day 1,672: Jakks Pacific World of Nintendo Boo Glow Action Figure
Day 1,677: Jakks Pacific World of Nintendo 8-Bit Star Luigi Action Figure
Day 1,691: Nintendo Super Smash Bros. Zelda Amiibo
Day 1,733: Nintendo Super Smash Bros. Wii Fitness Trainer Amiibo
Day 1,751: Jakks Pacific World of Nintendo 8-Bit Toad Variant Action Figure
Day 1,795: Nintendo Super Mario Boo Amiibo
Day 1,811: Hasbro Nintendo Diddy Kong Monopoly Gamer Power Pack
Day 1,812: Nintendo Metroid Samus Aran and Metroid Amiibo
Day 1,823: Hasbro Nintendo Boo Monopoly Gamer Power Pack
Day 1,843: Hasbro Nintendo Luigi Monopoly Gamer Power Pack
Day 1,858: Hasbro Nintendo Wario Monopoly Gamer Power Pack
Day 1,896: Good Smile Company Metroid Prime 3: Corruption Samus Aran Action Figure
Day 1,897: Hasbro Nintendo Fire Mario Monopoly Gamer Power Pack
Day 1,991: Jakks Pacific World of Nintendo 8-Bit Princess Peach Action Figure
Day 2,068: Nintendo Super Smash Bros. Ridley Amiibo

See more Hot Wheels in Figure of the Day:
Day 670: Mattel Hot Wheels Fig Rig Car
Day 675: Mattel Hot Wheels Star Trek U.S.S. Enterprise
Day 685: Mattel Hot Wheels Batmobile (Tim Burton, 2013)
Day 708: Mattel Hot Wheels Batman Live Batmobile
Day 718: Mattel Hot Wheels T-Rextroyer Die-Cast Metal Vehicle
Day 727: Mattel Hot Wheels Ratmobile (White) Die-Cast Metal Vehicle
Day 742: Mattel Hot Wheels Batcopter Die-Cast Metal Vehicle
Day 750: Mattel Hot Wheels Arachnorod
Day 770: Mattel Hot Wheels The Jetsons Capsule Car
Day 779: Mattel Hot Wheels Hiway Hauler
Day 786: Mattel Hot Wheels Speed-A-Saurus
Day 797: Mattel Hot Wheels Express Lane
Day 803: Mattel Hot Wheels Zombot
Day 817: Mattel Hot Wheels Scooby-Doo The Mystery Machine
Day 845: Mattel Hot Wheels Carbonator
Day 1,060: Mattel Hot Wheels Skate Punk
Day 1,116: Mattel Hot Wheels Let's Go
Day 1,157: Mattel Hot Wheels The Homer
Day 1,290: Mattel Hot Wheels Back to the Future Time Machine - Hover Mode
Day 1,321: Mattel Hot Wheels Loopster
Day 1,334: Mattel Hot Wheels Nintendo Cool-One (Super Mario)
Day 1,366: Mattel Hot Wheels Mars Rover Curiosity
Day 1,383: Mattel Hot Wheels Dawn of Justice Batmobile
Day 1.532: Mattel Hot Wheels Minecraft Mine Cart Die-Cast Metal Vehicle
Day 1.533: Mattel Hot Wheels Tankinator Die-Cast Metal Vehicle
Day 1,716: Mattel Hot Wheels Roller Toaster
Day 1,740: Mattel Hot Wheels Motosaurus
Day 1,768: Mattel Hot Wheels Aisle Driver
Day 1,831: Mattel Hot Wheels Radio Flyer Wagon
Day 1,873: Mattel Hot Wheels Glow Wheels Loopster

Want to buy this figure? Check Hot Wheels availability at our sponsors:
Entertainment Earth