Rainbow Sam
Japanese name is also Rainbow Sam (he has no US name)

Battle Beasts Shadow Warriors
Item No.: #86
Manufacturer: Hasbro
Includes: Wide Sensor Laser, additional figure
Action Feature: n/a
Retail: est. $3.99
Availability: ca. 1988
Other: This sample has a "Wood" Orb/Crystal

PREVIOUS
RSS
NEXT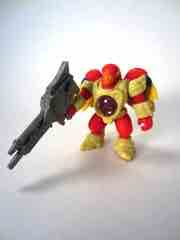 Courtesy of most toy lines dying out in the late 1980s, the toys made their statement and left a more or less perfect plaything that most kids missed out on. Rainbow Sam was released in the USA in limited numbers, so he can be had for a somewhat hefty but not insane price. $30 is the usual going rate for a loose and complete specimen.
As with all figures in the line, he's 2-inches tall and has two shoulder joints. He also has a wonderfully expressive beak and big colorful wings, none of which can move. The feather motif plays out on his pale yellow armor, and the figure is much more colorful from behind.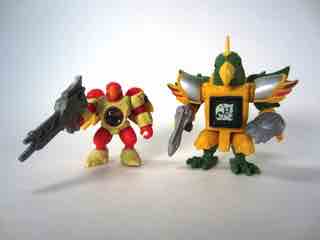 His hands can fit a 3mm peg, so Cyberverse toys will fit as well as his Wide Sensor Laser. The weapon has a parrot motif - take a look - so you can easily figure out which figure goes with which weapon, even if you can't match the 86 number that appears on both.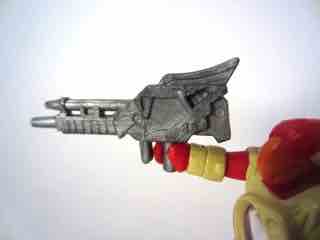 There are a decent number of birds in this line, but this parrot is one of my favorites. There are some scales on the legs, big yellow robo shoes, and a giant crystal lens in his belly that works as a magnifying glass to indicate if it's a fire/water/wood beast.
I was high on collecting the regular rubsign beasts, so I decided to jump on laser beasts in early 2012. I since stopped - getting all of them is expensive and time-consuming, so odds are I'll just be happy with the chunk I've purchased. This one is cheap and colorful, which is a good enough reason to buy it if you ask me. If you're on the fence, get it - otherwise don't bother, you can do more damage with $30 at a retail toy store or online shop these days.
--Adam Pawlus
Additional Images

Click here to see more Hasbro figures in Figure of the Day.
See more Battle Beasts figures in Figure of the Day:
Day 82: Diamond Select Battle Beasts Minimates SDCC Gold Alligator Action Figure
Day 373: Diamond Select Battle Beasts Minimates Case Red Alligator Action Figure
Day 374: Hasbro Battle Beasts Sawtooth Shark Action Figure
Day 375: Hasbro Battle Beasts Wolfgang Walrus Action Figure
Day 376: Hasbro Battle Beasts Diving Duckbill Action Figure
Day 377: Hasbro Battle Beasts Spark Shark Action Figure
Day 390: Diamond Select Battle Beasts Minimates C2E2 2012 Red Vorin
Day 391: Hasbro Battle Beasts Anarchy
Day 395: Diamond Select Battle Beasts Minimates C2E2 2012 Grey Vorin
Day 417: Hasbro Battle Beasts Run Amuck Duck
Day 436: Hasbro Battle Beasts Horny Toad
Day 450: Diamond Select Battle Beasts Minimates SDCC 2012 Vorin & Zik
Day 451: Hasbro Battle Beasts Sledgehammer Elephant
Day 460: Diamond Select Battle Beasts Minimates SDCC 2012 Gold Vorin
Day 463: Diamond Select Battle Beasts Minimates C2E2 Exclusive Black Alligator
Day 451: Hasbro Battle Beasts Pillaging Polar Bear
Day 577: Hasbro Battle Beasts Slasher Seahorse
Day 610: Diamond Select Battle Beasts Minimates Gruntos the Walrus & Tate Reynolds
Day 639: Hasbro Battle Beasts Triple Threat Snake
Day 674: Hasbro Battle Beasts Hare Razing Rabbit
Day 720: Diamond Select Battle Beasts Minimates Shadow Merk
Day 723: Hasbro Battle Beasts Pillager Pig
Day 914: Hasbro Battle Beasts Rainbow Sam
Day 972: Hasbro Battle Beasts Pixilated Pointer
Day 1,084: Hasbro Battle Beasts Sir Sire Horse
Day 1,278: Hasbro Battle Beasts Hardtop Tortoise
Day 1,291: Hasbro Battle Beasts Tanglin Pangolin
Day 1,306: Hasbro Battle Beasts Eager Beaver
Day 1,313: Hasbro Battle Beasts Bodacious Bovine
Day 1,756: Diamond Select Independent Comic Book Minimates Battle Beasts Ruminant and Spyrnus
Day 1,815: Diamond Select Battle Beasts Minimates Stealth Vorin
Day 1,827: Hasbro Battle Beasts Sabre Sword Tiger
Day 1,890: Hasbro Battle Beasts Battling Deer Stalker Chariot
Day 1,905: Diamond Select Battle Beasts Minimates Antalor and Nychirix
Day 1,906: Hasbro Battle Beasts Killer Carp