Alpha Blade
Very Late 1980s/Early 1990s

Imaginext Space Basic Vehicle
Item No.: Asst. BFT11 No. BHJ18
Manufacturer: Fisher-Price
Includes: Human figure, armor, gun, rolling bladed vehicle
Action Feature: n/a
Retail: $6.99
Availability: December 2013
Other: Like Glyos? Beast Saga? Get This.

PREVIOUS
RSS
NEXT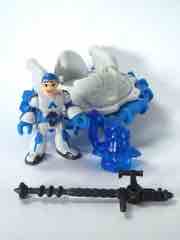 I think I've mentioned more than once that I don't understand why Mattel's imprint Fisher-Price doesn't leverage its brands in Imaginext more. Specifically, He-Man. Older kids won't bite but its winning combination of distinctive and easy-to-remember names plus memorable vehicles would make it the perfect fit for the under-6 set. The Alpha Blade is incredibly similar to the Roton vehicle, which also had a geared gimmick involving a spinning blade. Had this been black and red instead of grey and blue, I'm sure fans would be accusing Mattel of stealing from themselves.
The 3-inch human figure has much more sculpted detail than his peers from previous space lines, but it's still pretty dull. His removable clear blue helmet looks like some sort of mutant SCUBA equipment, and the coloring matches the ship. Added padding, grooves, and a belt make this figure really stand out from the other humans in the line but compared to the aliens he's a total dud. You cannot compete with the bright neon colors and wild designs, so clearly they don't even try. It's a nice enough figure, but how can you compete with the driver of the Ion Scorpion?
He comes with a sniper rifle that's about an inch taller than he is, and it fits in either his hand or in the Alpha Blade. The vehicle itself has some of the best sculpting in this line, with tons of grooves and faux buttons lining it. The interior seating area is particularly intricate, which is surprising given that's not really a thing you're going to notice once a figure goes in there.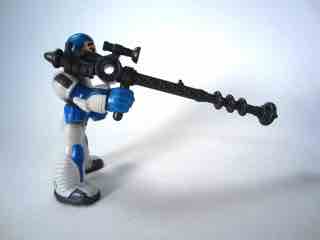 The mechanism is simple - put the ship on a table, roll it, and the blue blade quickly spins around. It quickly knocks figures to the side, so it's a fun way to smack around your other toys. There's zero paint that I can see, but for a kid's toy it's not like they're going to miss it. Still... a little color would be nice to break up all that grey. As it is, it looks vaguely like a design out of Classic LEGO Space sets.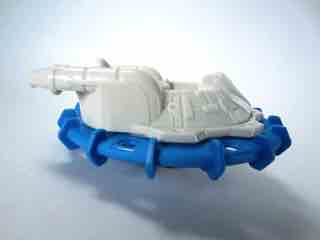 The blue "armor" or helmet thing is a nice bonus, but with no real deco and a shade too dark to see through, it's just kinda there. Had they left it out, I wouldn't have missed it - the vehicle and figure deliver most of what makes it interesting.
The 2014 space line so far has given the aliens most of the best gear, designs, and deco. They're gleefully colorful and fun, while the humans remain somewhat bland by comparison. I'd still suggest getting an Alpha Blade for kids (or adults) if knocking around figures sounds like a good time, because it is, and it's a neat little flying saucer thing.
--Adam Pawlus
Additional Images

Want to buy this figure or others like it? Check Fisher-Price availability at our sponsors:
Entertainment Earth
See more Fisher-Price figures in Figure of the Day:
Day 79: Fisher-Price Adventure People Alpha Star Astronaut Action Figure
Day 233: Fisher-Price Imaginext Space Station Toy Set
Day 404: Fisher-Price Imaginext Dinosaur Ankylosaurus
Day 528: Fisher-Price Imaginext Dinosaur Raptor
Day 643: Fisher-Price Adventure People Alpha Star Alien Creature
Day 766: Fisher-Price Imaginext Collectible Figures Diver
Day 796: Fisher-Price Imaginext Collectible Figures Robot
Day 830: Fisher-Price Imaginext Collectible Figures Mummy
Day 842: Fisher-Price Imaginext Space Ion Scorpion
Day 847: Fisher-Price Imaginext Space Ion Crab
Day 853: Fisher-Price Imaginext Space Alpha Blade
Day 954: Fisher-Price Imaginext Dinosaur Dimetrodon
Day 2,002: Fisher-Price Imaginext Series 10 Collectible Figures Spaceman & Alien
Day 2,014: Fisher-Price Imaginext Series 11 Collectible Figures X-Ray Man & Dog
Day 2,018: Fisher-Price Imaginext Series 11 Collectible Figures Radiation Man
Day 2,024: Fisher-Price Imaginext Series 11 Collectible Figures Triple Threat Snake
Day 2,032: Fisher-Price Imaginext Series 11 Collectible Figures M.U.S.C.L.E. Men
Day 2,036: Fisher-Price Imaginext Series 6 Collectible Figures Chicken Suit
Day 2,092: Fisher-Price Imaginext Series 11 Collectible Figures Fishbot
Day 2,096: Fisher-Price Imaginext Series 12 Collectible Figures Big Building Robot
Day 2,099: Fisher-Price Imaginext Series 12 Collectible Figures Clawtron
Day 2,100: Fisher-Price Imaginext DC Super Friends Batman & Swamp Thing Action Figures
Day 2,101: Fisher-Price Imaginext Series 7 Collectible Figures Buster of Ghosts
Day 2,102: Fisher-Price Imaginext Pirates Shark Minisub Figure with Vehicle
Day 2,103: Fisher-Price Imaginext Jurassic World Dr. Malcolm & Dimetrodon Action Figures
Day 2,104: Fisher-Price Imaginext Egypt Mummy Guards Action Figures
Day 2,108: Fisher-Price Imaginext Series 9 Mystery Figures Grim Reaper
Day 2,122: Fisher-Price Imaginext Series 6 Collectible Figures 4 Arm Alien
Day 2,133: Fisher-Price Imaginext Series 7 Collectible Figures Headless Horseman
Day 2,194: Fisher-Price Imaginext Series 9 Mystery Figures Yeti Snowboarder
Day 2,227: Fisher-Price Imaginext Series 9 Mystery Figures Shark Pirate
Day 2,239: Fisher-Price Imaginext DC Super Friends Slammers Arctic Sled with Mr. Freeze Set

See more Imaginext figures in Figure of the Day:
Day 233: Fisher-Price Imaginext Space Station Toy Set
Day 404: Fisher-Price Imaginext Dinosaur Ankylosaurus
Day 528: Fisher-Price Imaginext Dinosaur Raptor
Day 766: Fisher-Price Imaginext Collectible Figures Diver
Day 796: Fisher-Price Imaginext Collectible Figures Robot
Day 830: Fisher-Price Imaginext Collectible Figures Mummy
Day 842: Fisher-Price Imaginext Space Ion Scorpion
Day 847: Fisher-Price Imaginext Space Ion Crab
Day 853: Fisher-Price Imaginext Space Alpha Blade
Day 954: Fisher-Price Imaginext Dinosaur Dimetrodon
Day 2,002: Fisher-Price Imaginext Series 10 Collectible Figures Spaceman & Alien
Day 2,014: Fisher-Price Imaginext Series 11 Collectible Figures X-Ray Man & Dog
Day 2,018: Fisher-Price Imaginext Series 11 Collectible Figures Radiation Man
Day 2,024: Fisher-Price Imaginext Series 11 Collectible Figures Triple Threat Snake
Day 2,032: Fisher-Price Imaginext Series 11 Collectible Figures M.U.S.C.L.E. Men
Day 2,036: Fisher-Price Imaginext Series 6 Collectible Figures Chicken Suit
Day 2,092: Fisher-Price Imaginext Series 11 Collectible Figures Fishbot
Day 2,096: Fisher-Price Imaginext Series 12 Collectible Figures Big Building Robot
Day 2,099: Fisher-Price Imaginext Series 12 Collectible Figures Clawtron
Day 2,100: Fisher-Price Imaginext DC Super Friends Batman & Swamp Thing Action Figures
Day 2,101: Fisher-Price Imaginext Series 7 Collectible Figures Buster of Ghosts
Day 2,102: Fisher-Price Imaginext Pirates Shark Minisub Figure with Vehicle
Day 2,103: Fisher-Price Imaginext Jurassic World Dr. Malcolm & Dimetrodon Action Figures
Day 2,104: Fisher-Price Imaginext Egypt Mummy Guards Action Figures
Day 2,108: Fisher-Price Imaginext Series 9 Mystery Figures Grim Reaper
Day 2,122: Fisher-Price Imaginext Series 6 Collectible Figures 4 Arm Alien
Day 2,133: Fisher-Price Imaginext Series 7 Collectible Figures Headless Horseman
Day 2,194: Fisher-Price Imaginext Series 9 Mystery Figures Yeti Snowboarder
Day 2,227: Fisher-Price Imaginext Series 9 Mystery Figures Shark Pirate
Day 2,239: Fisher-Price Imaginext DC Super Friends Slammers Arctic Sled with Mr. Freeze Set