Standor
Cosmic Creator of Power

Masters of the Universe Classics Action Figure
Item No.: No. Y3169
Manufacturer: Mattel
Includes: Helmet, glasses
Action Feature: n/a
Retail: $25.00
Availability: November 2013 (Comickaze) or December 2013 (everybody else)
Other:Stan Lee's Comickaze Exclusive Figure

PREVIOUS
RSS
NEXT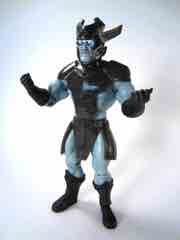 Along with Strobo, Standor was a source of confusion when I first saw it - I missed the Mattypalooza panel so I wasn't sure who this New Gods-esque quasi-Kirby blue guy was at first, so I reached out and asked someone in the know and was told that rather than a Hot Wheels car or a redeco of another product, this figure was made as part of Mattel's partnership with Stan Lee's Comickaze Expo. Which answered my question - it was Stan Lee, which wasn't obvious at first glance. If you take off his removable helmet or glasses, though, it's probably the best Stan Lee sculpt I've ever seen. The quality of the figure is middling, but the high novelty value makes it easy to appreciate as something of a good gag figure. It's the kind of figure you wouldn't miss skipping, but if you get it in your hands you'll probably find it quite charming.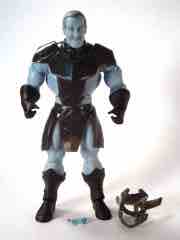 At 7-inches tall, Standor is the odd figure I didn't realize I wanted - I was hesitant to place the order on Matty Collector but my almost-complete collection of Masters of the Universe Classics (no Goddess, no red Hordak, missing a few variants) felt that it would be missing something if I didn't have Stan Lee in it. Which is odd - Stan Lee was one of the great faces of Marvel Comics, but has become something of an omnipresent fixture in popular culture since stepping down from Marvel giving us a near-endless array of sometimes distracting cameos in movies and executive producing a bunch of things that, so far, haven't gone anywhere. (And he had that awesome appearance in Mallrats which, supposedly, almost was John Waters portraying Stan Lee.) The important thing though is that he's getting paid, because as a creative force in a company worth billions of dollars it's a safe bet that his and his colleagues' work was rarely appropriately compensated over the years. Stan Lee's cultural impact has spawned numerous collectibles making the comic writer and editor a god-like force in the industry, which is why he's the alter ego of Spider-Man in a Marvel Legends figure, a Pop! Vinyl figure, and countless other figural collectibles.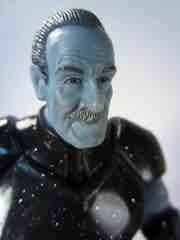 The figure was cheaper and if you look at it, it has less going on than the average Matty action figure. The armor is unpainted, a transparent glittery grey plastic that looks appropriate for some sort of cosmic being. The gloves and boots are closer to black, but still pretty neat. The body is largely just blue with no real flourishes, and the character's teeth are unpainted. His hair is slicked back adn grey, with a face that - once the armor is removed - is unquestionably Stan Lee.
With no weapons, the budget for accessories helped the helmet, armor, and glasses turn out well. The old man glasses pop off easily, and you can slide off the helmet. His armor is oddly better than most figures', it fits over his neck and shoulders lacking the rubbery straps or tabs that are a pain in the neck to remove or replace should you ever remove it.
This kind of tuckerism toy is nothing new, but it can be difficult to tell how to deal with it. For every Tunnel Rat (Larry Hama) or Lt. Spector (Scott Neitlich/ToyGuru), you've also got a Jorg Sacul (George Lucas) that doesn't quite fit in a diorama or on a shelf. Standor won't fit on my Horde shelf, my Etheria shelf, my Evil Warriors shelf, or in Castle Grayskull. As of when I write this I'm curious to see if he'll become some sort of desk fixture, or of like Mo-Larr he'll just be one of those things I don't really talk about much later. The deco is limited and well-placed, but it isn't going to amaze anyone. But amuse? Yes.
--Adam Pawlus
Additional Images

Click here to see more Mattel figures in Figure of the Day.
See more Masters of the Universe figures in Figure of the Day:
Day 6: Mattel Masters of the Universe Classics Orko
Day 17: Mattel Masters of the Universe Classics Skeletor
Day 28: Mattel Masters of the Universe Classics Optikk
Day 41: Mattel Masters of the Universe Classics Chief Carnivus
Day 52: Mattel Masters of the Universe Classics Roboto
Day 90: Mattel Masters of the Universe Classics Mer-Man
Day 143: Mattel Masters of the Universe Classics Shadow Beast
Day 157: Mattel Masters of the Universe Classics Vikor
Day 165: Mattel Masters of the Universe Meteorbs Dinosorb Action Figure
Day 177: Mattel Masters of the Universe Classics Whiplash Action Figure
Day 187: Mattel Masters of the Universe Classics She-Ra Action Figure
Day 201: Mattel Masters of the Universe Meteorbs Tuskor Action Figure
Day 235: Mattel Masters of the Universe Classics Catra Action Figure
Day 255: 1SHOT Toys Glyos-Compatible He-Man Thermal Color Change Head
Day 280: Mattel Masters of the Universe Classics Icarius
Day 296: Mattel Masters of the Universe Classics Snout Spout
Day 318: Mattel Masters of the Universe Classics Bow
Day 323: Mattel Masters of the Universe Classics Faceless One
Day 328: Mattel Masters of the Universe Classics Battle Armor Skeletor
Day 334: Mattel DC Universe vs. Masters of the Universe Classics Zodac
Day 338: Mattel Masters of the Universe Classics Sy-Klone
Day 343: Mattel Masters of the Universe Classics Battleground Teela
Day 349: Mattel Masters of the Universe Classics Clawful
Day 353: Mattel Masters of the Universe Classics Man-E-Faces
Day 355: Mattel Masters of the Universe Classics Gygor
Day 360: Mattel Masters of the Universe Classics Shadow Weaver
Day 370: Mattel Masters of the Universe Classics Demo-Man
Day 371: Mattel Masters of the Universe Classics Leech
Day 380: Mattel Masters of the Universe Classics Webstor
Day 385: Mattel Masters of the Universe Classics Draego-Man
Day 386: Mattel Masters of the Universe Classics Fearless Photog
Day 401: Mattel Masters of the Universe Classics Thunder Punch He-Man
Day 403: Mattel Masters of the Universe Classics Preternia Disguise He-Man
Day 410: Mattel Masters of the Universe 200X Ram Man
Day 413: Mattel Masters of the Universe Classics Evil-Lyn
Day 420: Mattel Masters of the Universe 200X Venom-Spitting Khan
Day 424: Mattel Masters of the Universe Classics Wun-Dar
Day 430: Mattel Masters of the Universe Classics Horde Prime
Day 432: Mattel Masters of the Universe 200X Mekaneck
Day 438: Mattel Masters of the Universe Classics Tri-Klops
Day 449: Mattel Masters of the Universe Classics Stinkor
Day 454: Mattel Masters of the Universe Classics Mighty Spector
Day 459: Mattel Masters of the Universe Classics Fisto
Day 465: Mattel Masters of the Universe Classics Snake Man-At-Arms
Day 472: Mattel Masters of the Universe Classics Kobra Khan
Day 478: Mattel Masters of the Universe Classics Sorceress
Day 506: Mattel Masters of the Universe Classics Vykron
Day 531: Mattel Masters of the Universe Classics Dragon Blaster Skeletor
Day 543: Mattel Masters of the Universe Classics Frosta
Day 548: Mattel Masters of the Universe Classics Battleground Evil-Lyn
Day 563: Mattel Masters of the Universe Classics Sir Laser-Lot
Day 565: Mattel Masters of the Universe Classics Cy-Chop
Day 567: Mattel Masters of the Universe Classics Castle Grayskullman
Day 576: Mattel Masters of the Universe Classics Mekaneck
Day 583: Mattel Masters of the Universe Classics Rattlor
Day 589: Mattel Masters of the Universe Classics Battle Armor Faker
Day 596: Mattel Masters of the Universe Classics Dekker
Day 602: Mattel Masters of the Universe Classics Megator
Day 606: Mattel Masters of the Universe Classics Granamyr
Day 614: Mattel Masters of the Universe Classics Spikor
Day 623: Mattel Masters of the Universe Classics King Randor Eternos Palace
Day 632: Mattel Masters of the Universe Classics Faker
Day 641: Mattel Masters of the Universe Classics King Hssss
Day 653: Mattel Masters of the Universe Classics King He-Man
Day 658: Mattel Masters of the Universe Classics Jitsu
Day 664: Mattel Masters of the Universe Classics Fang Man
Day 667: Mattel Masters of the Universe Classics Ram Man
Day 683: Mattel Masters of the Universe Classics Bubble Power She-Ra
Day 694: Mattel Masters of the Universe Classics Karatti
Day 713: Mattel Masters of the Universe Classics Swiftwind
Day 728: Mattel Masters of the Universe Classics Octavia
Day 736: Mattel Masters of the Universe Classics New Adventures Galactic Protector He-Man
Day 738: Mattel Masters of the Universe Classics Icer
Day 746: Mattel Masters of the Universe Classics Moss Man
Day 753: Mattel Masters of the Universe Classics Shokoti
Day 758: Mattel Masters of the Universe Classics Castaspella
Day 776: Mattel Masters of the Universe Classics Batros
Day 782: Mattel Masters of the Universe Classics Sky High with Jet Sled
Day 799: Mattel Masters of the Universe Classics End of Wars Weapons Pak
Day 810: Mattel Masters of the Universe Classics Netossa
Day 816: Mattel Masters of the Universe Classics Nepthu
Day 820: Mattel Masters of the Universe Classics Castle Grayskull
Day 822: Mattel Masters of the Universe Classics Clamp Champ
Day 826: Mattel Masters of the Universe Classics Geldor
Day 834: Mattel Masters of the Universe Classics Strobo
Day 849: Mattel Masters of the Universe Classics Standor
Day 858: Mattel Masters of the Universe Classics Strong-Or
Day 868: Mattel Masters of the Universe Classics Plundor
Day 870: Mattel Masters of the Universe Classics Hydron
Day 886: Mattel Masters of the Universe Classics Two Bad
Day 893: Mattel Masters of the Universe Classics Lord Dactus
Day 900: Mattel Masters of the Universe Classics Unnamed One
Day 902: Mattel Masters of the Universe Classics Mantenna
Day 921: Mattel Masters of the Universe Classics Sea Hawk
Day 942: Mattel Masters of the Universe Classics Snake Face
Day 977: Mattel Masters of the Universe Classics Scorpia
Day 984: Mattel Masters of the Universe Classics Keldor
Day 995: Mattel Masters of the Universe Classics Skeletor (New Adventures)
Day 997: Mattel Masters of the Universe Classics Beast Man
Day 1,022: Mattel Masters of the Universe Classics Entrapta
Day 1,043: Mattel Masters of the Universe Classics Sweet Bee
Day 1,053: Mattel Masters of the Universe Classics Madame Razz and Broom
Day 1,058: Mattel Masters of the Universe Classics Extendar
Day 1,066: Mattel Masters of the Universe Classics Glimmer
Day 1,074: Mattel Masters of the Universe Classics Eldor
Day 1,085: Mattel Masters of the Universe Classics Gwildor
Day 1,097: Mattel Masters of the Universe Classics Flogg
Day 1,130: Mattel Masters of the Universe Classics Lizard Man
Day 1,131: Mattel Masters of the Universe Classics Loo-Kee & Kowl
Day 1,135: Mattel Masters of the Universe Classics Ninja Warrior
Day 1,147: Mattel Masters of the Universe Classics Oo-Larr
Day 1,151: Mattel Masters of the Universe Classics Tung Lashor
Day 1,156: Mattel Masters of the Universe Classics Galactic Protector She-Ra
Day 1,166: Funko Hikari Vinyl Masters of the Universe Mystic Powers Skeletor
Day 1,169: Mattel Masters of the Universe Classics Huntara
Day 1,201: Mattel Masters of the Universe Classics Goat Man
Day 1,209: Mattel Masters of the Universe Classics Light Hope
Day 1,223: Mattel Masters of the Universe Classics Mermista
Day 1,234: Mattel Masters of the Universe Classics Sssqueeze
Day 1,250: Super7 M.O.T.U.S.C.L.E. Set B
Day 1,263: Super7 M.O.T.U.S.C.L.E. Set A
Day 1,265: Mattel Masters of the Universe Classics Heads of Eternia
Day 1,283: Mattel Masters of the Universe Classics Blast Attak
Day 1,287: Mattel Masters of the Universe Classics Blast Callix
Day 1,288: Super7 M.O.T.U.S.C.L.E. Set C
Day 1,292: Mattel Masters of the Universe Classics Mosquitor
Day 1,297: Mattel Masters of the Universe Classics Spinnerella
Day 1,302: Super7 M.O.T.U.S.C.L.E. SDCC Promo Skeletor
Day 1,303: Mattel Masters of the Universe Classics King Chooblah
Day 1,314: Mattel Masters of the Universe Classics Blade
Day 1,319: Mattel Masters of the Universe Classics Terror Claws Skeletor and Flying Fists He-Man
Day 1,356: Mattel Masters of the Universe Classics He-Ro II
Day 1,379: Mattel Masters of the Universe Classics Queen Grayskull
Day 1,385: Mattel Masters of the Universe Classics Lord Masque
Day 1,389: Mattel Masters of the Universe Classics Perfuma
Day 1,394: Mattel Masters of the Universe Classics Dragstor
Day 1,407: Mattel Masters of the Universe Classics Prahvus
Day 1,411: Mattel Masters of the Universe Classics He-Man (Filmation)
Day 1,426: Mattel Masters of the Universe Classics Angella
Day 1,435: Mattel Masters of the Universe Classics Trap Jaw (Filmation)
Day 1,448: Mattel Masters of the Universe Classics Saurod
Day 1,460: Mattel Masters of the Universe Classics Ceratus
Day 1,464: Mattel Masters of the Universe Classics Vultak
Day 1,493: Mattel Masters of the Universe Classics Darius
Day 1,502: Mattel Masters of the Universe Classics Evil Seed
Day 1,503: Mattel Masters of the Universe Classics Skeletor
Day 1,517: Mattel Masters of the Universe Classics Double Mischief
Day 1,520: Mattel Masters of the Universe Classics Despara
Day 1,549: Mattel Masters of the Universe Classics Beast Man
Day 1,574: Mattel Masters of the Universe Classics Filmation Evil Seed
Day 1,596: Mattel Masters of the Universe Classics Evil-Lyn
Day 1,628: Super7 Masters of the Universe M.U.S.C.L.E. Series 2 Set C
Day 1,632: Mattel Masters of the Universe Classics Clawful
Day 1,633: Super7 Masters of the Universe M.U.S.C.L.E. Series 2 Set B
Day 1,639: Super7 Masters of the Universe M.U.S.C.L.E. Series 2 Set D
Day 1,645: Funko Masters of the Universe Dorbz Skeletor
Day 1,639: Super7 Masters of the Universe M.U.S.C.L.E. Series 2 Set A
Day 1,681: Mattel Masters of the Universe Classics Adora
Day 1,719: Mattel Masters of the Universe Classics Horde Wraith
Day 1,718: Mega Construx Heroes Masters of the Universe Skeletor Action Figure
Day 1,840: Super7 Masters of the Universe M.U.S.C.L.E. Series 3 Set D
Day 1,843: Super7 Masters of the Universe M.U.S.C.L.E. Series 3 Set E
Day 1,862: Super7 Masters of the Universe M.U.S.C.L.E. Series 3 Set C
Day 1,870: Mega Construx Heroes Masters of the Universe He-Man Action Figure
Day 1,877: Super7 Masters of the Universe M.U.S.C.L.E. Series 3 Set F
Day 1,879: Mega Construx Heroes Masters of the Universe Beast Man Action Figure
Day 1,886: Mega Construx Heroes Masters of the Universe Teela Action Figure
Day 1,922: Super7 Masters of the Universe M.U.S.C.L.E. Series 3 Set B
Day 1,937: Super7 Masters of the Universe M.U.S.C.L.E. Series 3 Set A
Day 2,104: Fisher-Price Imaginext Egypt Mummy Guards Action Figures
Day 2,161: Super7 Masters of the Universe Transforming He-Man Action Figure