Ion Crab
Very Late 1980s/Early 1990s

Imaginext Space Basic Vehicle
Item No.: Asst. BFT11 No. BHJ19
Manufacturer: Fisher-Price
Includes: Crab figure, armor, claw weapon, 2-armed 4-legged vehicle vehicle
Action Feature: n/a
Retail: $6.99
Availability: December 2013
Other: Like Glyos? Beast Saga? Get This.

PREVIOUS
RSS
NEXT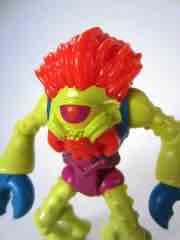 I had no real reason to buy the Imaginext Ion Crab other than it looks neat. It's amazing to me that one of the more interesting toys in recent memory is a vehicle with a cool, nameless alien figure aimed at toddlers. It's a durable little set and feels like it could withstand some abuse in sandboxes, tubs, and with actual children - which is something I don't think I can say about most toys examined here.
The 3-inch green figure has blue claws and red hair like Blanka from Street Fighter II. His legs are bony, but by and large he could pass as an alien crab. Sure, he's got a little red tail on his butt but who am I to judge? Sculpting is on par with or better than most Imaginext figures (in that it has original sculpting) and he's got a little "i" branded on his ankle. Compared to the creatures in the blind-bags or previous years of Space figures, this is pretty amazing. The detail is positively toylike and the bright, neon colors are sure to blind collectors from its greatness. It wouldn't stun me to see this mold redecorated in the future, warts and all. (It has warts.)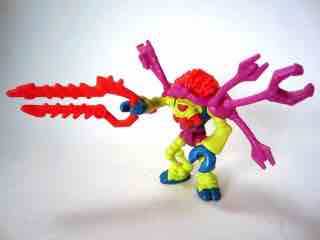 While the scorpion vehicle seemed small, the crab vehicle seems cheap. You get about a dozen plastic pieces slapped together with articulated claws, rolling wheels, and geared legs that "walk" as it goes along the carper or floor. The figure fits right in the seat and can easily grip the controls in his hands. There's a place to stick a weapon near his seat, but not this weapon - the lobster-cracker doesn't have a peg to fit in the hole, so it can hold it or you can set it aside. It's certainly a distinctive weapon, and the vehicle itself has a little "face" under the chair and no paint of any kind. Mattel really made sure costs were kept down here, but it's still a neat little thing for the price.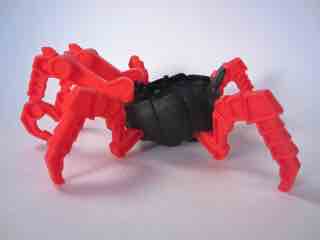 Rounding out the set is a suit of armor. It's able to be put on his head multiple ways, and I believe it's intended to be some sort of six-armed tiara. If they left it out, I don't think I'd miss it but it does give him a Doc Ock vibe. He can wear it while seated in the vehicle and while that's a plus, I can't say that I'm crazy about it. The vehicle and figure are great, though.
Of the sets I've held so far, I think the Ion Scoprion is best but this is a close second. The colors feel a lot like the Roton from Masters of the Universe, although the Alpha Blade holds the distinction of being an update of that particular vehicle. I'd say if the price is right and you need a 3-inch scale vehicle for any reason, this is a worthy purchase. If you have kids, I bet they'll enjoy it too. Having bought a lot of toys in my life (and sold a lot at work) I can say that this is one of the ones that I think I'm going to keep around within arm's reach for a while. It begs to be played with.
--Adam Pawlus
Additional Images

Want to buy this figure or others like it? Check Fisher-Price availability at our sponsors:
Entertainment Earth
See more Fisher-Price figures in Figure of the Day:
Day 79: Fisher-Price Adventure People Alpha Star Astronaut Action Figure
Day 233: Fisher-Price Imaginext Space Station Toy Set
Day 404: Fisher-Price Imaginext Dinosaur Ankylosaurus
Day 528: Fisher-Price Imaginext Dinosaur Raptor
Day 643: Fisher-Price Adventure People Alpha Star Alien Creature
Day 766: Fisher-Price Imaginext Collectible Figures Diver
Day 796: Fisher-Price Imaginext Collectible Figures Robot
Day 830: Fisher-Price Imaginext Collectible Figures Mummy
Day 842: Fisher-Price Imaginext Space Ion Scorpion
Day 847: Fisher-Price Imaginext Space Ion Crab
Day 853: Fisher-Price Imaginext Space Alpha Blade
Day 954: Fisher-Price Imaginext Dinosaur Dimetrodon
Day 2,002: Fisher-Price Imaginext Series 10 Collectible Figures Spaceman & Alien
Day 2,014: Fisher-Price Imaginext Series 11 Collectible Figures X-Ray Man & Dog
Day 2,018: Fisher-Price Imaginext Series 11 Collectible Figures Radiation Man
Day 2,024: Fisher-Price Imaginext Series 11 Collectible Figures Triple Threat Snake
Day 2,032: Fisher-Price Imaginext Series 11 Collectible Figures M.U.S.C.L.E. Men
Day 2,036: Fisher-Price Imaginext Series 6 Collectible Figures Chicken Suit
Day 2,092: Fisher-Price Imaginext Series 11 Collectible Figures Fishbot
Day 2,096: Fisher-Price Imaginext Series 12 Collectible Figures Big Building Robot
Day 2,099: Fisher-Price Imaginext Series 12 Collectible Figures Clawtron
Day 2,100: Fisher-Price Imaginext DC Super Friends Batman & Swamp Thing Action Figures
Day 2,101: Fisher-Price Imaginext Series 7 Collectible Figures Buster of Ghosts
Day 2,102: Fisher-Price Imaginext Pirates Shark Minisub Figure with Vehicle
Day 2,103: Fisher-Price Imaginext Jurassic World Dr. Malcolm & Dimetrodon Action Figures
Day 2,104: Fisher-Price Imaginext Egypt Mummy Guards Action Figures
Day 2,108: Fisher-Price Imaginext Series 9 Mystery Figures Grim Reaper
Day 2,122: Fisher-Price Imaginext Series 6 Collectible Figures 4 Arm Alien
Day 2,133: Fisher-Price Imaginext Series 7 Collectible Figures Headless Horseman
Day 2,194: Fisher-Price Imaginext Series 9 Mystery Figures Yeti Snowboarder
Day 2,227: Fisher-Price Imaginext Series 9 Mystery Figures Shark Pirate
Day 2,239: Fisher-Price Imaginext DC Super Friends Slammers Arctic Sled with Mr. Freeze Set
Day 2,249: Fisher-Price Imaginext DC Super Friends Slammers Batmobile with Batman Set

See more Imaginext figures in Figure of the Day:
Day 233: Fisher-Price Imaginext Space Station Toy Set
Day 404: Fisher-Price Imaginext Dinosaur Ankylosaurus
Day 528: Fisher-Price Imaginext Dinosaur Raptor
Day 766: Fisher-Price Imaginext Collectible Figures Diver
Day 796: Fisher-Price Imaginext Collectible Figures Robot
Day 830: Fisher-Price Imaginext Collectible Figures Mummy
Day 842: Fisher-Price Imaginext Space Ion Scorpion
Day 847: Fisher-Price Imaginext Space Ion Crab
Day 853: Fisher-Price Imaginext Space Alpha Blade
Day 954: Fisher-Price Imaginext Dinosaur Dimetrodon
Day 2,002: Fisher-Price Imaginext Series 10 Collectible Figures Spaceman & Alien
Day 2,014: Fisher-Price Imaginext Series 11 Collectible Figures X-Ray Man & Dog
Day 2,018: Fisher-Price Imaginext Series 11 Collectible Figures Radiation Man
Day 2,024: Fisher-Price Imaginext Series 11 Collectible Figures Triple Threat Snake
Day 2,032: Fisher-Price Imaginext Series 11 Collectible Figures M.U.S.C.L.E. Men
Day 2,036: Fisher-Price Imaginext Series 6 Collectible Figures Chicken Suit
Day 2,092: Fisher-Price Imaginext Series 11 Collectible Figures Fishbot
Day 2,096: Fisher-Price Imaginext Series 12 Collectible Figures Big Building Robot
Day 2,099: Fisher-Price Imaginext Series 12 Collectible Figures Clawtron
Day 2,100: Fisher-Price Imaginext DC Super Friends Batman & Swamp Thing Action Figures
Day 2,101: Fisher-Price Imaginext Series 7 Collectible Figures Buster of Ghosts
Day 2,102: Fisher-Price Imaginext Pirates Shark Minisub Figure with Vehicle
Day 2,103: Fisher-Price Imaginext Jurassic World Dr. Malcolm & Dimetrodon Action Figures
Day 2,104: Fisher-Price Imaginext Egypt Mummy Guards Action Figures
Day 2,108: Fisher-Price Imaginext Series 9 Mystery Figures Grim Reaper
Day 2,122: Fisher-Price Imaginext Series 6 Collectible Figures 4 Arm Alien
Day 2,133: Fisher-Price Imaginext Series 7 Collectible Figures Headless Horseman
Day 2,194: Fisher-Price Imaginext Series 9 Mystery Figures Yeti Snowboarder
Day 2,227: Fisher-Price Imaginext Series 9 Mystery Figures Shark Pirate
Day 2,239: Fisher-Price Imaginext DC Super Friends Slammers Arctic Sled with Mr. Freeze Set
Day 2,249: Fisher-Price Imaginext DC Super Friends Slammers Batmobile with Batman Set