Ion Scorpion
Very Late 1980s/Early 1990s

Imaginext Space Basic Vehicle
Item No.: Asst. BFT11 No. BFR96
Manufacturer: Fisher-Price
Includes: Scorpion figure, armor, gun, 2-wheeled vehicle
Action Feature: n/a
Retail: $6.99
Availability: December 2013
Other: Like Glyos? Get This.

PREVIOUS
RSS
NEXT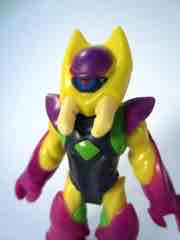 I like toys. I like characters, but toys I like more - mostly because a new toy line could birth a whole new generation of characters and, yes, more toys. The Imaginext Ion Scorpion comes from a space line that feels fresh and also pays tribute to a couple of decades of space toys. The figure looks like it could be the grandson of Repto or Kronos, and the colors are bright and inviting - like most action figures aren't. Were it not for super hero toys, the toy aisle would be an increasingly muted and largely dreary. The 3-inch aisles are where it gets the most interesting with Imaginext and to a lesser extent, Hasbro/Playskool's Robot Heroes and Super Hero Adventures lines. (Jedi Force is effectively dead, so let's keep moving along.) I snagged this set on a tip from the one and only Matt Doughty that they started hitting Kohl's last month, and as an added bonus I found that they were 50% off when I was there. I couldn't say no at that price - Imaginext single blind-bag figures are usually $3. $5 for a figure with a vehicle? I'm sold!

The 3-inch yellow figure has purple claws and I'm not quite sure what his name is - I assume "Ion Scorpion" is the vehicle's name but I could be wrong. The humans in this line have the naming convention of "Alpha ___," which is similar to the classic Fisher-Price Adventure People toyline of the 1970s and 1980s. I'm not sure what the Ion could be referencing, but it's a pretty solid toy - consider that this vehicle/figure set costs about the same as a figure 2-pack, or what a figure plus a backpack normally costs. I assume (OK, know) that this means the line is a huge success and as such they're trying all sorts of new things - these figures are largely completely new sculpts, whereas previous years we saw figures that were the same body with new paint and maybe new heads. Here, as far as I can tell, you get a 100%-new figure.

The figure is jointed at the legs - both swing forward together - with ball-jointed shoulders, swiveling claw wrists, and a rotating head. As always the figures can hold their accessories easily, in this case it's a claw ray gun of some sort that looks like it fell out of the late 1960s. It also plugs in a hole on the "stinger" part of the vehicle, so you can make sure you don't lose it. There's also a strange set of armor that looks sort of like a pair of scorpion tails, or a couple of guns. Use your imagination, I guess, as that's what the hilarious bio on the box seems to say. The detail is far superior to most other Imaginext figures, mostly because there's actual sculpting here - various elements make up the carapace quite nicely and the one-eyed head is pretty foreboding. If you compare this figure to similarly sized indie offerings - or indeed things aimed at collectors - it's pretty favorable. It may not have the Marvel license or the artistic-esque cache of a Dunny, but it's a pretty charming little alien bug man.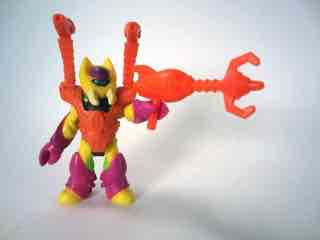 The vehicle itself is pretty great. It seems to pull in a few cool bug elements like geared pincers, so it can grab another figure in the front. The stinger is articulated, so you can rotate it off to the side to use as a parking brake and keep the seating area open for inserting the figure into the driver's seat. The only deco are a couple of black stripes on the green pincers, otherwise it's completely molded in a bright green or pitch black plastic. There's not a lot to it - it feels like the best-ever Happy Meal toy, just larger and made of a higher-grade plastic. I'd probably have an absolute blast with this if I got it as a kid, and if you're an aunt or uncle (let's be honest here, uncle) reading this, odds are your nephew would flip over it.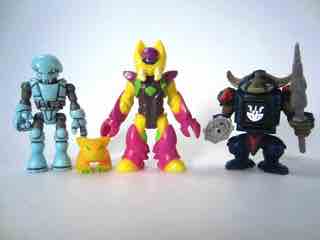 This set scores points because absolutely nothing feels extraneous. The figure can wear his armor while seated in the vehicle. The vehicle can hold the weapon while the figure is driving. Everything fits together and nothing has to go in a spare parts bin to be lost or forgotten - it's a complete package and a fine example of the bizarre figure world in which we live, where the most interesting stuff on the market is aimed at ages 3-8. Imaginext is probably the best pure "toy" figure brand marketed to young boys in the USA, and really the only thing missing is a sort of grand titan behemoth monster of a toy like a Metroplex or a U.S.S. Flagg. Its far-reaching compatibility, top-notch distribution, and appealing variety of product is only hurt by Mattel's lack of character branding within the line - outside of DC Comics and Spongebob, it's largely what you make of it, and even LEGO found that to be quite a hurdle to jump until the late 1990s. But I digress - the Ion Scorpion is a fun little toy and if you have Armorvors or other Glyos figures, I suggest getting one to play with. You'll like it.
--Adam Pawlus
Additional Images

Want to buy this figure or others like it? Check Fisher-Price availability at our sponsors:
Entertainment Earth
See more Fisher-Price figures in Figure of the Day:
Day 79: Fisher-Price Adventure People Alpha Star Astronaut Action Figure
Day 233: Fisher-Price Imaginext Space Station Toy Set
Day 404: Fisher-Price Imaginext Dinosaur Ankylosaurus
Day 528: Fisher-Price Imaginext Dinosaur Raptor
Day 643: Fisher-Price Adventure People Alpha Star Alien Creature
Day 766: Fisher-Price Imaginext Collectible Figures Diver
Day 796: Fisher-Price Imaginext Collectible Figures Robot
Day 830: Fisher-Price Imaginext Collectible Figures Mummy
Day 842: Fisher-Price Imaginext Space Ion Scorpion
Day 847: Fisher-Price Imaginext Space Ion Crab
Day 853: Fisher-Price Imaginext Space Alpha Blade
Day 954: Fisher-Price Imaginext Dinosaur Dimetrodon
Day 2,002: Fisher-Price Imaginext Series 10 Collectible Figures Spaceman & Alien
Day 2,014: Fisher-Price Imaginext Series 11 Collectible Figures X-Ray Man & Dog
Day 2,018: Fisher-Price Imaginext Series 11 Collectible Figures Radiation Man
Day 2,024: Fisher-Price Imaginext Series 11 Collectible Figures Triple Threat Snake
Day 2,032: Fisher-Price Imaginext Series 11 Collectible Figures M.U.S.C.L.E. Men
Day 2,036: Fisher-Price Imaginext Series 6 Collectible Figures Chicken Suit
Day 2,092: Fisher-Price Imaginext Series 11 Collectible Figures Fishbot
Day 2,096: Fisher-Price Imaginext Series 12 Collectible Figures Big Building Robot
Day 2,099: Fisher-Price Imaginext Series 12 Collectible Figures Clawtron
Day 2,100: Fisher-Price Imaginext DC Super Friends Batman & Swamp Thing Action Figures
Day 2,101: Fisher-Price Imaginext Series 7 Collectible Figures Buster of Ghosts
Day 2,102: Fisher-Price Imaginext Pirates Shark Minisub Figure with Vehicle
Day 2,103: Fisher-Price Imaginext Jurassic World Dr. Malcolm & Dimetrodon Action Figures
Day 2,104: Fisher-Price Imaginext Egypt Mummy Guards Action Figures
Day 2,108: Fisher-Price Imaginext Series 9 Mystery Figures Grim Reaper
Day 2,122: Fisher-Price Imaginext Series 6 Collectible Figures 4 Arm Alien
Day 2,133: Fisher-Price Imaginext Series 7 Collectible Figures Headless Horseman
Day 2,194: Fisher-Price Imaginext Series 9 Mystery Figures Yeti Snowboarder
Day 2,227: Fisher-Price Imaginext Series 9 Mystery Figures Shark Pirate
Day 2,239: Fisher-Price Imaginext DC Super Friends Slammers Arctic Sled with Mr. Freeze Set
Day 2,249: Fisher-Price Imaginext DC Super Friends Slammers Batmobile with Batman Set

See more Imaginext figures in Figure of the Day:
Day 233: Fisher-Price Imaginext Space Station Toy Set
Day 404: Fisher-Price Imaginext Dinosaur Ankylosaurus
Day 528: Fisher-Price Imaginext Dinosaur Raptor
Day 766: Fisher-Price Imaginext Collectible Figures Diver
Day 796: Fisher-Price Imaginext Collectible Figures Robot
Day 830: Fisher-Price Imaginext Collectible Figures Mummy
Day 842: Fisher-Price Imaginext Space Ion Scorpion
Day 847: Fisher-Price Imaginext Space Ion Crab
Day 853: Fisher-Price Imaginext Space Alpha Blade
Day 954: Fisher-Price Imaginext Dinosaur Dimetrodon
Day 2,002: Fisher-Price Imaginext Series 10 Collectible Figures Spaceman & Alien
Day 2,014: Fisher-Price Imaginext Series 11 Collectible Figures X-Ray Man & Dog
Day 2,018: Fisher-Price Imaginext Series 11 Collectible Figures Radiation Man
Day 2,024: Fisher-Price Imaginext Series 11 Collectible Figures Triple Threat Snake
Day 2,032: Fisher-Price Imaginext Series 11 Collectible Figures M.U.S.C.L.E. Men
Day 2,036: Fisher-Price Imaginext Series 6 Collectible Figures Chicken Suit
Day 2,092: Fisher-Price Imaginext Series 11 Collectible Figures Fishbot
Day 2,096: Fisher-Price Imaginext Series 12 Collectible Figures Big Building Robot
Day 2,099: Fisher-Price Imaginext Series 12 Collectible Figures Clawtron
Day 2,100: Fisher-Price Imaginext DC Super Friends Batman & Swamp Thing Action Figures
Day 2,101: Fisher-Price Imaginext Series 7 Collectible Figures Buster of Ghosts
Day 2,102: Fisher-Price Imaginext Pirates Shark Minisub Figure with Vehicle
Day 2,103: Fisher-Price Imaginext Jurassic World Dr. Malcolm & Dimetrodon Action Figures
Day 2,104: Fisher-Price Imaginext Egypt Mummy Guards Action Figures
Day 2,108: Fisher-Price Imaginext Series 9 Mystery Figures Grim Reaper
Day 2,122: Fisher-Price Imaginext Series 6 Collectible Figures 4 Arm Alien
Day 2,133: Fisher-Price Imaginext Series 7 Collectible Figures Headless Horseman
Day 2,194: Fisher-Price Imaginext Series 9 Mystery Figures Yeti Snowboarder
Day 2,227: Fisher-Price Imaginext Series 9 Mystery Figures Shark Pirate
Day 2,239: Fisher-Price Imaginext DC Super Friends Slammers Arctic Sled with Mr. Freeze Set
Day 2,249: Fisher-Price Imaginext DC Super Friends Slammers Batmobile with Batman Set