Waspinator
02 Series #008

Transformers Generations Deluxe
Item No.: Asst. 37986 No. A5479
Manufacturer: Hasbro
Includes: Blaster, IDW Comic Book
Action Feature: Transforms from wasp to robot
Retail: $12.99
Availability: December 2013
Other: 02 Series #008

PREVIOUS
RSS
NEXT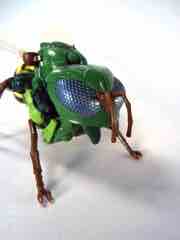 New sizable toys of Beast Wars characters are, to say the least, uncommon in North America. Hasbro hasn't put out new transforming versions of the characters in a while - we got Cheetor and Dinobot around 2009, Cybertron-era resculpts of Optimus Primal and Megatron around 2006, and a few repaints here and there. Waspinator is the first of two new releases in the "Thrilling 30" deluxe line from the series, along with a Voyager-class Rhinox released at about the same time. Much like the show from which he hails, the Predacon has a feverishly loyal following which is quite well-deserved. The writers had a lot of fun with a character that is little more than a dumb thug with a curious speech pattern. His personality is one of the most memorable in the entire Transformers mythos, so it makes sense he got two transforming toys in 2013.
This toy comes with a comic book that has a fairly oddly-colored illustration that basically resembles the toy. The toy itself looks a lot like numerous existing illustrations and animation models of the character, minus the eye color. It is shockingly close to a number of illustrations and as such will probably be hugely popular with his fans for years to come - he has the strange mouth, the antenna, bug legs, and a nifty stinger gun. Oh, and no spring-loaded parts to break, too, that's a big plus.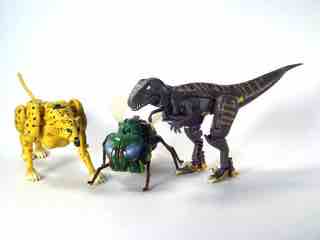 The 5-inch tall Predacon warrior has about 13 meaningful points of articulation as a robot, plus an awesome and simple switch which lets you move his wings around. It works well - everything about this figure works well. Getting him into wasp mode is a little tricky but all of the panels and tabs align with minimal frustration. Other than moving his bug legs and wings, the bug mode doesn't do much but hey - bug mode! We don't get those very often. This toy's only real shortcoming is a lack of deco on the head, which I'm sure some third-party person or customizer will fix. Or Japan, at four times the price.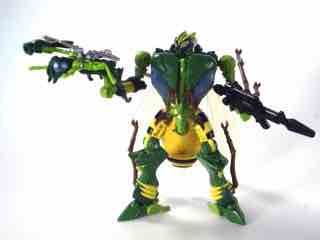 The whole assortment was down to ten bones a figure when I found mine in December and is well, well worth it. Considering the original Waspinator was $10 in 1996 with much less deco, much less articulation, and a less convincing beast mode, this may well be one of Hasbro's finest make-goods ever. A lot of work went in to making this a figure that I can't say much about, because everything basically looks correct. It's Waspinator! It's basically what you remember, only better, and cheaper. Those of you with customization skills are going to love this toy and never want for a better one - the rest of us will just enjoy a well-made, nicely-priced, all-around fun toy from one of the most beloved robot TV shows of the 1990s.
--Adam Pawlus
Additional Images

Click here to see more Hasbro figures in Figure of the Day.
Click here to see more Transformers figures in Figure of the Day.
Want to buy this figure? Check Transformers availability at our sponsors:
Entertainment Earth