Mummy
Reminiscent of Adventure People

Imaginext Blind-Bagged Collectible Figures
Item No.: Asst. Y8413
Manufacturer: Fisher-Price
Includes: Mummy figure, staff, jackal mask
Action Feature: n/a
Retail: $2.99
Availability: August 2013
Other: Look for #21 on upper-left of the foil packet on the back

PREVIOUS
RSS
NEXT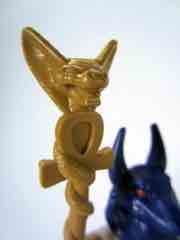 There's more coming, or so I hear! The Mummy is another good Imaginext figure, in that it's another fine figure that actually adds new sculpted elements rather than slapping paint on the same basic male buck we've seen for years. And yes, I realize the absurdity in nitpicking a toy that's labeled "collectible" and sold to people who aren't tall enough to pour themselves a glass of water yet.
The 3-inch figure basically checks a box of the things one might expect preschool-age boys would recognize - other figures in the set include soccer players, aliens, and not-James Bond... which I have to assume means this line is more popular in Europe. As I write this I'm seeing many James Bond movies for the first time and I think that there's a lot of people under 35-40 in the same boat, but I digress. Mummy! The sculpted mask has a jackal head with a great clenched face that seems like it would be right at home in the 1980s TMNT toy line. There are white teeth, red eyes, and a dab of brown on the front. The sculpting is worthy of mention, but that brown paint is thick and glossy, robbing you of the work put into its design - several rivets are drowned out by the decoration.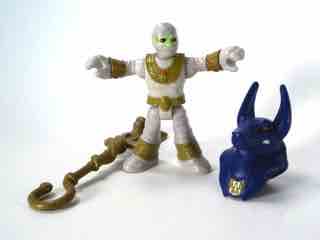 The newly-sculpted mummy has a wonderful head - note the subtle wrinkles, green skin, red eyes, and numerous wrappings. The mouth is covered, which I've seen more and more on mummy stuff as of late. The quantity of jewelry would put Mr. T to shame, although it is unlikely anyone would pity an undead ancient king covered in ankhs, scarabs, and other similar flourishes. Other than the "gold" paint, the only decoration below the neck is a red jewel on his torso. An Imaginext "i" is sculpted on the back of his body, and is actually one of the better-integrated examples of the marking. Have you seen the new space guys? They just stamp it on an ankle. This works way better.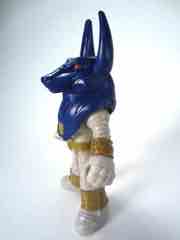 This one isn't my favorite of the batch, but it's been on my desk for several months - seriously, he's been sitting right on the corner near my router for almost four whole months. Since he has a superior design and no problems integrating with his gear, it's impossible not to dig it. Unless you're all done with mummies, which I suppose is possible - I think I've had enough of zombies and vampires for a little while unless somehow counting is involved. For three bones, get it if you can! Don't forget to cheat - you can see which figure is in which packet by consulting an embossed two-digit code on the back of the wrapper. To get the mummy, look for "21" and you'll be all set.
--Adam Pawlus
Additional Images

Want to buy this figure or others like it? Check Fisher-Price availability at our sponsors:
Entertainment Earth
See more Fisher-Price figures in Figure of the Day:
Day 79: Fisher-Price Adventure People Alpha Star Astronaut Action Figure
Day 233: Fisher-Price Imaginext Space Station Toy Set
Day 404: Fisher-Price Imaginext Dinosaur Ankylosaurus
Day 528: Fisher-Price Imaginext Dinosaur Raptor
Day 643: Fisher-Price Adventure People Alpha Star Alien Creature
Day 766: Fisher-Price Imaginext Collectible Figures Diver
Day 796: Fisher-Price Imaginext Collectible Figures Robot
Day 830: Fisher-Price Imaginext Collectible Figures Mummy
Day 842: Fisher-Price Imaginext Space Ion Scorpion
Day 847: Fisher-Price Imaginext Space Ion Crab
Day 853: Fisher-Price Imaginext Space Alpha Blade
Day 954: Fisher-Price Imaginext Dinosaur Dimetrodon
Day 2,002: Fisher-Price Imaginext Series 10 Collectible Figures Spaceman & Alien
Day 2,014: Fisher-Price Imaginext Series 11 Collectible Figures X-Ray Man & Dog
Day 2,018: Fisher-Price Imaginext Series 11 Collectible Figures Radiation Man
Day 2,024: Fisher-Price Imaginext Series 11 Collectible Figures Triple Threat Snake
Day 2,032: Fisher-Price Imaginext Series 11 Collectible Figures M.U.S.C.L.E. Men
Day 2,036: Fisher-Price Imaginext Series 6 Collectible Figures Chicken Suit
Day 2,092: Fisher-Price Imaginext Series 11 Collectible Figures Fishbot
Day 2,096: Fisher-Price Imaginext Series 12 Collectible Figures Big Building Robot
Day 2,099: Fisher-Price Imaginext Series 12 Collectible Figures Clawtron
Day 2,100: Fisher-Price Imaginext DC Super Friends Batman & Swamp Thing Action Figures
Day 2,101: Fisher-Price Imaginext Series 7 Collectible Figures Buster of Ghosts
Day 2,102: Fisher-Price Imaginext Pirates Shark Minisub Figure with Vehicle
Day 2,103: Fisher-Price Imaginext Jurassic World Dr. Malcolm & Dimetrodon Action Figures
Day 2,104: Fisher-Price Imaginext Egypt Mummy Guards Action Figures
Day 2,108: Fisher-Price Imaginext Series 9 Mystery Figures Grim Reaper
Day 2,122: Fisher-Price Imaginext Series 6 Collectible Figures 4 Arm Alien
Day 2,133: Fisher-Price Imaginext Series 7 Collectible Figures Headless Horseman
Day 2,194: Fisher-Price Imaginext Series 9 Mystery Figures Yeti Snowboarder
Day 2,227: Fisher-Price Imaginext Series 9 Mystery Figures Shark Pirate
Day 2,239: Fisher-Price Imaginext DC Super Friends Slammers Arctic Sled with Mr. Freeze Set
Day 2,249: Fisher-Price Imaginext DC Super Friends Slammers Batmobile with Batman Set

See more Imaginext figures in Figure of the Day:
Day 233: Fisher-Price Imaginext Space Station Toy Set
Day 404: Fisher-Price Imaginext Dinosaur Ankylosaurus
Day 528: Fisher-Price Imaginext Dinosaur Raptor
Day 766: Fisher-Price Imaginext Collectible Figures Diver
Day 796: Fisher-Price Imaginext Collectible Figures Robot
Day 830: Fisher-Price Imaginext Collectible Figures Mummy
Day 842: Fisher-Price Imaginext Space Ion Scorpion
Day 847: Fisher-Price Imaginext Space Ion Crab
Day 853: Fisher-Price Imaginext Space Alpha Blade
Day 954: Fisher-Price Imaginext Dinosaur Dimetrodon
Day 2,002: Fisher-Price Imaginext Series 10 Collectible Figures Spaceman & Alien
Day 2,014: Fisher-Price Imaginext Series 11 Collectible Figures X-Ray Man & Dog
Day 2,018: Fisher-Price Imaginext Series 11 Collectible Figures Radiation Man
Day 2,024: Fisher-Price Imaginext Series 11 Collectible Figures Triple Threat Snake
Day 2,032: Fisher-Price Imaginext Series 11 Collectible Figures M.U.S.C.L.E. Men
Day 2,036: Fisher-Price Imaginext Series 6 Collectible Figures Chicken Suit
Day 2,092: Fisher-Price Imaginext Series 11 Collectible Figures Fishbot
Day 2,096: Fisher-Price Imaginext Series 12 Collectible Figures Big Building Robot
Day 2,099: Fisher-Price Imaginext Series 12 Collectible Figures Clawtron
Day 2,100: Fisher-Price Imaginext DC Super Friends Batman & Swamp Thing Action Figures
Day 2,101: Fisher-Price Imaginext Series 7 Collectible Figures Buster of Ghosts
Day 2,102: Fisher-Price Imaginext Pirates Shark Minisub Figure with Vehicle
Day 2,103: Fisher-Price Imaginext Jurassic World Dr. Malcolm & Dimetrodon Action Figures
Day 2,104: Fisher-Price Imaginext Egypt Mummy Guards Action Figures
Day 2,108: Fisher-Price Imaginext Series 9 Mystery Figures Grim Reaper
Day 2,122: Fisher-Price Imaginext Series 6 Collectible Figures 4 Arm Alien
Day 2,133: Fisher-Price Imaginext Series 7 Collectible Figures Headless Horseman
Day 2,194: Fisher-Price Imaginext Series 9 Mystery Figures Yeti Snowboarder
Day 2,227: Fisher-Price Imaginext Series 9 Mystery Figures Shark Pirate
Day 2,239: Fisher-Price Imaginext DC Super Friends Slammers Arctic Sled with Mr. Freeze Set
Day 2,249: Fisher-Price Imaginext DC Super Friends Slammers Batmobile with Batman Set