The Jetsons Capsule Car
First Edition

Hot Wheels HW City
Item No.: Asst. C4982 No. BDC93
Manufacturer: Mattel
Includes: n/a
Action Feature: Rolls
Retail: $1.00
Availability: October 2013
Other: 090 / 250

PREVIOUS
RSS
NEXT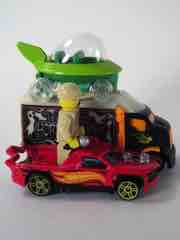 The 2014 Hot Wheels come out early - I had no idea - and the first one I snagged was The Jetsons Capsule Car. Rather than use a display stand like The Enterprise, the vehicle has been adapted to be an actual car. It has a larger bottom half, plus clear plastic wheels that roll quite nicely. I literally just found it last week.
I found mine at a Fry's Electronics in Los Angeles, and it seems to have the international packaging - hence, no "NEW! for 2014" call-out on the card. It's cast in green plastic, with both dark green and light green die-cast metal elements. A clear dome covers the top and you can see seats for four, possibley more depending on your mood. No figures are included.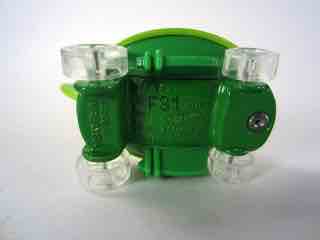 Mattel has made Jetsons cars in the past for Hot Wheels, but not based on this design - you'd see the characters slapped on a bus. Previously they have also produced The Mystery Machine from Scooby-Doo as well as the car from The Flintstones, neither of which I have had the good fortune to find at retail. The TV and movie cars in this line continue to grow and thrive, and for a buck I'm not complaining.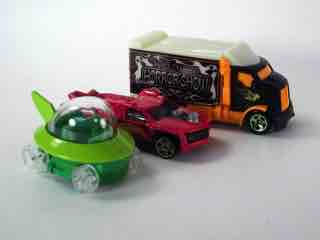 This will probably be tough to find - if I find another one, I'm getting it for my parents. I'm sure many are going to get scalped on Amazon and eBay. It's my hope that Mattel cranks out a ton of them and satisfies the market, because why the heck not. It's not like they make money from eBay. Attention toy hunters: note the Jetsons logo at the top of the package, the blue stripe on teh right, and that the "theme" text has changed from white to black this year. Good hunting.
--Adam Pawlus
Additional Images


Click here to see more Mattel figures in Figure of the Day.
See more Hot Wheels in Figure of the Day:
Day 670: Mattel Hot Wheels Fig Rig Car
Day 675: Mattel Hot Wheels Star Trek U.S.S. Enterprise
Day 685: Mattel Hot Wheels Batmobile (Tim Burton, 2013)
Day 708: Mattel Hot Wheels Batman Live Batmobile
Day 718: Mattel Hot Wheels T-Rextroyer Die-Cast Metal Vehicle
Day 727: Mattel Hot Wheels Ratmobile (White) Die-Cast Metal Vehicle
Day 742: Mattel Hot Wheels Batcopter Die-Cast Metal Vehicle
Day 750: Mattel Hot Wheels Arachnorod
Day 770: Mattel Hot Wheels The Jetsons Capsule Car
Day 779: Mattel Hot Wheels Hiway Hauler
Day 786: Mattel Hot Wheels Speed-A-Saurus
Day 797: Mattel Hot Wheels Express Lane
Day 803: Mattel Hot Wheels Zombot
Day 817: Mattel Hot Wheels Scooby-Doo The Mystery Machine
Day 845: Mattel Hot Wheels Carbonator
Day 1,060: Mattel Hot Wheels Skate Punk
Day 1,116: Mattel Hot Wheels Let's Go
Day 1,157: Mattel Hot Wheels The Homer
Day 1,290: Mattel Hot Wheels Back to the Future Time Machine - Hover Mode
Day 1,321: Mattel Hot Wheels Loopster
Day 1,334: Mattel Hot Wheels Nintendo Cool-One (Super Mario)
Day 1,366: Mattel Hot Wheels Mars Rover Curiosity
Day 1,383: Mattel Hot Wheels Dawn of Justice Batmobile
Day 1.532: Mattel Hot Wheels Minecraft Mine Cart Die-Cast Metal Vehicle
Day 1.533: Mattel Hot Wheels Tankinator Die-Cast Metal Vehicle
Day 1,716: Mattel Hot Wheels Roller Toaster
Day 1,740: Mattel Hot Wheels Motosaurus
Day 1,768: Mattel Hot Wheels Aisle Driver
Day 1,831: Mattel Hot Wheels Radio Flyer Wagon
Day 1,873: Mattel Hot Wheels Glow Wheels Loopster

Want to buy this figure? Check Hot Wheels availability at our sponsors:
Entertainment Earth