The Joker
Zap!!!

Batman Classic TV Series Action Figure
Item No.: Asst. Y9633 No. Y9637
Manufacturer: Mattel
Includes: Oversized retro trading card, display stand
Action Feature: n/a
Retail: $15.99-$19.99
Availability: September 2013
Other: Could be better.

PREVIOUS
RSS
NEXT

"Listen to this, Mulligan, I'll read it to you. It says: I have escaped from Arkham Asylum and revenge will be sweet! Free once again to pursue my dishonorable profession. If you try to play your hand against mine, you will find the Joker is wild, signed, The Joker." - Batman record and book "Stacked Cards"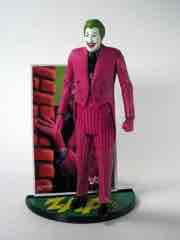 The great thing about being pessimistic is you won't be disappointed. When I first saw a prototype for The Joker it was unfinished - but comments from Mattel made since its reveal was that it would have "the mustache," arguably the first thing anyone would ask about when it comes to Caesar Romero's portrayal of the Clown Prince of Crime. The actor had a mustache, but the character did not. The solution? Paint it white, and hope 1966 TVs were crappy enough so that nobody would notice.
When photos got out of this 6 1/3-inches tall villain, I would say it looked pretty good. Comparing the figure I bought to images on Entertainment Earth and Amazon makes it clear - this is not the same figure. If I didn't know better, I would wager the factory used an earlier, bad sample and Mattel shrugged and said "fine, close enough, whatever." The face is close - the manic grin and mouth are there, but it lacks the wrinkles needed to really push it over the edge as being manic. The moustache is represented by a too-dark painted-on shadow, and the figure would have looked better (if not exactly authentic) if they just left his upper-lip blank.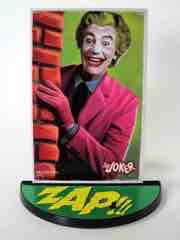 It's tricky to do something "right" that's "wrong," I guess, and Mattel did not succeed here. The hair isn't quite as bushy as I remember it, and the eyes fade into the face too much - the whites of the eyes really should be different than his make-up. The figure's eyebrows were gray - like a lot of the Data Star Trek figures - and I don't think that's correct, either. This reeks of a language barrier at a factory causing a breakdown in communication, someone over there clearly thinks they were "fixing" it and doing Mattel a favor.
With 19 points of articulation, this is a figure that's adequate - it's obvious more care went into the other bad guys, because Joker's "ab crunch" joint is not only completely covered, but the coat restricts all movement. It serves no purpose and it doesn't seem like this had a lot of involvement from a fan or someone with sufficient reference and context. The suit is overly bulky and feels like he has hulking shoulder pads, which is not at all true to the show. The coat over the body is a separate, rubbery piece and I have no doubt if it were better I'd have a much better opinion of this figure.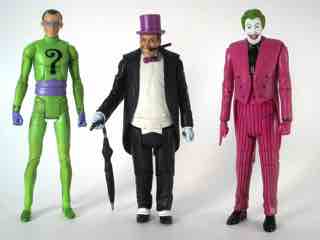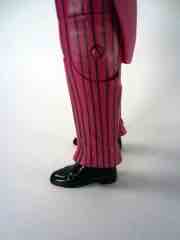 With no accessories beyond a stand, this is a rotten deal and the quality isn't there to make up for the missing bells and whistles. It's passable - were this the first figure I purchased, I'd have quit the line immediately. This is a figure for a very specific Batman fan, one who loved the original show and hopefully isn't too critical. For someone who will sit on a shelf, or in the package, it's acceptable. Mattel makes wonderful toys, and this just feels like a weak effort. I know fans hate delays but mediocrity is forever and at this point I don't have high hopes that Mattel will take another swing at this version of the Joker any time soon, so buy it if you feel you must. You'll be disappointed, but this is a figure where fandom will likely trump reasoning.
--Adam Pawlus
Additional Images

Want to buy this figure? Check Batman availability at our sponsors:
Entertainment Earth
See more Batman figures in Figure of the Day:
Day 1: Funko Force 2.0 Comic-Con Exclusive Batman
Day 398: Kenner Batman: The Animated Series Clayface
Day 408: Kenner Legends of Batman Future Batman
Day 441: Kenner Batman: The Animated Series Harley Quinn
Day 443: Kenner Batman: The Animated Series Machine Gun Joker
Day 444: Kenner Batman: The Animated Movie Mask of the Phantasm Phantasm
Day 445: Ertl Batman Returns Penguin Commando Die-Cast Metal Figure
Day 446: Kenner Legends of Batman Knightquest Batman
Day 447: Mattel DC Universe Classics All-Stars Batman
Day 457: Kenner Batman: The Animated Series Ra's Al Ghul
Day 685: Mattel Hot Wheels Batmobile (Tim Burton, 2013)
Day 708: Mattel Hot Wheels Batman Live Batmobile
Day 714: Mattel Matchbox Batmobile Die-Cast Metal Vehicle
Day 735: Mattel Batman Classic TV Series Batman & Robin Action Figure Set
Day 740: Mattel Batman Classic TV Series The Penguin Action Figure
Day 742: Mattel Hot Wheels Batcopter Die-Cast Metal Vehicle
Day 756: Mattel Batman Classic TV Series The Joker Action Figure
Day 761: Mattel Batman Classic TV Series The Riddler Action Figure
Day 778: Mattel Batman Classic TV Series Batman Action Figure
Day 780: Mattel Batman Classic TV Series Catwoman Action Figure
Day 783: Mattel Batman Classic TV Series Surf's Up Batman Action Figure
Day 898: Mattel Batman Batman
Day 1.172: Mattel Batman The Joker
Day 1,197: Funko Batman Ice Freeze Batman Reject
Day 1,305: Funko Pop! DC Comics Super Heroes Orange Batman Vinyl Figure
Day 1,312: DC Collectibles Batman Tony Millionaire Batman Statue
Day 1,383: Mattel Hot Wheels Dawn of Justice Batmobile
Day 1,388: Bif Bang Pow! Peg Pals Batman Armored
Day 1,400: Funko Dorbz DC Comics Super Heroes Orange Batman Vinyl Figure
Day 1,512: Jakks Pacific Batman v. Superman: Dawn of Justice Jokers Wild Batman
Day 1,539: Mattel Batman v. Superman Mighty Minis Series 2 Silver Batman
Day 1,680: The LEGO Batman Movie Catman
Day 1,753: Funko 9POA Batman 1966 TV Series Batman and Robin Action Figures with Batmobile
Day 1,847: Funko Pop! DC Comics Super Heroes Retro Batman Vinyl Figure
Day 1,983: Entertainment Earth Justice League Batman Push Puppet
Day 2,100: Fisher-Price Imaginext DC Super Friends Batman & Swamp Thing Action Figures
Day 2,190: Kenner Batman: The Dark Knight Collection Tec-Shield Batman Action Figure
Day 2,199: Kenner Batman Returns Penguin Commandos Action Figures

Click here to see more Mattel figures in Figure of the Day.