Shokoti
Evil Witch of Eternia

Masters of the Universe Classics Action Figure
Item No.: No. Y7731
Manufacturer: Mattel
Includes: Darkling
Action Feature: n/a
Retail: $27.00
Availability: August 2013
Other: Second Club Filmation Subscription Figure

PREVIOUS
RSS
NEXT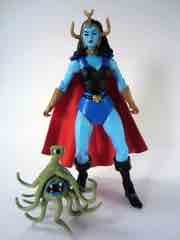 When we were told that Masters of the Universe Classics Filmation subscriptions were a possibility, Shokoti was exactly what many fans (including myself) were hoping would happen. She came from a two-parter, which was exceedingly rare in the series, plus had a distinctive look with lots of bright colors that, on the whole, translated well to an action figure. One place Mattel did sort of cheap out was the accessories, as she has none other than an admittedly high-quality Darkling mini-figure with no articulation, but top-notch detail.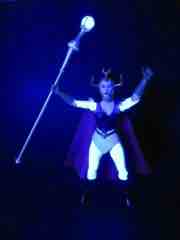 At about 7-inches tall, Shipoopi has more or less normal articulation for the line with roughly 22 joints, depending on how you choose to count them - 22 is being generous. My sample had no problems with any stuck joints, and getting her to balance was surprisingly easy - usually these guys put up more of a fight. Sashimi is made up of numerous existing parts - you'll notice Adora's boots, and the arms used on Octavia - with an all-new head, cape, and sculpted dress elements. The end result fits right in to the action figure line, with the bright Filmation colors being replaced with similar, but less garish, hues selected by the Horsemen and Mattel.
I should take special note to point out her deco - while not necessarily obvious in pictures, Mattel went all out here. The black parts of her dress are matte black with shiny black trim. Similarly, her dress is mostly blue but the straps around her shoulders are metallic blue, as are some highlights on the cape. This isn't something you'd notice if they left out, so it's obvious your extra pennies are going into the paint on this particular release. Accessories? Well, maybe not there.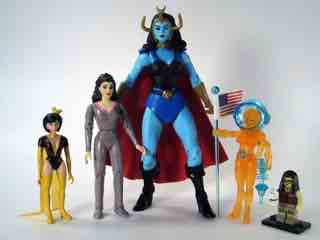 The awesome Darkling figure packaged with Shabooti is one of the highlights of this year's line in terms of quality. The sculpt is marvelous, it stands freely and requires no additional support. The eye is painted incredibly well, and the mouth has blue lips, white teeth, and a red interior. I'm sorry, did I say "the" mouth? I meant three mouths. This is where the rest of the paint budget went. This 2 1/2-inch tentacle monster is quite possibly the best-ever companion figure to a 1980s toy line, even if it came out in 2013. I remember the old days when you got Ray Fillet and it came with an unpainted Fish Stix... and that's how it was. If the Darkling were sold individually for $5 or $10, you'd probably pay it.
Sadly, the Darkling is her only accessory - there's no floating display stand, and I would have liked to have gotten one. I went to my spare parts stash, and because Evil-Lyn has been released twice with two-part staffs, I had enough to cobble together a spare. It fits pretty well, but this is reliant on you remembering to have purchased these figures over the past several years.
While I was rather unexcited for the arguably higher-profile Castaspella in August, Shaak Ti was just fantastic. We're at a point in this line where we won't be seeing much evolution, and the golly-gee factor comes squarely from how interesting the character is and how it's done - and here I've got no reason to complain about the figure's quality, or the Darkling's. She didn't sell out immediately either, which is unfortunate as it seemed there was a lot of noise for this character over the last few years. Get her if you can, it's arguably worth it.
--Adam Pawlus
Additional Images

Click here to see more Mattel figures in Figure of the Day.
See more Masters of the Universe figures in Figure of the Day:
Day 6: Mattel Masters of the Universe Classics Orko
Day 17: Mattel Masters of the Universe Classics Skeletor
Day 28: Mattel Masters of the Universe Classics Optikk
Day 41: Mattel Masters of the Universe Classics Chief Carnivus
Day 52: Mattel Masters of the Universe Classics Roboto
Day 90: Mattel Masters of the Universe Classics Mer-Man
Day 143: Mattel Masters of the Universe Classics Shadow Beast
Day 157: Mattel Masters of the Universe Classics Vikor
Day 165: Mattel Masters of the Universe Meteorbs Dinosorb Action Figure
Day 177: Mattel Masters of the Universe Classics Whiplash Action Figure
Day 187: Mattel Masters of the Universe Classics She-Ra Action Figure
Day 201: Mattel Masters of the Universe Meteorbs Tuskor Action Figure
Day 235: Mattel Masters of the Universe Classics Catra Action Figure
Day 255: 1SHOT Toys Glyos-Compatible He-Man Thermal Color Change Head
Day 280: Mattel Masters of the Universe Classics Icarius
Day 296: Mattel Masters of the Universe Classics Snout Spout
Day 318: Mattel Masters of the Universe Classics Bow
Day 323: Mattel Masters of the Universe Classics Faceless One
Day 328: Mattel Masters of the Universe Classics Battle Armor Skeletor
Day 334: Mattel DC Universe vs. Masters of the Universe Classics Zodac
Day 338: Mattel Masters of the Universe Classics Sy-Klone
Day 343: Mattel Masters of the Universe Classics Battleground Teela
Day 349: Mattel Masters of the Universe Classics Clawful
Day 353: Mattel Masters of the Universe Classics Man-E-Faces
Day 355: Mattel Masters of the Universe Classics Gygor
Day 360: Mattel Masters of the Universe Classics Shadow Weaver
Day 370: Mattel Masters of the Universe Classics Demo-Man
Day 371: Mattel Masters of the Universe Classics Leech
Day 380: Mattel Masters of the Universe Classics Webstor
Day 385: Mattel Masters of the Universe Classics Draego-Man
Day 386: Mattel Masters of the Universe Classics Fearless Photog
Day 401: Mattel Masters of the Universe Classics Thunder Punch He-Man
Day 403: Mattel Masters of the Universe Classics Preternia Disguise He-Man
Day 410: Mattel Masters of the Universe 200X Ram Man
Day 413: Mattel Masters of the Universe Classics Evil-Lyn
Day 420: Mattel Masters of the Universe 200X Venom-Spitting Khan
Day 424: Mattel Masters of the Universe Classics Wun-Dar
Day 430: Mattel Masters of the Universe Classics Horde Prime
Day 432: Mattel Masters of the Universe 200X Mekaneck
Day 438: Mattel Masters of the Universe Classics Tri-Klops
Day 449: Mattel Masters of the Universe Classics Stinkor
Day 454: Mattel Masters of the Universe Classics Mighty Spector
Day 459: Mattel Masters of the Universe Classics Fisto
Day 465: Mattel Masters of the Universe Classics Snake Man-At-Arms
Day 472: Mattel Masters of the Universe Classics Kobra Khan
Day 478: Mattel Masters of the Universe Classics Sorceress
Day 506: Mattel Masters of the Universe Classics Vykron
Day 531: Mattel Masters of the Universe Classics Dragon Blaster Skeletor
Day 543: Mattel Masters of the Universe Classics Frosta
Day 548: Mattel Masters of the Universe Classics Battleground Evil-Lyn
Day 563: Mattel Masters of the Universe Classics Sir Laser-Lot
Day 565: Mattel Masters of the Universe Classics Cy-Chop
Day 567: Mattel Masters of the Universe Classics Castle Grayskullman
Day 576: Mattel Masters of the Universe Classics Mekaneck
Day 583: Mattel Masters of the Universe Classics Rattlor
Day 589: Mattel Masters of the Universe Classics Battle Armor Faker
Day 596: Mattel Masters of the Universe Classics Dekker
Day 602: Mattel Masters of the Universe Classics Megator
Day 606: Mattel Masters of the Universe Classics Granamyr
Day 614: Mattel Masters of the Universe Classics Spikor
Day 623: Mattel Masters of the Universe Classics King Randor Eternos Palace
Day 632: Mattel Masters of the Universe Classics Faker
Day 641: Mattel Masters of the Universe Classics King Hssss
Day 653: Mattel Masters of the Universe Classics King He-Man
Day 658: Mattel Masters of the Universe Classics Jitsu
Day 664: Mattel Masters of the Universe Classics Fang Man
Day 667: Mattel Masters of the Universe Classics Ram Man
Day 683: Mattel Masters of the Universe Classics Bubble Power She-Ra
Day 694: Mattel Masters of the Universe Classics Karatti
Day 713: Mattel Masters of the Universe Classics Swiftwind
Day 728: Mattel Masters of the Universe Classics Octavia
Day 736: Mattel Masters of the Universe Classics New Adventures Galactic Protector He-Man
Day 738: Mattel Masters of the Universe Classics Icer
Day 746: Mattel Masters of the Universe Classics Moss Man
Day 753: Mattel Masters of the Universe Classics Shokoti
Day 758: Mattel Masters of the Universe Classics Castaspella
Day 776: Mattel Masters of the Universe Classics Batros
Day 782: Mattel Masters of the Universe Classics Sky High with Jet Sled
Day 799: Mattel Masters of the Universe Classics End of Wars Weapons Pak
Day 810: Mattel Masters of the Universe Classics Netossa
Day 816: Mattel Masters of the Universe Classics Nepthu
Day 820: Mattel Masters of the Universe Classics Castle Grayskull
Day 822: Mattel Masters of the Universe Classics Clamp Champ
Day 826: Mattel Masters of the Universe Classics Geldor
Day 834: Mattel Masters of the Universe Classics Strobo
Day 849: Mattel Masters of the Universe Classics Standor
Day 858: Mattel Masters of the Universe Classics Strong-Or
Day 868: Mattel Masters of the Universe Classics Plundor
Day 870: Mattel Masters of the Universe Classics Hydron
Day 886: Mattel Masters of the Universe Classics Two Bad
Day 893: Mattel Masters of the Universe Classics Lord Dactus
Day 900: Mattel Masters of the Universe Classics Unnamed One
Day 902: Mattel Masters of the Universe Classics Mantenna
Day 921: Mattel Masters of the Universe Classics Sea Hawk
Day 942: Mattel Masters of the Universe Classics Snake Face
Day 977: Mattel Masters of the Universe Classics Scorpia
Day 984: Mattel Masters of the Universe Classics Keldor
Day 995: Mattel Masters of the Universe Classics Skeletor (New Adventures)
Day 997: Mattel Masters of the Universe Classics Beast Man
Day 1,022: Mattel Masters of the Universe Classics Entrapta
Day 1,043: Mattel Masters of the Universe Classics Sweet Bee
Day 1,053: Mattel Masters of the Universe Classics Madame Razz and Broom
Day 1,058: Mattel Masters of the Universe Classics Extendar
Day 1,066: Mattel Masters of the Universe Classics Glimmer
Day 1,074: Mattel Masters of the Universe Classics Eldor
Day 1,085: Mattel Masters of the Universe Classics Gwildor
Day 1,097: Mattel Masters of the Universe Classics Flogg
Day 1,130: Mattel Masters of the Universe Classics Lizard Man
Day 1,131: Mattel Masters of the Universe Classics Loo-Kee & Kowl
Day 1,135: Mattel Masters of the Universe Classics Ninja Warrior
Day 1,147: Mattel Masters of the Universe Classics Oo-Larr
Day 1,151: Mattel Masters of the Universe Classics Tung Lashor
Day 1,156: Mattel Masters of the Universe Classics Galactic Protector She-Ra
Day 1,166: Funko Hikari Vinyl Masters of the Universe Mystic Powers Skeletor
Day 1,169: Mattel Masters of the Universe Classics Huntara
Day 1,201: Mattel Masters of the Universe Classics Goat Man
Day 1,209: Mattel Masters of the Universe Classics Light Hope
Day 1,223: Mattel Masters of the Universe Classics Mermista
Day 1,234: Mattel Masters of the Universe Classics Sssqueeze
Day 1,250: Super7 M.O.T.U.S.C.L.E. Set B
Day 1,263: Super7 M.O.T.U.S.C.L.E. Set A
Day 1,265: Mattel Masters of the Universe Classics Heads of Eternia
Day 1,283: Mattel Masters of the Universe Classics Blast Attak
Day 1,287: Mattel Masters of the Universe Classics Blast Callix
Day 1,288: Super7 M.O.T.U.S.C.L.E. Set C
Day 1,292: Mattel Masters of the Universe Classics Mosquitor
Day 1,297: Mattel Masters of the Universe Classics Spinnerella
Day 1,302: Super7 M.O.T.U.S.C.L.E. SDCC Promo Skeletor
Day 1,303: Mattel Masters of the Universe Classics King Chooblah
Day 1,314: Mattel Masters of the Universe Classics Blade
Day 1,319: Mattel Masters of the Universe Classics Terror Claws Skeletor and Flying Fists He-Man
Day 1,356: Mattel Masters of the Universe Classics He-Ro II
Day 1,379: Mattel Masters of the Universe Classics Queen Grayskull
Day 1,385: Mattel Masters of the Universe Classics Lord Masque
Day 1,389: Mattel Masters of the Universe Classics Perfuma
Day 1,394: Mattel Masters of the Universe Classics Dragstor
Day 1,407: Mattel Masters of the Universe Classics Prahvus
Day 1,411: Mattel Masters of the Universe Classics He-Man (Filmation)
Day 1,426: Mattel Masters of the Universe Classics Angella
Day 1,435: Mattel Masters of the Universe Classics Trap Jaw (Filmation)
Day 1,448: Mattel Masters of the Universe Classics Saurod
Day 1,460: Mattel Masters of the Universe Classics Ceratus
Day 1,464: Mattel Masters of the Universe Classics Vultak
Day 1,493: Mattel Masters of the Universe Classics Darius
Day 1,502: Mattel Masters of the Universe Classics Evil Seed
Day 1,503: Mattel Masters of the Universe Classics Skeletor
Day 1,517: Mattel Masters of the Universe Classics Double Mischief
Day 1,520: Mattel Masters of the Universe Classics Despara
Day 1,549: Mattel Masters of the Universe Classics Beast Man
Day 1,574: Mattel Masters of the Universe Classics Filmation Evil Seed
Day 1,596: Mattel Masters of the Universe Classics Evil-Lyn
Day 1,628: Super7 Masters of the Universe M.U.S.C.L.E. Series 2 Set C
Day 1,632: Mattel Masters of the Universe Classics Clawful
Day 1,633: Super7 Masters of the Universe M.U.S.C.L.E. Series 2 Set B
Day 1,639: Super7 Masters of the Universe M.U.S.C.L.E. Series 2 Set D
Day 1,645: Funko Masters of the Universe Dorbz Skeletor
Day 1,639: Super7 Masters of the Universe M.U.S.C.L.E. Series 2 Set A
Day 1,681: Mattel Masters of the Universe Classics Adora
Day 1,719: Mattel Masters of the Universe Classics Horde Wraith
Day 1,718: Mega Construx Heroes Masters of the Universe Skeletor Action Figure
Day 1,840: Super7 Masters of the Universe M.U.S.C.L.E. Series 3 Set D
Day 1,843: Super7 Masters of the Universe M.U.S.C.L.E. Series 3 Set E
Day 1,862: Super7 Masters of the Universe M.U.S.C.L.E. Series 3 Set C
Day 1,870: Mega Construx Heroes Masters of the Universe He-Man Action Figure
Day 1,877: Super7 Masters of the Universe M.U.S.C.L.E. Series 3 Set F
Day 1,879: Mega Construx Heroes Masters of the Universe Beast Man Action Figure
Day 1,886: Mega Construx Heroes Masters of the Universe Teela Action Figure
Day 1,922: Super7 Masters of the Universe M.U.S.C.L.E. Series 3 Set B
Day 1,937: Super7 Masters of the Universe M.U.S.C.L.E. Series 3 Set A