Arachnorod
Red and Glow in the Dark Redeco

Hot Wheels HW Imagination
Item No.: Asst. L2593 No. X1889
Manufacturer: Mattel
Includes: n/a
Action Feature: One of a over a dozen Arachnorods
Retail: $1.00
Availability: 2013
Other: 053 / 250

PREVIOUS
RSS
NEXT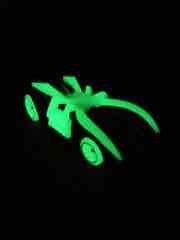 I've had many opportunities to talk to toy designers and marketers over the years, and one of the things I was once told when I was pretty young was that glow in the dark is largely considered to be a cheap, lame gimmick. I never felt this way - to me it was a valid reason to buy something, and was the main reason I snagged this Arachnorod. The design has been in circulation since 2000, most of which express the spider motif in more interesting ways. But this one? This one glows, so screw the other ones.
For this release, Mattel made the spider element and the wheels out of glow in the dark plastic. It glows green, as most glowing toys do, after being exposed to sunlight briefly. These parts were previously chrome, black, gold, and other hues while sitting on an automobile chassis in all sorts of colors. Oddly, few if any really play up spider coloring and tend to be rather bright with a silver bug on top. Why not hairy? Why not black or brown?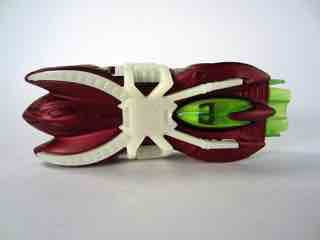 The arachnid motif continues on the front of the car with multiple sculpted (but unpainted) eyes, and on the sides are a sort of a lizard meets flame paint pattern. To be honest, it goes over my head, but whatever. Because glowing spider. The canopy is green and you can see the interior with a steering wheel on the inside. The engines also have some clear green coming out of the back, and it's worth mentioning that the friction on the wheels allows them to spin freely for quite some time. It's a solid, fun little car.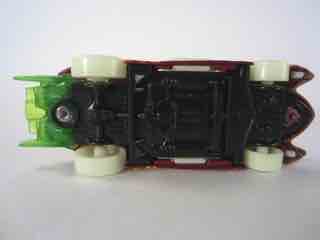 While I do have a small (relatively speaking) Hot Wheels collection, this one was pulled out and lives on the glow-in-the-dark toy shelf. It's bright enough to be interesting, but it's not like you can light up a room with it. Based on all of the designs for this mold so far, I would say it's the most interesting - but there are plenty of opportunities for Mattel to crank out creepier, more realistic paint jobs to really sell that spider idea. I got my dollar's worth, and I hope to see more glowing cars out of Mattel in the future.
--Adam Pawlus
Additional Images


Click here to see more Mattel figures in Figure of the Day.
See more Batman figures in Figure of the Day:
Day 1: Funko Force 2.0 Comic-Con Exclusive Batman
Day 398: Kenner Batman: The Animated Series Clayface
Day 408: Kenner Legends of Batman Future Batman
Day 441: Kenner Batman: The Animated Series Harley Quinn
Day 443: Kenner Batman: The Animated Series Machine Gun Joker
Day 444: Kenner Batman: The Animated Movie Mask of the Phantasm Phantasm
Day 445: Ertl Batman Returns Penguin Commando Die-Cast Metal Figure
Day 446: Kenner Legends of Batman Knightquest Batman
Day 447: Mattel DC Universe Classics All-Stars Batman
Day 457: Kenner Batman: The Animated Series Ra's Al Ghul
Day 685: Mattel Hot Wheels Batmobile (Tim Burton, 2013)
Day 708: Mattel Hot Wheels Batman Live Batmobile
Day 714: Mattel Matchbox Batmobile Die-Cast Metal Vehicle
Day 735: Mattel Batman Classic TV Series Batman & Robin Action Figure Set
Day 740: Mattel Batman Classic TV Series The Penguin Action Figure
Day 742: Mattel Hot Wheels Batcopter Die-Cast Metal Vehicle
Day 756: Mattel Batman Classic TV Series The Joker Action Figure
Day 761: Mattel Batman Classic TV Series The Riddler Action Figure
Day 778: Mattel Batman Classic TV Series Batman Action Figure
Day 780: Mattel Batman Classic TV Series Catwoman Action Figure
Day 783: Mattel Batman Classic TV Series Surf's Up Batman Action Figure
Day 898: Mattel Batman Batman
Day 1.172: Mattel Batman The Joker
Day 1,197: Funko Batman Ice Freeze Batman Reject
Day 1,305: Funko Pop! DC Comics Super Heroes Orange Batman Vinyl Figure
Day 1,312: DC Collectibles Batman Tony Millionaire Batman Statue
Day 1,383: Mattel Hot Wheels Dawn of Justice Batmobile
Day 1,388: Bif Bang Pow! Peg Pals Batman Armored
Day 1,400: Funko Dorbz DC Comics Super Heroes Orange Batman Vinyl Figure
Day 1,512: Jakks Pacific Batman v. Superman: Dawn of Justice Jokers Wild Batman
Day 1,539: Mattel Batman v. Superman Mighty Minis Series 2 Silver Batman
Day 1,680: The LEGO Batman Movie Catman
Day 1,753: Funko 9POA Batman 1966 TV Series Batman and Robin Action Figures with Batmobile
Day 1,847: Funko Pop! DC Comics Super Heroes Retro Batman Vinyl Figure
Day 1,983: Entertainment Earth Justice League Batman Push Puppet

See more Hot Wheels in Figure of the Day:
Day 670: Mattel Hot Wheels Fig Rig Car
Day 675: Mattel Hot Wheels Star Trek U.S.S. Enterprise
Day 685: Mattel Hot Wheels Batmobile (Tim Burton, 2013)
Day 708: Mattel Hot Wheels Batman Live Batmobile
Day 718: Mattel Hot Wheels T-Rextroyer Die-Cast Metal Vehicle
Day 727: Mattel Hot Wheels Ratmobile (White) Die-Cast Metal Vehicle
Day 742: Mattel Hot Wheels Batcopter Die-Cast Metal Vehicle
Day 750: Mattel Hot Wheels Arachnorod
Day 770: Mattel Hot Wheels The Jetsons Capsule Car
Day 779: Mattel Hot Wheels Hiway Hauler
Day 786: Mattel Hot Wheels Speed-A-Saurus
Day 797: Mattel Hot Wheels Express Lane
Day 803: Mattel Hot Wheels Zombot
Day 817: Mattel Hot Wheels Scooby-Doo The Mystery Machine
Day 845: Mattel Hot Wheels Carbonator
Day 1,060: Mattel Hot Wheels Skate Punk
Day 1,116: Mattel Hot Wheels Let's Go
Day 1,157: Mattel Hot Wheels The Homer
Day 1,290: Mattel Hot Wheels Back to the Future Time Machine - Hover Mode
Day 1,321: Mattel Hot Wheels Loopster
Day 1,334: Mattel Hot Wheels Nintendo Cool-One (Super Mario)
Day 1,366: Mattel Hot Wheels Mars Rover Curiosity
Day 1,383: Mattel Hot Wheels Dawn of Justice Batmobile
Day 1.532: Mattel Hot Wheels Minecraft Mine Cart Die-Cast Metal Vehicle
Day 1.533: Mattel Hot Wheels Tankinator Die-Cast Metal Vehicle
Day 1,716: Mattel Hot Wheels Roller Toaster
Day 1,740: Mattel Hot Wheels Motosaurus
Day 1,768: Mattel Hot Wheels Aisle Driver
Day 1,831: Mattel Hot Wheels Radio Flyer Wagon
Day 1,873: Mattel Hot Wheels Glow Wheels Loopster

Want to buy this figure? Check Hot Wheels availability at our sponsors:
Entertainment Earth