Batmobile
Redeco of 2012 blue Batmobile

Matchbox MBX Adventure City
Item No.: Asst. 30782 No. Y0960
Manufacturer: Mattel
Includes: n/a
Action Feature: Confuses fans
Retail: $1.00
Availability: 2013
Other: 010 / 120

PREVIOUS
RSS
NEXT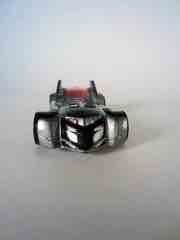 I've been digging in the die-cast car aisles a lot lately, primarily to snag licensed character vehicles but also just to see how that half of the toy collecting world lives. This resulted in a few surprise purchases, in that I didn't know that the 2013 Matchbox Batmobile even existed before I tripped over it at Target, because I wanted to see what all the kids were getting with Matchbox these days.
This is a recolor of a toy I've never seen, and it's based on Mattel's action figure-scale "Total Destruction Batmobile" toy which is itself not necessarily (as far as I know) based on any TV or comic incarnation.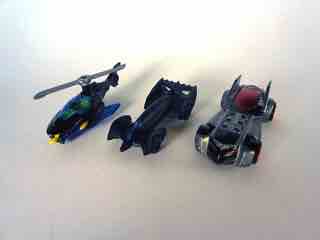 My reasoning for buying this one isn't sound, I didn't even really realize it was a Batmobile when I picked it up at first - I just said "hey, that looks like an unpainted grey vehicle" because the cardback sort of hides the Batmobile name and the font of the packaging is completely lacking in Batman logos for some reason - I have to assume it was a licensing thing or an oversight, because why wouldn't you want to call out the Batman logo? It's on the back, but it's tiny and you won't see it.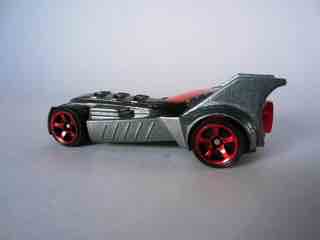 It rolls well and has a big red windshield, inside which you can see a seat. For all intents and purposes it's a Hot Wheels car, but it comes in a Matchbox package for reasons I can't quite figure out. By and large Matchbox (as a collector brand) seems bigger overseas, and in the USA is mostly realistic vehicles with a few exceptions. Most licensed craft (including the Batmobile) are wrapped up in this category too, so I really don't grasp why it's here. Don't get me wrong, I'm happy it's here, but Mattel's not really going out of their way to let me know it was there.
In addition to this single release, the very same Batmobile appears, seemingly randomly, in some of the Matchbox 10-packs which are about ten bucks. As far as I can tell this car isn't rare, but from my journeys as of late it doesn't seem to be particularly common either. I see 10-packs with it all the time, and I've seen a handful of single Batmobiles. At $1, I got my money's worth.
Fun fact: Matchbox cars used to not be part of the Mattel conglomerate, they were kicked around and owned by Universal Toy and Tyco. In the USA, toys were sold from "Matchbox" like it was a company, and in 1997 Mattel bought Tyco's toy division and the rest is history. There are many companies still making 1:64 die-cast cars, although it seems Mattel is king when it comes to real estate. Matchbox gets a tiny percentage of the affection of Hot Wheels, and the basic car line is smaller than half the size. If you prefer realism, this car excepted, it's a good place to look.
--Adam Pawlus
Additional Images


Click here to see more Mattel figures in Figure of the Day.
See more Batman figures in Figure of the Day:
Day 1: Funko Force 2.0 Comic-Con Exclusive Batman
Day 398: Kenner Batman: The Animated Series Clayface
Day 408: Kenner Legends of Batman Future Batman
Day 441: Kenner Batman: The Animated Series Harley Quinn
Day 443: Kenner Batman: The Animated Series Machine Gun Joker
Day 444: Kenner Batman: The Animated Movie Mask of the Phantasm Phantasm
Day 445: Ertl Batman Returns Penguin Commando Die-Cast Metal Figure
Day 446: Kenner Legends of Batman Knightquest Batman
Day 447: Mattel DC Universe Classics All-Stars Batman
Day 457: Kenner Batman: The Animated Series Ra's Al Ghul
Day 685: Mattel Hot Wheels Batmobile (Tim Burton, 2013)
Day 708: Mattel Hot Wheels Batman Live Batmobile
Day 714: Mattel Matchbox Batmobile Die-Cast Metal Vehicle
Day 735: Mattel Batman Classic TV Series Batman & Robin Action Figure Set
Day 740: Mattel Batman Classic TV Series The Penguin Action Figure
Day 742: Mattel Hot Wheels Batcopter Die-Cast Metal Vehicle
Day 756: Mattel Batman Classic TV Series The Joker Action Figure
Day 761: Mattel Batman Classic TV Series The Riddler Action Figure
Day 778: Mattel Batman Classic TV Series Batman Action Figure
Day 780: Mattel Batman Classic TV Series Catwoman Action Figure
Day 783: Mattel Batman Classic TV Series Surf's Up Batman Action Figure
Day 898: Mattel Batman Batman
Day 1.172: Mattel Batman The Joker
Day 1,197: Funko Batman Ice Freeze Batman Reject
Day 1,305: Funko Pop! DC Comics Super Heroes Orange Batman Vinyl Figure
Day 1,312: DC Collectibles Batman Tony Millionaire Batman Statue
Day 1,383: Mattel Hot Wheels Dawn of Justice Batmobile
Day 1,388: Bif Bang Pow! Peg Pals Batman Armored
Day 1,400: Funko Dorbz DC Comics Super Heroes Orange Batman Vinyl Figure
Day 1,512: Jakks Pacific Batman v. Superman: Dawn of Justice Jokers Wild Batman
Day 1,539: Mattel Batman v. Superman Mighty Minis Series 2 Silver Batman
Day 1,680: The LEGO Batman Movie Catman
Day 1,753: Funko 9POA Batman 1966 TV Series Batman and Robin Action Figures with Batmobile
Day 1,847: Funko Pop! DC Comics Super Heroes Retro Batman Vinyl Figure
Day 1,983: Entertainment Earth Justice League Batman Push Puppet
Day 2,100: Fisher-Price Imaginext DC Super Friends Batman & Swamp Thing Action Figures
Day 2,190: Kenner Batman: The Dark Knight Collection Tec-Shield Batman Action Figure
Day 2,199: Kenner Batman Returns Penguin Commandos Action Figures
Day 2,217: Kenner Batman: The Dark Knight Collection Iron Winch Batman Action Figure
Day 2,239: Fisher-Price Imaginext DC Super Friends Slammers Arctic Sled with Mr. Freeze Set
Day 2,249: Fisher-Price Imaginext DC Super Friends Slammers Batmobile with Batman Set

See more Matchbox figures in Figure of the Day:
Day 714: Mattel Matchbox Batmobile Die-Cast Metal Vehicle

Want to buy this figure or others like it? Check Matchbox availability at our sponsors:
Entertainment Earth