U.S.S. Enterprise
Based on Star Trek (2009) and/or Star Trek Into Darkness

Hot Wheels 2013 New Models
Item No.: Asst. L2593 No. X1630
Manufacturer: Mattel
Includes: n/a
Action Feature: Sits on display stand
Retail: $1.00
Availability: ca. February 2013
Other: 060 / 250

PREVIOUS
RSS
NEXT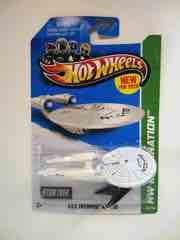 While some version of a Hot Wheels U.S.S. Enterprise has been out and about since 2009, they're usually pretty big and $15-$25. This one is a tiny 3 1/2-inches long, roughly the same size as Hasbro's Titanium Series vehicles from Star Wars or Battlestar Galactica. The quality is significantly lower, but so is the price. It's impossible not to love this for $1.
This particular size of vehicle is pretty unusual for Mattel's Trek license, and it fits in with the normal $1 cars on the shelves. Obviously it's not scaled to them, but it's also $1 and what the heck do you want for a buck? The vehicle is mostly white, with a metal body and saucer with plastic nacelles and struts. The display stand is plastic and unpainted, with a Starfleet symbol on one side and the other largely blank.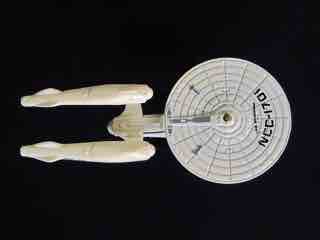 As of now this vehicle (which is based on the 2009 J.J. Abrams Star Trek and Star Trek Into Darkness is still somewhat tough to find - you won't trip over it, but you may find it in a strange out-of-the-way place that is not known for its toys like we did over the Memorial Day holiday weekend. As you can see, deco is limited: the white saucer is slathered in white paint with some grey detail and black lettering. The deflector has a little blue and silver, with the nacelles sporting a little grey and a "NCC 1701" on the sides. There's no blue on the tips of the nacelles, probably because of the cost of putting an all-new sculpt like this into a supremely cheap assortment of toys.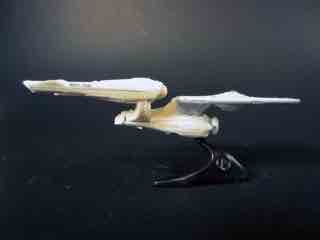 The bottom of the saucer is unpainted and sort of ugly - the white paint coverage is good, but not great, and a painted stamp of "F89" is on there for some reason I don't know. The entire bottom of the ship is pretty much blank, but has some great sculpting. The proportions are good, and the overall design is solid. I can't imagine kids will like this - it's a rotten toy - but this sort of thing is the perfect desk decoration and a great way to do licensed products. An entire line of toys may be a bit much, but a key vehicle as part of another, existing assortment of toys? That's a great idea. No worries about clearances or pegwarmers, this sort of thing should be hugely popular and I'll bet most fans won't even know it was made until they see it on eBay or at toy show at an inflated price.
Since the item is a little cheaper, it feels like a real throwback of a purchase. I honestly still can't believe I just bought a brand-new Starship Enterprise for $1. Mattel has a few other movie and TV items out and about now, like Fast & Furious cars, and I hope they keep ramping this up. I understand why there's an advantage to making collectors chase a piece, but there has to be a market in selling more product. You could throw these in movie theaters and say "Want an Enterprise for an extra $2?" I bet people would bite. I would. I got my money's worth out of this one and I presume you will too.
--Adam Pawlus
Additional Images


Click here to see more Mattel figures in Figure of the Day.
See more Star Trek figures in Figure of the Day:
Day 54: Playmates Classic Star Trek Spock Action Figure
Day 57: Playmates Classic Star Trek Dr. McCoy Action Figure
Day 61: Playmates Classic Star Trek Scotty Action Figure
Day 71: Playmates Classic Star Trek Uhura Action Figure
Day 81: Playmates Classic Star Trek Sulu Action Figure
Day 89: Playmates Classic Star Trek Captain James T. Kirk Action Figure
Day 105: Playmates Classic Star Trek Chekov Action Figure
Day 149: Playmates Star Trek Combat Action Worf
Day 488: Playmates Star Trek: The Next Generation Lieutenant Commander Data in First Season Uniform Action Figure
Day 675: Mattel Hot Wheels Star Trek U.S.S. Enterprise
Day 731: Playmates Star Trek: The Next Generation Counselor Deanna Troi Action Figure
Day 755: Playmates Star Trek: Deep Space Nine Quark Action Figure
Day 762: Playmates Star Trek: The Next Generation Lt. Commander LaForge as a Tarchannen III Alien Action Figure
Day 767: Playmates Star Trek: The Next Generation Captain Picard in Duty Uniform Action Figure
Day 772: Playmates Star Trek: The Next Generation Klingon Warrior Worf Action Figure
Day 986: Playmates Star Trek: The Next Generation Dathon Action Figure
Day 991: Playmates Star Trek: The Next Generation Ambassador Spock Action Figure
Day 1,048: Playmates Star Trek: Deep Space Nine Chief Miles O'Brien Action Figure
Day 1,054: Bif Bang Pow! Star Trek: The Next Generation Lieutenant Worf
Day 1,061: Playmates Star Trek: The Next Generation Q Action Figure
Day 1,173: Playmates Star Trek: Deep Space Nine Morn Action Figure
Day 1,181: Playmates Star Trek: Deep Space Nine Commander Gul Dukat Action Figure
Day 1,271: Playmates Star Trek Grand Nagus Zek Action Figure
Day 1,309: Playmates Star Trek Elim Garak Action Figure
Day 1,317: Playmates Star Trek: The Next Generation Lieutenant Worf in Starfleet Rescue Outfit Action Figure
Day 1,331: Playmates Star Trek: The Next Generation Captain Scott Action Figure
Day 1,359: Playmates Star Trek: The Next Generation Vorgon Action Figure
Day 1,701: Playmates Star Trek: The Next Generation Ferengi Action Figure
Day 1,819: Playmates Star Trek: The Next Generation Mordock the Benzite Action Figure
Day 1,854: Playmates Star Trek: The Next Generation Lieutenant (J.G.) Geordi LaForge Action Figure
Day 1,887: Playmates Star Trek: The Next Generation Lieutenant Natasha Yar Action Figure
Day 1,902: Playmates Star Trek: The Next Generation Cadet Wesley Crusher Action Figure
Day 1,923: Playmates Star Trek: The Next Generation Lieutenant J.G. Worf in First Season Uniform Action Figure
Day 1,927: Funko Pop! Movies Star Trek Beyond Captain Kirk (Survival Suit) Pop! Vinyl Figure
Day 1,936: Playmates Star Trek: The Next Generation K'Ehleyr Action Figure
Day 1,945: Mega Construx Heroes Star Trek: The Next Generation Captain Picard Action Figure
Day 1,949: Eaglemoss Collections Movies Star Trek U.S.S. Defiant NCC-1764 Special Glow in the Dark Issue Die-Cast Metal Vehicle
Day 1,962: Eaglemoss Collections Star Trek U.S.S. Defiant NX-74025 Best Of Issue Die-Cast Metal Vehicle
Day 1,974 Playmates Star Trek: The Next Generation Lieutenant Barclay Action Figure
Day 1,975: Eaglemoss Collections Discovery Star Trek U.S.S. Discovery NCC-1031 Die-Cast Metal Vehicle
Day 2,005: Playmates Star Trek: Deep Space Nine Odo Action Figure
Day 2,020: Playmates Star Trek: The Next Generation Commander Sela Action Figure
Day 2,094: Eaglemoss Collections Enterprise Star Trek Discovery Special U.S.S. Enterprise NCC-1701 Die-Cast Metal Vehicle

See more Hot Wheels in Figure of the Day:
Day 670: Mattel Hot Wheels Fig Rig Car
Day 675: Mattel Hot Wheels Star Trek U.S.S. Enterprise
Day 685: Mattel Hot Wheels Batmobile (Tim Burton, 2013)
Day 708: Mattel Hot Wheels Batman Live Batmobile
Day 718: Mattel Hot Wheels T-Rextroyer Die-Cast Metal Vehicle
Day 727: Mattel Hot Wheels Ratmobile (White) Die-Cast Metal Vehicle
Day 742: Mattel Hot Wheels Batcopter Die-Cast Metal Vehicle
Day 750: Mattel Hot Wheels Arachnorod
Day 770: Mattel Hot Wheels The Jetsons Capsule Car
Day 779: Mattel Hot Wheels Hiway Hauler
Day 786: Mattel Hot Wheels Speed-A-Saurus
Day 797: Mattel Hot Wheels Express Lane
Day 803: Mattel Hot Wheels Zombot
Day 817: Mattel Hot Wheels Scooby-Doo The Mystery Machine
Day 845: Mattel Hot Wheels Carbonator
Day 1,060: Mattel Hot Wheels Skate Punk
Day 1,116: Mattel Hot Wheels Let's Go
Day 1,157: Mattel Hot Wheels The Homer
Day 1,290: Mattel Hot Wheels Back to the Future Time Machine - Hover Mode
Day 1,321: Mattel Hot Wheels Loopster
Day 1,334: Mattel Hot Wheels Nintendo Cool-One (Super Mario)
Day 1,366: Mattel Hot Wheels Mars Rover Curiosity
Day 1,383: Mattel Hot Wheels Dawn of Justice Batmobile
Day 1.532: Mattel Hot Wheels Minecraft Mine Cart Die-Cast Metal Vehicle
Day 1.533: Mattel Hot Wheels Tankinator Die-Cast Metal Vehicle
Day 1,716: Mattel Hot Wheels Roller Toaster
Day 1,740: Mattel Hot Wheels Motosaurus
Day 1,768: Mattel Hot Wheels Aisle Driver
Day 1,831: Mattel Hot Wheels Radio Flyer Wagon
Day 1,873: Mattel Hot Wheels Glow Wheels Loopster

Want to buy this figure? Check Hot Wheels availability at our sponsors:
Entertainment Earth