Triple Threat Snake
Japanese name "Snakebomb"

Battle Beasts Series 1
Item No.: #6
Manufacturer: Hasbro
Includes: Bomb Saberer halberd, second randomly-selected figure)
Action Feature: n/a
Retail: approx. $3.99
Availability: ca. 1987
Other: This sample has a "Fire" color rubsign

PREVIOUS
RSS
NEXT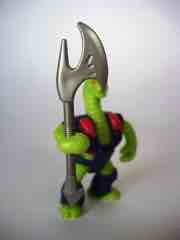 The Battle Beasts Triple Threat Snake came from a collection I bought in either late 2011 or early 2012. He didn't have his weapon, so I had to trade around for that. It was surprisingly cheap and didn't take long to assemble, and it was fun to actually get a figure I've had on my mind for a couple of decades. Along with King Cobra, he's one of two snakes in the original line of roughly 2-inch tall figures. I swore off collecting "vintage" (read: defunct) action figure lines in the early 1990s, with a couple of lapses here and there. I made an exception for this line, and one other, solely because (at press time) nobody has yet decided to bootleg them. Knock-offs ruin toy collecting for me, I want originals, 100%-new remakes, or nothing.
With two points of articulation, Snakebomb here managed to have a rather interesting take on his arms. Most series 1 Battle Beasts figures had mittens without sculpted fingers on their hands, but Triple Threat Snake goes one step beyond by making the arms into actual snakes! Each one has sculpted eyes, and they can grip a 3mm weapon in their mouths. While the eyes remained unpainted due to what I assume were budget reasons, the arms were sculpted with fairly intricate scales as were the legs and the back of the head. The figure looks like it had a lot of work done during its creation, a strong contrast to the rest of the line which was mostly smooth. He's got an awesome smirk with visible fangs, and his glowing red eyes are similar to Transformers and other 1980s toys from Takara and Tomy. (This unique ocular detail was captured recently by Diamond Select Toys for its line which shared the same name, while Beast Saga went with more realistic peepers.) Even more interesting was that the figure has a robotic armored vest with gun nipples, painted red with matching vents on the underside of the garment. You really don't even see them unless you rotate the figure, so it's surprising to see a toymaker invest a penny or two to decorate a detail you'll probably never see.
His bladed weapon is nothing special. It's sort of like a pike or one of the weapons used by Jabba the Hutt's thugs although if you squint the large end does resemble a snake. It's cast in silver plastic, slightly flexible and a decent fit for the character.
While this entire line is rather fanciful in its interpretation of anthropomorphic creatures, I'd say Triple Threat Snake takes the most license from its inspiration given the fact it has not only legs, but three heads. And gun nipples. Because it's a 26-year-old plastic toy it's a quant nostalgia piece, although I would wager if the very same design were made today as a $90 vinyl figure, people would be soiling themselves to get one. Context is everything! It's so weird, so cool, and so 1980s. It seems from $4-$15 these days, which seems remarkably cheap for a toy this old, strange, and easily lost or damaged. Series 1 figures are quite cheap, and as such I would suggest going after some.
--Adam Pawlus
Additional Images

Click here to see more Hasbro figures in Figure of the Day.
See more Battle Beasts figures in Figure of the Day:
Day 82: Diamond Select Battle Beasts Minimates SDCC Gold Alligator Action Figure
Day 373: Diamond Select Battle Beasts Minimates Case Red Alligator Action Figure
Day 374: Hasbro Battle Beasts Sawtooth Shark Action Figure
Day 375: Hasbro Battle Beasts Wolfgang Walrus Action Figure
Day 376: Hasbro Battle Beasts Diving Duckbill Action Figure
Day 377: Hasbro Battle Beasts Spark Shark Action Figure
Day 390: Diamond Select Battle Beasts Minimates C2E2 2012 Red Vorin
Day 391: Hasbro Battle Beasts Anarchy
Day 395: Diamond Select Battle Beasts Minimates C2E2 2012 Grey Vorin
Day 417: Hasbro Battle Beasts Run Amuck Duck
Day 436: Hasbro Battle Beasts Horny Toad
Day 450: Diamond Select Battle Beasts Minimates SDCC 2012 Vorin & Zik
Day 451: Hasbro Battle Beasts Sledgehammer Elephant
Day 460: Diamond Select Battle Beasts Minimates SDCC 2012 Gold Vorin
Day 463: Diamond Select Battle Beasts Minimates C2E2 Exclusive Black Alligator
Day 451: Hasbro Battle Beasts Pillaging Polar Bear
Day 577: Hasbro Battle Beasts Slasher Seahorse
Day 610: Diamond Select Battle Beasts Minimates Gruntos the Walrus & Tate Reynolds
Day 639: Hasbro Battle Beasts Triple Threat Snake
Day 674: Hasbro Battle Beasts Hare Razing Rabbit
Day 720: Diamond Select Battle Beasts Minimates Shadow Merk
Day 723: Hasbro Battle Beasts Pillager Pig
Day 914: Hasbro Battle Beasts Rainbow Sam
Day 972: Hasbro Battle Beasts Pixilated Pointer
Day 1,084: Hasbro Battle Beasts Sir Sire Horse
Day 1,278: Hasbro Battle Beasts Hardtop Tortoise
Day 1,291: Hasbro Battle Beasts Tanglin Pangolin
Day 1,306: Hasbro Battle Beasts Eager Beaver
Day 1,313: Hasbro Battle Beasts Bodacious Bovine
Day 1,756: Diamond Select Independent Comic Book Minimates Battle Beasts Ruminant and Spyrnus
Day 1,815: Diamond Select Battle Beasts Minimates Stealth Vorin
Day 1,827: Hasbro Battle Beasts Sabre Sword Tiger
Day 1,890: Hasbro Battle Beasts Battling Deer Stalker Chariot
Day 1,905: Diamond Select Battle Beasts Minimates Antalor and Nychirix
Day 1,906: Hasbro Battle Beasts Killer Carp
Day 2,024: Fisher-Price Imaginext Series 11 Collectible Figures Triple Threat Snake
Day 2,074: Hasbro Battle Beasts Octillion Octopus