Hungry Humbug, Nutty Nate, Captain Payback
Christmas Series

S.L.U.G. Zombies Minifigures 3-Packs
Item No.: Asst. 42002 No. 58026
Manufacturer: Jakks Pacific
Includes: 3 figures, poster
Action Feature: n/a
Retail: $3.99
Availability: November 2012
Other: Not bad for the price

PREVIOUS
RSS
NEXT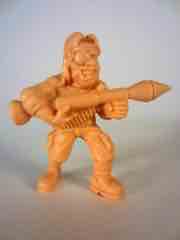 Surprise, Christmas S.L.U.G. Zombies! The M.U.S.C.L.E.-inspired undead creatures got 4 new 3-packs (and as far as I can tell, 0 12-packs) for a one-off assortment that showed up just after Thanksgiving, along with series 4. This particular pack includes two new zombies inspired by A Christmas Carol and The Nutcracker, along with a repack of what seems to be a Snake Plissken-inspried quasi-Rambo human hero.
The boring repack, Captain Payback, ain't bad. Originally created for series 2, he has an eyepatch, a bazooka, ammo galore, long hair, and seemingly no shirt. He has no problems standing, and you may have had a chance to buy him before. Let's move on to the new stuff.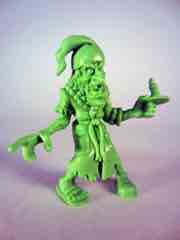 I couldn't believe that we actually got Hungry Humbug, Ebeneezer Scrooge in zombie form. That's just too awesomely ridiculous. He's got a tattered robe, a gnarly face with missing teeth, a sleeping cap, that weird candle thing from olde tyme days, and some nibbled flesh on his arm. The sculpting is pretty good, plus there's a torn shoe showing his foot. He has bushy eyebrows, bags under his eyes... I don't know why I find this so perfect. In a post-Pride and Prejudice and Zombies America, this sort of thing seems like a logical evolution in the toy world and almost feels a little late to the game. This entire line is shaping up to be a great metaphor for pop culture in this era... there's a lot of references to things we liked 20 years ago, lots of zombies, and everything feels like it came out of the 1980s.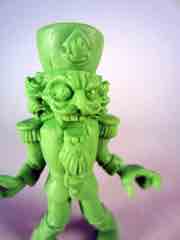 Most of the figures have names that are similar to (but different enough for a court of law, probably) a known pop culture entity. The Nutcracker has been revived as Nutty Nate, a freaky wooden nutcracker that somehow is also a zombie. Sort of. The figure doesn't have exposed bones or decaying flesh, however you may notice some ripped clothing like his sleeves. He's got a freaky facial expression, an awesome bears, big bushy hair, and a swell flat hat. He has big mean teeth and a freaky open mouth, so while he certainly does look like a monster, he's clearly not a zombie. I like the idea of a haunted nutcracker, though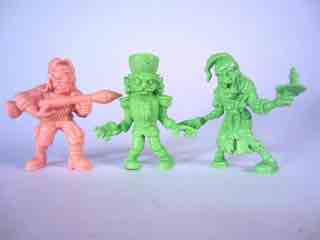 The very notion of a line of Christmas zombie toys for young boys is probably one of the most cynical ways to approach the holiday, which is, of course, awesome. Other Christmas figures include a guy bursting out of a present, a reindeer, a snowman, Santa, an elf, and a little drummer boy kind of a toy soldier. For $3.50-$4.00, I can't imagine why you wouldn't buy a bunch of these. Since series 1 has been prohibitively hard to find, I'm not even going to try to collect them all but I have a decent stash so far. If you're at all interested in this kind of toy, this is a great place to start.
--Adam Pawlus
Additional Images

Want to buy this figure or others like it? Check S.L.U.G. Zombies availability at our sponsors:
Entertainment Earth
See more Jakks Pacific figures in Figure of the Day:
Day 471: Jakks Pacific S.L.U.G. Zombies Macho Mangler, Flesh-Eatin' Phil, Buck Wilde Minifigures 3-Pack
Day 503: Jakks Pacific S.L.U.G. Zombies Extra Crispy, Zero Hero, Riled-Up Riley Minifigures
Day 545: Jakks Pacific S.L.U.G. Zombies Hungry Humbug, Nutty Nate, Captain Payback Minifigures
Day 818: Jakks Pacific S.L.U.G. Zombies Ralph Reindead, Surprise Demise, Blazin' Basel Minifigures 3-Pack
Day 1,032: Jakks Pacific World of Nintendo Skyward Sword Link Action Figure
Day 1,125: Jakks Pacific World of Nintendo Metroid Action Figure
Day 1,162: Jakks Pacific World of Nintendo Metroid Samus Action Figure
Day 1,182: Jakks Pacific World of Nintendo Mario Action Figure
Day 1,186: Jakks Pacific World of Nintendo Luigi Action Figure
Day 1,320: Jakks Pacific World of Nintendo 8-Bit Link Action Figure
Day 1,336: Jakks Pacific World of Nintendo 8-Bit Luigi Action Figure
Day 1,341: Jakks Pacific World of Nintendo 8-Bit Donkey Kong Action Figure
Day 1,347: Jakks Pacific World of Nintendo ComicConBox.com Metallic Metroid Samus Action Figure
Day 1,349: Jakks Pacific World of Nintendo 8-Bit Mario Action Figure
Day 1,363: Jakks Pacific World of Nintendo Shy Guy Action Figure
Day 1,367: Jakks Pacific World of Nintendo Convention Exclusive Jakks Giants Link Action Figure
Day 1,369: Jakks Pacific World of Nintendo Jakks Giants Mario Action Figure
Day 1,380: Jakks Pacific World of Nintendo Tanooki Mario Action Figure
Day 1,398: Jakks Pacific World of Nintendo Boo Action Figure
Day 1,438: Jakks Pacific World of Nintendo Metroid Gravity Suit Samus Action Figure
Day 1,444: Jakks Pacific World of Nintendo 8-Bit Red Link Action Figure
Day 1,447: Jakks Pacific World of Nintendo 8-Bit Star Power Mario Action Figure
Day 1,454: Jakks Pacific World of Nintendo 8-Bit White Link Action Figure
Day 1,475: Jakks Pacific World of Nintendo Samus Mini Action Figure
Day 1,490: Jakks Pacific World of Nintendo 8-Bit Classic Mario Action Figure
Day 1,512: Jakks Pacific Batman v. Superman: Dawn of Justice Jokers Wild Batman
Day 1,537: Jakks Pacific World of Nintendo Metroid Action Figure
Day 1,624: Jakks Pacific World of Nintendo Blooper Action Figure
Day 1,647: Jakks Pacific World of Nintendo Metroid Phazon Suit Samus Action Figure
Day 1,652: Jakks Pacific World of Nintendo Goomba Action Figure
Day 1,668: Jakks Pacific World of Nintendo 8-Bit Toad Action Figure
Day 1,672: Jakks Pacific World of Nintendo Boo Glow Action Figure
Day 1,677: Jakks Pacific World of Nintendo 8-Bit Star Luigi Action Figure
Day 1,751: Jakks Pacific World of Nintendo 8-Bit Toad Variant Action Figure
Day 1,824: Jakks Pacific S.L.U.G. Zombies Gangrene Gene, Ferpcious Frankie, Johnson Minifigures 3-Pack
Day 1,863: Jakks Pacific S.L.U.G. Zombies Santa Claws, Eli the Expired Elf, Gator Jones Minifigures 3-Pack
Day 1,991: Jakks Pacific World of Nintendo 8-Bit Princess Peach Action Figure

See more S.L.U.G. Zombies figures in Figure of the Day:
Day 471: Jakks Pacific S.L.U.G. Zombies Macho Mangler, Flesh-Eatin' Phil, Buck Wilde Minifigures 3-Pack
Day 503: Jakks Pacific S.L.U.G. Zombies Extra Crispy, Zero Hero, Riled-Up Riley Minifigures
Day 545: Jakks Pacific S.L.U.G. Zombies Hungry Humbug, Nutty Nate, Captain Payback Minifigures
Day 818: Jakks Pacific S.L.U.G. Zombies Ralph Reindead, Surprise Demise, Blazin' Basel Minifigures 3-Pack
Day 1,824: Jakks Pacific S.L.U.G. Zombies Gangrene Gene, Ferpcious Frankie, Johnson Minifigures 3-Pack
Day 1,863: Jakks Pacific S.L.U.G. Zombies Santa Claws, Eli the Expired Elf, Gator Jones Minifigures 3-Pack