Raptor
Dino-Riders-esque

Imaginext Feature Dinosaur
Item No.: Asst. W3618 No. W3619
Manufacturer: Fisher-Price
Includes: Human figure, mask, pick axe, dinosaur saddle, silver raptor helmet, red "volcanium" piece
Action Feature: None to speak of, really
Retail: $10.99
Availability: ca. 2011
Other: May be on clearance if you're really lucky

PREVIOUS
RSS
NEXT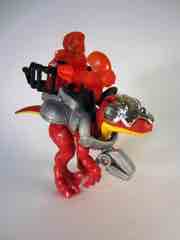 Tyco's much-beloved Dino-Riders toys are one of the 1980s properties left woefully unupdated, but at least the preteens of 1988 can take solace that the Raptor in the current range of Imaginext Dinosaurs can work as a decent substitute for their kids now. Eschewing some of the science that makes dinosaurs more feathery and less awesome, the Raptor is as you see it: a red mence with a saddle, helmet, and seating for a single figure. The sculpting is more than a little cartoony and the chunky figures are clearly designed for smaller hands, but for ten bucks you really can't go wrong. (Plus the seats work great for Glyos Armorvor figures, too, if you need to make some customized Rulons for your neo Dino-Rider toy collection.)
The toys take a cue from a lot of kid lines in that there's little character baked into the product. Sure, the raptor comes in traditional bad guy colors, as does his rider, but it's not like the box defines him as a hero or villain. The dinosaur has no problems standing and sports 5 points of articulation, plus an opening jaw. I was hoping for some spring-loaded jaw or tail, but none was included. For the asking price, he's a pretty decent little dinosaur toy. I got mine on clearance for $5.50 earlier this year, so I really feel I got my money's worth.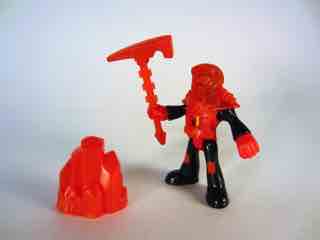 The toy really shines when you add the gear, which is basically some sort of mining rig thing. The harness slides over his neck and clips on to his tail, fitting snuggly in place (but not too snuggly). This accessory adds a seat for a driver complete with handlebars, a claw on his chest for some reason, plus a little basket in the back to transport other figures or the "volcanum" pieces you "mine" with your "axe." An included nameless and faceless figure has eyes peer out from behind a mask, but yet another clear red mask (not unlike Kenner's M.A.S.K. helmets) can completely cover his head. The human figure is jointed similarly to Playmobil and LEGO men, with jointed hips, shoulders, neck, and wrists. He has no problems standing, sitting, or using any of the included gear. It's a real, honest-to-goodness toy and not like the stuff aimed at collectors which sometimes works pretty well and sometimes... not. You can buy this for a kid without fear of the kid crying because the man can't hold his lightsaber, or sit in its vehicle. Everything just works, the downer is that the dinosaurs aren't remotely close to approaching anything you might call realistic.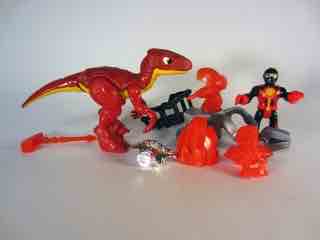 Like many lines in the 1980s, Imaginext relies on a wide audience buying lots of each item. There aren't new toys every 1-2 months, at best you'll see 6 or so new dinosaurs per year. There's a Kmart-exclusive Imaginext Dinosaurs pack with this guy in blue, if you prefer that color, which may still be available at a store near you. For $10-$11 it's a neat set, I figure most of you fancy yourselves Serious Toy Collectors and you'd not dare touch things sold as actual toys for actual children. If you've got the balls, I'd suggest getting one of these, particularly if you collect Glyos toys and want some vehicles which are about the right scale for them. This is one of the few successful toy lines that has managed to balance figures with vehicles, and it's obvious that (outside the licensed stuff) Fisher-Price is marketing the vehicles or creatures as the toys, with figures as their accessories. Amazingly, the human figures are all the same molds with new deco. It's a very impressive line, but not one aimed at the likes of this site's average readers.
--Adam Pawlus
Additional Images

Want to buy this figure or others like it? Check Fisher-Price availability at our sponsors:
Entertainment Earth
See more Fisher-Price figures in Figure of the Day:
Day 79: Fisher-Price Adventure People Alpha Star Astronaut Action Figure
Day 233: Fisher-Price Imaginext Space Station Toy Set
Day 404: Fisher-Price Imaginext Dinosaur Ankylosaurus
Day 528: Fisher-Price Imaginext Dinosaur Raptor
Day 643: Fisher-Price Adventure People Alpha Star Alien Creature
Day 766: Fisher-Price Imaginext Collectible Figures Diver
Day 796: Fisher-Price Imaginext Collectible Figures Robot
Day 830: Fisher-Price Imaginext Collectible Figures Mummy
Day 842: Fisher-Price Imaginext Space Ion Scorpion
Day 847: Fisher-Price Imaginext Space Ion Crab
Day 853: Fisher-Price Imaginext Space Alpha Blade
Day 954: Fisher-Price Imaginext Dinosaur Dimetrodon
Day 2,002: Fisher-Price Imaginext Series 10 Collectible Figures Spaceman & Alien
Day 2,014: Fisher-Price Imaginext Series 11 Collectible Figures X-Ray Man & Dog
Day 2,018: Fisher-Price Imaginext Series 11 Collectible Figures Radiation Man
Day 2,024: Fisher-Price Imaginext Series 11 Collectible Figures Triple Threat Snake
Day 2,032: Fisher-Price Imaginext Series 11 Collectible Figures M.U.S.C.L.E. Men
Day 2,036: Fisher-Price Imaginext Series 6 Collectible Figures Chicken Suit
Day 2,092: Fisher-Price Imaginext Series 11 Collectible Figures Fishbot
Day 2,096: Fisher-Price Imaginext Series 12 Collectible Figures Big Building Robot
Day 2,099: Fisher-Price Imaginext Series 12 Collectible Figures Clawtron
Day 2,100: Fisher-Price Imaginext DC Super Friends Batman & Swamp Thing Action Figures
Day 2,101: Fisher-Price Imaginext Series 7 Collectible Figures Buster of Ghosts
Day 2,102: Fisher-Price Imaginext Pirates Shark Minisub Figure with Vehicle
Day 2,103: Fisher-Price Imaginext Jurassic World Dr. Malcolm & Dimetrodon Action Figures
Day 2,104: Fisher-Price Imaginext Egypt Mummy Guards Action Figures
Day 2,108: Fisher-Price Imaginext Series 9 Mystery Figures Grim Reaper
Day 2,122: Fisher-Price Imaginext Series 6 Collectible Figures 4 Arm Alien
Day 2,133: Fisher-Price Imaginext Series 7 Collectible Figures Headless Horseman
Day 2,194: Fisher-Price Imaginext Series 9 Mystery Figures Yeti Snowboarder
Day 2,227: Fisher-Price Imaginext Series 9 Mystery Figures Shark Pirate
Day 2,239: Fisher-Price Imaginext DC Super Friends Slammers Arctic Sled with Mr. Freeze Set
Day 2,249: Fisher-Price Imaginext DC Super Friends Slammers Batmobile with Batman Set

See more Imaginext figures in Figure of the Day:
Day 233: Fisher-Price Imaginext Space Station Toy Set
Day 404: Fisher-Price Imaginext Dinosaur Ankylosaurus
Day 528: Fisher-Price Imaginext Dinosaur Raptor
Day 766: Fisher-Price Imaginext Collectible Figures Diver
Day 796: Fisher-Price Imaginext Collectible Figures Robot
Day 830: Fisher-Price Imaginext Collectible Figures Mummy
Day 842: Fisher-Price Imaginext Space Ion Scorpion
Day 847: Fisher-Price Imaginext Space Ion Crab
Day 853: Fisher-Price Imaginext Space Alpha Blade
Day 954: Fisher-Price Imaginext Dinosaur Dimetrodon
Day 2,002: Fisher-Price Imaginext Series 10 Collectible Figures Spaceman & Alien
Day 2,014: Fisher-Price Imaginext Series 11 Collectible Figures X-Ray Man & Dog
Day 2,018: Fisher-Price Imaginext Series 11 Collectible Figures Radiation Man
Day 2,024: Fisher-Price Imaginext Series 11 Collectible Figures Triple Threat Snake
Day 2,032: Fisher-Price Imaginext Series 11 Collectible Figures M.U.S.C.L.E. Men
Day 2,036: Fisher-Price Imaginext Series 6 Collectible Figures Chicken Suit
Day 2,092: Fisher-Price Imaginext Series 11 Collectible Figures Fishbot
Day 2,096: Fisher-Price Imaginext Series 12 Collectible Figures Big Building Robot
Day 2,099: Fisher-Price Imaginext Series 12 Collectible Figures Clawtron
Day 2,100: Fisher-Price Imaginext DC Super Friends Batman & Swamp Thing Action Figures
Day 2,101: Fisher-Price Imaginext Series 7 Collectible Figures Buster of Ghosts
Day 2,102: Fisher-Price Imaginext Pirates Shark Minisub Figure with Vehicle
Day 2,103: Fisher-Price Imaginext Jurassic World Dr. Malcolm & Dimetrodon Action Figures
Day 2,104: Fisher-Price Imaginext Egypt Mummy Guards Action Figures
Day 2,108: Fisher-Price Imaginext Series 9 Mystery Figures Grim Reaper
Day 2,122: Fisher-Price Imaginext Series 6 Collectible Figures 4 Arm Alien
Day 2,133: Fisher-Price Imaginext Series 7 Collectible Figures Headless Horseman
Day 2,194: Fisher-Price Imaginext Series 9 Mystery Figures Yeti Snowboarder
Day 2,227: Fisher-Price Imaginext Series 9 Mystery Figures Shark Pirate
Day 2,239: Fisher-Price Imaginext DC Super Friends Slammers Arctic Sled with Mr. Freeze Set
Day 2,249: Fisher-Price Imaginext DC Super Friends Slammers Batmobile with Batman Set