Hades Pheyden MK II
Now Cheaper.... maybe

Glyos Action Figures
Item No.: n/a
Manufacturer: Onell Design
Includes: Removable scarf
Action Feature: Glow-in-the-dark head
Retail: $8.00
Availability: September 5 2012
Other: Second Hades Pheyden, but the first-ever figure to include a PVC plastic "scarf" accessory in this line

PREVIOUS
RSS
NEXT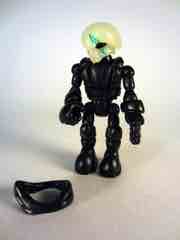 The first time this figure was sold, it had a harder resin scarf and was available for a short window of time through a special Glyaxia store. Now, Hades Pheyden MK II is available to everyone! Well, he was. For about an hour or less. Limited to 2 per customer, this nifty figure marks the debut of a PVC "scarf" accessory which does a surprisingly great job of changing the look and character of the figure with one tiny piece. Numerous other figures can wear it, like the Buildman or Govurom, but it seems a perfect fit for Pheyden and Scar Pheyden heads.
Roughly 2 3/4-inches tall, this release is made of mostly classic Pheyden parts but you'll recognize upper torso piece as being from Sarvos, which means he actually has a backpack hole if you're so inclined. Most photos of the character show him with a gun arm accessory (sold separately), but the figure is still pretty good as it is. The black body is a standard in this line, showing up again every year or so. What makes it unusual is a glow-in-the-dark head, specifically the Scar Pheyden noggin with a fair amount of paint. If you take off the head and look under the scarf, you'll see the scars are green, the eyes are black and black/white/green, and there's a painted neck too. The black paint on the lower part of the neck should be a great way to identify bogus versions of this figure, because scarves were available without Hades Pheyden, but only Hades Pheyden MK II seems to have a glow-in-the-dark head with a black painted neck from what I've seen so far.
Help 16bit.com!
We get a piece of every purchase you make from our sponsor through this link. If you were going to buy something, click here first and it helps fund the site! Thanks for your support!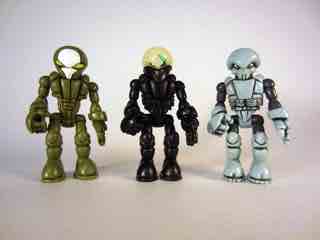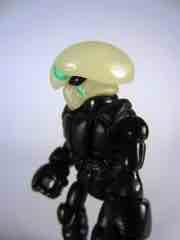 Glyos fans will recognize this figure as being par for the course in terms of articulation. With Glyos joints, the figure has 12 points of articulation and his pieces can be popped off and swapped with other Glyos figures. You can also give him a gun arm if you're so inclined.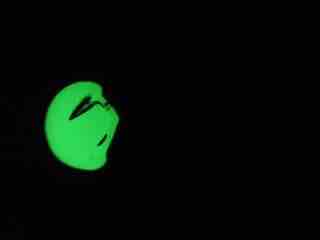 Given a role as a leader of an anti-Armorvor task force, it's no surprise this figure sold out quickly. It looks different enough from other versions of this mold to be worth your while, particularly since it's a distinctive character called out in the Onell Design "Passcode" game/animation series. One turned out on eBay basically the day they arrived in homes, but the high asking price seemed to prevent it from going anywhere too quickly. If you can get a good deal on this one, I'd suggest you jump on it. After five years I was wondering how much more mileage could be had with the "traveller" body type, and with the new scarf (and maybe some new heads) the answer is probably going to be "tons." Even though you may have a Pheyden of some sort, this particular variation is different and distinctive enough to have been worth the extra eight bucks. (And I'd also say it's worth not customizing, but that's me.)
--Adam Pawlus
Additional Images

See more Onell Design figures in Figure of the Day:
Day 7: Onell Design Glyos System Gears Edge Pheyden Action Figure
Day 20: Onell Design Glyos System Silver Gobon Action Figure
Day 204: Onell Design Glyos The Rig Volkriun Division Action Figure
Day 227: Four Horsemen Onell Design Exclusive Outer Space Men Xodiac Glyaxia Command Special Edition Action Figure
Day 230: Onell Design Glyos Esedeth Desert Assault Team Glyan Action Figure
Day 231: Onell Design Glyos Standard Pheyden Action Figure
Day 252: Onell Design Glyos Heavy Armored Rig Relgost Wing Divison Action Figure
Day 253: Onell Design Glyos Crayboth Action Figures Set 2
Day 262: Onell Design Glyos Task Force Volkriun Extra Set
Day 269: Onell Design Glyos Relgost Wing Division Glyan Action Figure
Day 281: Onell Design Glyos Glyaxia Command Elite Glyan Action Figure
Day 298: Onell Design Glyos Reforged Govurom Action Figure
Day 321: Onell Design Glyos Task Force Volkriun Sarvos Action Figure
Day 409: Onell Design Glyos Comrado Sarvos Action Figure
Day 425: Onell Design Glyos Zorennor Exploration Division Crayboth Senyrith Action Figure
Day 442: Onell Design Glyos Phaseon Gendrone Unpainted Black Action Figure
Day 461: Onell Design Glyos Zorennor Exploration Division Commander Sullkren Action Figure
Day 469: Onell Design Glyos Venjorun Armorvor Action Figure
Day 497: Onell Design Glyos Hades Mimic Armorvor Action Figure
Day 505: Onell Design Glyos Zed Rig Runner Vehicle
Day 509: Onell Design Glyos Nonilla Pheyden Action Figure
Day 523: Onell Design Glyos Glyaxia Outer Battalion Glyan Action Figure
Day 527: Onell Design Glyos Hades Pheyden MK II Action Figure
Day 537: Onell Design Glyos Stealth Armorvor Action Figure
Day 553: Onell Design Glyos Verexxan Armorvor Action Figure
Day 572: Onell Design Glyos Neo Voss Crayboth Action Figure
Day 592: Onell Design Glyos Task Force Volkriun Core Block Action Figure
Day 607: Onell Design Glyos Neo Nebula Armorvor Action Figure
Day 609: Onell Design Glyos Syclodoc Neutralizer Action Figure
Day 617: Onell Design Glyos Crayboth Nuldireus Action Figure
Day 621: Onell Design Glyos Naspoth Sarvos Action Figure
Day 627: Onell Design Glyos Neo Legion Pheyden Action Figure
Day 631: Onell Design Glyos Neo Nebula Pheyden Action Figure
Day 638: Onell Design Glyos Mordireus Sarvos Action Figure
Day 649: Onell Design Glyos Gold Crayboth Action Figure
Day 650: Onell Design Glyos Red Swing Joint Set
Day 656: Onell Design Glyos Armorvor Infection Action Figure
Day 659: Onell Design Glyos Gendrone Legion Gobon Action Figure
Day 665: Onell Design Glyos Sonesidar Mimic Armorvor Action Figure
Day 672: Onell Design Glyos Syclodoc Syclowave Action Figure
Day 676: Onell Design Glyos Task Force Volkriun Glyan Captain Ruger Action Figure
Day 686: Onell Design Glyos Ullexono Pheyden Action Figure
Day 695: Onell Design Glyos Ivorinium Noboto Action Figure
Day 701: Onell Design Glyos Reydurran Operations Unit Mini Blocker Rig Action Figure
Day 706: Onell Design Glyos Standard Crayboth MK II Action Figure
Day 710: Onell Design Glyos Neo Aves Exellis Action Figure
Day 719: Onell Design Glyos Traveler Urballim Pheyden Action Figure
Day 726: Onell Design Glyos MVR Standard Gobon Action Figure
Day 737: Onell Design Glyos Armorvor Engineer Mimic Action Figure
Day 743: Onell Design Glyos MVR Standard Noboto Action Figure
Day 749: Onell Design Glyos Crayboth Pack 5 Red and Green Aura Action Figures
Day 765: Onell Design Glyos Lost Sincroid Army Genesis Corps Action Figure
Day 774: Onell Design Glyos Mordereus Gobon Action Figure
Day 789: Onell Design Glyos Standard Pheyden MK IV Action Figure
Day 793: Onell Design Glyos Neo Gatekeeper Reverse Mimic Armorvor Action Figure
Day 806: Onell Design Glyos Dark Traveler Rift Breaker Action Figure
Day 836: Onell Design Glyos Ecroyex Guardian Syclodoc Action Figure
Day 841: Onell Design Glyos Gendrone Rebellion Gobon Action Figure
Day 864: Onell Design Glyos Gendrone Rebellion Mimic Armorvor Action Figure
Day 869: Onell Design Glyos Gliporian Crayboth Action Figure
Day 875: Onell Design Glyos Argen MK X Action Figure
Day 881: Onell Design Glyos OMFG Mimic Armorvor Action Figure
Day 890: Onell Design Glyos Ecroyex Mimic Armorvor Action Figure
Day 897: Onell Design Glyos Gendrone Ultra Corps Mimic Armorvor Action Figure
Day 911: Onell Design Glyos Gendrone Spectre Force Gobon Action Figure
Day 912: Onell Design Glyos Spectre Armorvor Action Figure
Day 919: Onell Design Glyos Crayboth Hanosyric Action Figure
Day 933: Onell Design Glyos Neo Gatekeeper Viyer Sarvos Action Figure
Day 957: Onell Design Glyos Neo Sincroid Gendrone Legion Action Figure
Day 961: Onell Design Glyos Crayboth Gryganull Action Figure
Day 982: Onell Design Glyos Glyan Glyaxia Standard Action Figure
Day 983: Onell Design Glyos Super Crayboth Standard Action Figure
Day 988: Onell Design Glyos Crayboth Grellanym Action Figure
Day 996: Onell Design Glyos Armorvor Glyaxia Command Mimic Action Figure
Day 1,012: Onell Design Glyos Armorvor Neo Phase Action Figure
Day 1,044: Onell Design Glyos Armorvor Rig Crew Mimic Action Figure
Day 1,064: Onell Design Glyos Super Crayboth Mordireus Action Figure
Day 1,075: Onell Design Glyos Redlaw Phanost Action Figure

See more Glyos system compatible figures in Figure of the Day:
Day 7: Onell Design Glyos System Gears Edge Pheyden Action Figure
Day 20: Onell Design Glyos System Silver Gobon Action Figure
Day 48: Four Horsemen Outer Space Men Infinity Edition Inferno Action Figure
Day 66: Four Horsemen Outer Space Men Alpha Phase Xodiac the Man from Saturn SDCC Exclusive Action Figure
Day 67: Four Horsemen Outer Space Men Beta Phase Xodiac the Man from Saturn NYCC Exclusive Action Figure
Day 68: Sucklord Glyos-Compatible Sucklord Grey Helmet Head
Day 72: Four Horsemen Outer Space Men Beta Phase Astro-Nautilus the Man from Saturn NYCC Exclusive
Day 85: Four Horsemen Outer Space Men Infinity Edition Xodiac Action Figure
Day 92: Four Horsemen Outer Space Men Holiday Edition Metamorpho Action Figure
Day 93: Four Horsemen Outer Space Men Holiday Edition Inferno Action Figure
Day 95: Four Horsemen Outer Space Men Beta Phase Inferno the Man from Mercury NYCC Exclusive
Day 110: Four Horsemen Outer Space Men Infinity Edition Astro-Nautilus Action Figure
Day 116: Four Horsemen Outer Space Men Beta Phase Metamorpho Action Figure
Day 128: Four Horsemen Outer Space Men Holiday Xodiac Action Figure
Day 139: Four Horsemen Outer Space Men Holiday Astro-Nautilus Action Figure
Day 144: Four Horsemen Outer Space Men Infinity Edition Metamorpho Action Figure
Day 204: Onell Design Glyos The Rig Volkriun Division Action Figure
Day 206: Four Horsemen Outer Space Men Alpha Series Alpha 7 Action Figure
Day 227: Four Horsemen Onell Design Exclusive Outer Space Men Xodiac Glyaxia Command Special Edition Action Figure
Day 228: Four Horsemen Outer Space Men Alpha Phase Inferno the Flame Man of Mercury SDCC Exclusive
Day 230: Onell Design Glyos Esedeth Desert Assault Team Glyan Action Figure
Day 231: Onell Design Glyos Standard Pheyden Action Figure
Day 241: Four Horsemen Outer Space Men Alpha Phase Astro-Nautilus the Man from Neptune SDCC Exclusive
Day 245: Rawshark Studios Callgrim Norisar Ambush Action Figure
Day 252: Onell Design Glyos Heavy Armored Rig Relgost Wing Divison Action Figure
Day 253: Onell Design Glyos Crayboth Action Figures Set 2
Day 255: 1SHOT Toys Glyos-Compatible He-Man Thermal Color Change Head
Day 258: Four Horsemen Outer Space Men Alpha Series Electron+ Action Figure
Day 262: Onell Design Glyos Task Force Volkriun Extra Set
Day 269: Onell Design Glyos Relgost Wing Division Glyan Action Figure
Day 270: Four Horsemen Outer Space Men Alpha Series Mystron Action Figure
Day 281: Onell Design Glyos Glyaxia Command Elite Glyan Action Figure
Day 288: Four Horsemen Outer Space Men Alpha Series Commander Comet Action Figure
Day 291: Four Horsemen Outer Space Men Beta Series Mystron Action Figure
Day 298: Onell Design Glyos Reforged Govurom Action Figure
Day 299: Four Horsemen Outer Space Men Galactic Holiday Electron+ Action Figure
Day 304: Four Horsemen Outer Space Men Beta Series Alpha 7 Action Figure
Day 307: Callgrim Grim Squad Armodoc Action Figure
Day 316: Four Horsemen Outer Space Men Beta Series Commander Comet Action Figure
Day 321: Onell Design Glyos Task Force Volkriun Sarvos Action Figure
Day 325: Spy Monkey Creations Doppelganger Armory Series 1 Accessory Pack
Day 330: Four Horsemen Outer Space Men Infinity Edition Commander Comet Action Figure
Day 331: Four Horsemen Outer Space Men Galactic Holiday Alpha 7 Action Figure
Day 337: Four Horsemen Outer Space Men Galactic Holiday Mystron Action Figure
Day 340: Four Horsemen Outer Space Men Cosmic Creators Mel Birnkrant Inferno Action Figure
Day 361: Four Horsemen Outer Space Men Galactic Holiday Commander Comet Action Figure
Day 379: Four Horsemen Outer Space Men Infinity Edition Electron+ Action Figure
Day 388: Four Horsemen Outer Space Men Galactic Holiday Alpha 7 Action Figure
Day 393: Callgrim The Order Triton Action Figure
Day 407: Four Horsemen Outer Space Men Infinity Edition Mystron Action Figure
Day 409: Onell Design Glyos Comrado Sarvos Action Figure
Day 416: Four Horsemen Outer Space Men Cosmic Creators Mel Birnkrant Xodiac Action Figure
Day 425: Onell Design Glyos Zorennor Exploration Division Crayboth Senyrith Action Figure
Day 431: Four Horsemen Outer Space Men Cosmic Creators Mel Birnkrant Astro-Nautilus Action Figure
Day 442: Onell Design Glyos Phaseon Gendrone Unpainted Black Action Figure
Day 461: Onell Design Glyos Zorennor Exploration Division Commander Sullkren Action Figure
Day 469: Onell Design Glyos Venjorun Armorvor Action Figure
Day 475: Four Horsemen Outer Space Men Cosmic Creators Mel Birnkrant Metamorpho Action Figure
Day 477: Four Horsemen Outer Space Men Alpha Phase Gemini Action Figure
Day 480: Four Horsemen Outer Space Men Cosmic Creators Four Horsemen Metamorpho Action Figure
Day 497: Onell Design Glyos Hades Mimic Armorvor Action Figure
Day 505: Onell Design Glyos Zed Rig Runner Vehicle
Day 509: Onell Design Glyos Nonilla Pheyden Action Figure
Day 510: Spy Monkey Creations Weaponeers of Monkaa Empyreus Action Figure
Day 511: Four Horsemen Outer Space Men Alpha Phase Orbitron Action Figure
Day 512: The GodBeast Customs Glyos Dark Purple Crab Head Glyos Accessory
Day 521: Banimon Red Army 51st Corps Action Figure
Day 523: Onell Design Glyos Glyaxia Outer Battalion Glyan Action Figure
Day 527: Onell Design Glyos Hades Pheyden MK II Action Figure
Day 532: The GodBeast Customs Glyos Green CyberGator Head Glyos Accessory
Day 537: Onell Design Glyos Stealth Armorvor Action Figure
Day 539: Four Horsemen Outer Space Men 2.0 Inferno Action Figure
Day 547: Four Horsemen Outer Space Men Cosmic Creators Four Horsemen Xodiac Action Figure
Day 553: Onell Design Glyos Verexxan Armorvor Action Figure
Day 554: Callgrim Fragarian Action Figure
Day 555: The GodBeast Customs Glyos Green Glyos-Compatible Skull Head Glyos Accessory
Day 572: Onell Design Glyos Neo Voss Crayboth Action Figure
Day 581: Four Horsemen Outer Space Men Cosmic Creators Four Horsemen Astro-Nautilus Action Figure
Day 588: Four Horsemen Outer Space Men Cosmic Creators Four Horsemen Inferno Action Figure
Day 592: Onell Design Glyos Task Force Volkriun Core Block Action Figure
Day 594: Four Horsemen Outer Space Men Beta Phase Cyclops Action Figure
Day 599: Four Horsemen Outer Space Men 2.0 Astro-Nautilus Action Figure
Day 600: Seth Longmire Custom Glyos Glyan Squad Verihex Action Figure
Day 604: Four Horsemen Outer Space Men 2.0 Metamorpho Action Figure
Day 607: Onell Design Glyos Neo Nebula Armorvor Action Figure
Day 609: Onell Design Glyos Syclodoc Neutralizer Action Figure
Day 611: Four Horsemen Outer Space Men Galactic Holiday Orbitron Action Figure
Day 612: Banimon Fire Eaters (Red Army Men) Action Figure
Day 613: Spy Monkey Creations Weaponeers of Monkaa Palidar Action Figure
Day 617: Onell Design Glyos Crayboth Nuldireus Action Figure
Day 619: Four Horsemen Outer Space Men Beta Phase Orbitron Action Figure
Day 621: Onell Design Glyos Naspoth Sarvos Action Figure
Day 627: Onell Design Glyos Neo Legion Pheyden Action Figure
Day 631: Onell Design Glyos Neo Nebula Pheyden Action Figure
Day 636: Four Horsemen Outer Space Men Alpha Phase Cyclops Action Figure
Day 638: Onell Design Glyos Mordireus Sarvos Action Figure
Day 640: Four Horsemen Outer Space Men Infinity Edition Orbitron Action Figure
Day 648: Four Horsemen Outer Space Men Galactic Holiday Gemini Action Figure
Day 649: Onell Design Glyos Gold Crayboth Action Figure
Day 650: Onell Design Glyos Red Swing Joint Set
Day 654: Four Horsemen Outer Space Men Infinity Edition Gemini Action Figure
Day 656: Onell Design Glyos Armorvor Infection Action Figure
Day 657: The GodBeast Customs Glyos Grey CyberRhino Head Glyos Accessory
Day 659: Onell Design Glyos Gendrone Legion Gobon Action Figure
Day 665: Onell Design Glyos Sonesidar Mimic Armorvor Action Figure
Day 668: Four Horsemen Outer Space Men Beta Phase Gemini Action Figure
Day 672: Onell Design Glyos Syclodoc Syclowave Action Figure
Day 676: Onell Design Glyos Task Force Volkriun Glyan Captain Ruger Action Figure
Day 682: Spy Monkey Creations Weaponeers of Monkaa Close Combat Armory Accessories
Day 686: Onell Design Glyos Ullexono Pheyden Action Figure
Day 688: Four Horsemen Outer Space Men Galactic Holiday Cyclops Action Figure
Day 695: Onell Design Glyos Ivorinium Noboto Action Figure
Day 696: Four Horsemen Outer Space Men Infinity Edition Cyclops Action Figure
Day 701: Onell Design Glyos Reydurran Operations Unit Mini Blocker Rig Action Figure
Day 704: NiStuff 481 Universe Outlander Silas Action Figure
Day 705: Banimon Banigoth Horde Ghost Troopers (Assassination Squad) Action Figure
Day 706: Onell Design Glyos Standard Crayboth MK II Action Figure
Day 709: Four Horsemen Outer Space Men Alpha Phase Colossus Rex Action Figure
Day 710: Onell Design Glyos Neo Aves Exellis Action Figure
Day 711: Four Horsemen Outer Space Men 2.0 Xodiac Action Figure
Day 712: Spy Monkey Creations Weaponeers of Monkaa OMFG Gohlem Action Figure
Day 716: Four Horsemen Outer Space Men White Star Astro-Nautilus Action Figure
Day 719: Onell Design Glyos Traveler Urballim Pheyden Action Figure
Day 726: Four Horsemen Outer Space Men Cosmic Creators Mel Birnkrant Edition Blue Angel Commander Comet Action Figure
Day 726: Onell Design Glyos MVR Standard Gobon Action Figure
Day 729: Four Horsemen Outer Space Men Alpha Phase Terra Firma Action Figure
Day 737: Onell Design Glyos Armorvor Engineer Mimic Action Figure
Day 739: Four Horsemen Outer Space Men Alpha Phase Gamma X Action Figure
Day 743: Onell Design Glyos MVR Standard Noboto Action Figure
Day 744: Four Horsemen Outer Space Men Cosmic Creators Mel Birnkrant Edition Alpha 11 (Alpha 7) Action Figure
Day 749: Onell Design Glyos Crayboth Pack 5 Red and Green Aura Action Figures
Day 760: Four Horsemen Power Lords Power Soldier Action Figure
Day 765: Onell Design Glyos Lost Sincroid Army Genesis Corps Action Figure
Day 769: NiStuff 481 Universe NV Subject Action Figure
Day 774: Onell Design Glyos Mordereus Gobon Action Figure
Day 781: Four Horsemen Outer Space Men White Star Inferno Action Figure
Day 784: Four Horsemen Power Lords Power-Con Exclusive Elite Power Soldier Action Figure
Day 788: Four Horsemen Outer Space Men Alpha Phase Horroscope Action Figure
Day 789: Onell Design Glyos Standard Pheyden MK IV Action Figure
Day 790: ToyFinity Robo Force Genesis Edition Action Figure
Day 793: Onell Design Glyos Neo Gatekeeper Reverse Mimic Armorvor Action Figure
Day 798: ToyFinity Mordles Imbalance of Blood Vinyl Figure
Day 800: Banimon Custom Corps Series 1 #11 Action Figure
Day 804: NiStuff 481 Universe Zeta Force Dig Crew Action Figure
Day 805: Four Horsemen Outer Space Men Cosmic Creators Mel Birnkrant Edition Fire and Ice Electron+ Action Figure
Day 806: Onell Design Glyos Dark Traveler Rift Breaker Action Figure
Day 807: Four Horsemen Power Lords New York Comic Con Exclusive Ggrapptikk Grunt (Pink) Action Figure
Day 808: Four Horsemen Outer Space Men Beta Phase Colossus Rex Action Figure
Day 814: Banimon Red Army Muscle Men Action Figure
Day 823: Four Horsemen Outer Space Men Beta Phase Terra Firma Action Figure
Day 836: Onell Design Glyos Ecroyex Guardian Syclodoc Action Figure
Day 840: TheGodBeast Kabuto Mushi Standard Pearlescent Brown Action Figure
Day 841: Onell Design Glyos Gendrone Rebellion Gobon Action Figure
Day 854: Four Horsemen Power Lords Slate Zone Elite Power Soldier Action Figure
Day 859: ToyFinity Mordles Geihoza Vinyl Figure
Day 864: Onell Design Glyos Gendrone Rebellion Mimic Armorvor Action Figure
Day 866: TheGodBeast Kabuto Mushi Mini-Mushi Swarm 4-Pack Assorted Colors Minifigures
Day 864: Onell Design Glyos Gendrone Rebellion Mimic Armorvor Action Figure
Day 869: Onell Design Glyos Gliporian Crayboth Action Figure
Day 875: Onell Design Glyos Argen MK X Action Figure
Day 879: Spy Monkey Creations Glyos Crayboth Eaglet Action Figure
Day 881: Onell Design Glyos OMFG Mimic Armorvor Action Figure
Day 888: Four Horsemen Power Lords Barlowe Color Concept Ggripptogg (Grey and Black) Action Figure
Day 889: TheGodBeast Customs Glyos Red Sharkorvor Head Glyos Accessory
Day 890: Onell Design Glyos Ecroyex Mimic Armorvor Action Figure
Day 891: Four Horsemen Outer Space Men White Star Metamorpho Action Figure
Day 892: NiStuff 481 Universe Maigus Action Figure
Day 896: ToyFinity Mordles Quinhozs Vinyl Figure
Day 897: Onell Design Glyos Gendrone Ultra Corps Mimic Armorvor Action Figure
Day 901: Four Horsemen Outer Space Men Cosmic Creators Mel Birnkrant Edition Red Devil Mystron Action Figure
Day 908: NiStuff 481 Universe Spectre Leyden Action Figure
Day 911: Onell Design Glyos Gendrone Spectre Force Gobon Action Figure
Day 912: Onell Design Glyos Spectre Armorvor Action Figure
Day 915: Four Horsemen Outer Space Men Infinity Edition Colossus Rex Action Figure
Day 917: Four Horsemen Outer Space Men White Star Xodiac Action Figure
Day 919: Onell Design Glyos Crayboth Hanosyric Action Figure
Day 927: Four Horsemen Power Lords Ophidian Squad Soldier Action Figure
Day 928: Four Horsemen Outer Space Men Infinity Edition Ohpromatem Action Figure
Day 930: Four Horsemen Power Lords New York Comic Con Exclusive Ggrapptikk Grunt (Purple) Action Figure
Day 933: Onell Design Glyos Neo Gatekeeper Viyer Sarvos Action Figure
Day 939: Four Horsemen Outer Space Men Infinity Edition Gamma X Action Figure
Day 944: Four Horsemen Outer Space Men Infinity Edition Terra Firma Action Figure
Day 947: Four Horsemen Power Lords Ggrapptikk Sergeant Action Figure
Day 953: Four Horsemen Outer Space Men Infinity Edition Horroscope Action Figure
Day 957: Onell Design Glyos Neo Sincroid Gendrone Legion Action Figure
Day 958: Four Horsemen Outer Space Men Infinity Edition Jack Asteroid Action Figure
Day 959: Four Horsemen Power Lords Ophidian Squad Elite Power Soldier Action Figure
Day 960: Four Horsemen Power Lords Lord Power Action Figure
Day 961: Onell Design Glyos Crayboth Gryganull Action Figure
Day 965: Four Horsemen Power Lords Ggrapptikk Action Figure
Day 966: Four Horsemen Outer Space Men Alpha Phase Jack Asteroid Action Figure
Day 971: Four Horsemen Outer Space Men Beta Phase Gamma X Action Figure
Day 973: Four Horsemen Outer Space Men Alpha Phase Ohpromatem Action Figure
Day 975: ToyFinity Mordles EGD Vinyl Figure
Day 979: Four Horsemen Outer Space Men White Star Alpha 7 Action Figure
Day 982: Onell Design Glyos Glyan Glyaxia Standard Action Figure
Day 983: Onell Design Glyos Super Crayboth Standard Action Figure
Day 988: Onell Design Glyos Crayboth Grellanym Action Figure
Day 989: Four Horsemen Power Lords Ggripptogg Action Figure
Day 996: Onell Design Glyos Armorvor Glyaxia Command Mimic Action Figure
Day 1,012: Onell Design Glyos Armorvor Neo Phase Action Figure
Day 1,026: ToyFinity Mordles Night Mordle Vinyl Figure
Day 1,035: Plastic Imagination Rise of the Beasts Gold Rhino and Scorpion
Day 1,044: Onell Design Glyos Armorvor Rig Crew Mimic Action Figure
Day 1,046: Plastic Imagination Rise of the Beasts Action Figure Test Shots
Day 1,050: Plastic Imagination Rise of the Beasts Cahriv - Metallic Black Scorpion with Orange Paint
Day 1,056: Four Horsemen Power Lords Adam Power Action Figure
Day 1,057: Plastic Imagination Rise of the Beasts Bal Kharn - Metallic Black Rhino with Grey Paint
Day 1,064: Onell Design Glyos Super Crayboth Mordireus Action Figure
Day 1,075: Onell Design Glyos Redlaw Phanost Action Figure