Extra Crispy, Zero Hero, Riled-Up Riley
Series 3

S.L.U.G. Zombies Minifigures 3-Packs
Item No.: Asst. 42002 No. 42032
Manufacturer: Jakks Pacific
Includes: 3 figures, poster
Action Feature: n/a
Retail: $3.99
Availability: July 2012
Other: Not bad for the price

PREVIOUS
RSS
NEXT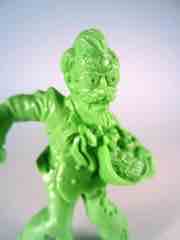 More S.L.U.G. Zombies! The latest descendant of M.U.S.C.L.E. captures the spirit nicely and with 100 announced figures (not all of which are out yet), it's a meaty line. This series 3 set includes Extra Crispy, Zero Hero, Riled-Up Riley and a poster for your amusement.
This was a set I couldn't pass up, because it included two figures I knew I had to get including Extra Crispy. Clearly modeled after Colonel Sanders, this shambling figure carries a bucket of what I'm going to assume isn't chicken. With the glasses, suit, and beard, there's little mistaking this one for anything other than the company's founder/mascot, who enjoys a healthy line of collectible figures in Japan. Crispy here is loaded with damage, including a hole in his head to match the holes in his shoes. His suit is worn though, and there's not a lot of subtlety or nuance to be had. It's Colonel Sanders as a zombie. What more could you want for four bucks?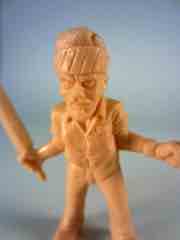 How about a tribute to Shaun of the Dead? Riled-Up Riley recalls Simon Pegg's character Shaun. The figure retains the cricket bat and the tie on the forehead, plus there's what may be a pocket protector on his shirt. While some of the figures are parodies of famous movie heroes, this one is a pretty close tribute to the famed horror-comedy. One hand wears a watch and this one doesn't seem to have any gags hidden anywhere. It's as close as you'll probably get to a Shaun figure, if you don't count the several top-notch releases from Neca, but those are already off the market.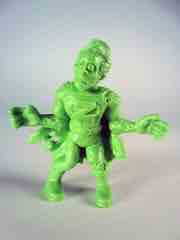 Rounding out the set is a fairly straightforward parody of Superman called Zero Hero. Well, maybe not so much Superman, as the character design is basically a guy in a cape with fancy hair-- a big "Z" on his chest and back are a nifty original design, and his belt looks like a fairly common utility belt. His chewed-up visage doesn't recall anyone in particular, although it's worth noting that out of the zombie figures, his hair is probably some of the best maintained relative to his body. The cape has a hole in it, his clothes are coming apart, and he's peppered in bite marks. What's not to like?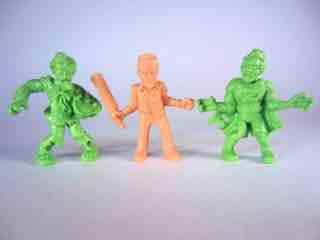 I was surprised and delighted by this set, although there's nothing surprising or unexpected here. You get 3 roughly 2-inch high figures, unpainted, with decent sculpts. The rubbery figures are similar in texture to old collectible figures but the thinner piece of the cricket bat is pretty bendable. Having said that, none of the figures have any problems standing or maintaining a proper shape. I know that's a weird thing to say in a review of a new toy I opened literally minutes before writing this review, but I've bought a lot of toys that need minor repair work right out of the box over the years. These guys are as simple as you can hope for-- open them, and enjoy! Four bucks well spent.
--Adam Pawlus
Additional Images

Want to buy this figure or others like it? Check S.L.U.G. Zombies availability at our sponsors:
Entertainment Earth
See more Jakks Pacific figures in Figure of the Day:
Day 471: Jakks Pacific S.L.U.G. Zombies Macho Mangler, Flesh-Eatin' Phil, Buck Wilde Minifigures 3-Pack
Day 503: Jakks Pacific S.L.U.G. Zombies Extra Crispy, Zero Hero, Riled-Up Riley Minifigures
Day 545: Jakks Pacific S.L.U.G. Zombies Hungry Humbug, Nutty Nate, Captain Payback Minifigures
Day 818: Jakks Pacific S.L.U.G. Zombies Ralph Reindead, Surprise Demise, Blazin' Basel Minifigures 3-Pack
Day 1,032: Jakks Pacific World of Nintendo Skyward Sword Link Action Figure
Day 1,125: Jakks Pacific World of Nintendo Metroid Action Figure
Day 1,162: Jakks Pacific World of Nintendo Metroid Samus Action Figure
Day 1,182: Jakks Pacific World of Nintendo Mario Action Figure
Day 1,186: Jakks Pacific World of Nintendo Luigi Action Figure
Day 1,320: Jakks Pacific World of Nintendo 8-Bit Link Action Figure
Day 1,336: Jakks Pacific World of Nintendo 8-Bit Luigi Action Figure
Day 1,341: Jakks Pacific World of Nintendo 8-Bit Donkey Kong Action Figure
Day 1,347: Jakks Pacific World of Nintendo ComicConBox.com Metallic Metroid Samus Action Figure
Day 1,349: Jakks Pacific World of Nintendo 8-Bit Mario Action Figure
Day 1,363: Jakks Pacific World of Nintendo Shy Guy Action Figure
Day 1,367: Jakks Pacific World of Nintendo Convention Exclusive Jakks Giants Link Action Figure
Day 1,369: Jakks Pacific World of Nintendo Jakks Giants Mario Action Figure
Day 1,380: Jakks Pacific World of Nintendo Tanooki Mario Action Figure
Day 1,398: Jakks Pacific World of Nintendo Boo Action Figure
Day 1,438: Jakks Pacific World of Nintendo Metroid Gravity Suit Samus Action Figure
Day 1,444: Jakks Pacific World of Nintendo 8-Bit Red Link Action Figure
Day 1,447: Jakks Pacific World of Nintendo 8-Bit Star Power Mario Action Figure
Day 1,454: Jakks Pacific World of Nintendo 8-Bit White Link Action Figure
Day 1,475: Jakks Pacific World of Nintendo Samus Mini Action Figure
Day 1,490: Jakks Pacific World of Nintendo 8-Bit Classic Mario Action Figure
Day 1,512: Jakks Pacific Batman v. Superman: Dawn of Justice Jokers Wild Batman
Day 1,537: Jakks Pacific World of Nintendo Metroid Action Figure
Day 1,624: Jakks Pacific World of Nintendo Blooper Action Figure
Day 1,647: Jakks Pacific World of Nintendo Metroid Phazon Suit Samus Action Figure
Day 1,652: Jakks Pacific World of Nintendo Goomba Action Figure
Day 1,668: Jakks Pacific World of Nintendo 8-Bit Toad Action Figure
Day 1,672: Jakks Pacific World of Nintendo Boo Glow Action Figure
Day 1,677: Jakks Pacific World of Nintendo 8-Bit Star Luigi Action Figure
Day 1,751: Jakks Pacific World of Nintendo 8-Bit Toad Variant Action Figure
Day 1,824: Jakks Pacific S.L.U.G. Zombies Gangrene Gene, Ferpcious Frankie, Johnson Minifigures 3-Pack
Day 1,863: Jakks Pacific S.L.U.G. Zombies Santa Claws, Eli the Expired Elf, Gator Jones Minifigures 3-Pack
Day 1,991: Jakks Pacific World of Nintendo 8-Bit Princess Peach Action Figure

See more S.L.U.G. Zombies figures in Figure of the Day:
Day 471: Jakks Pacific S.L.U.G. Zombies Macho Mangler, Flesh-Eatin' Phil, Buck Wilde Minifigures 3-Pack
Day 503: Jakks Pacific S.L.U.G. Zombies Extra Crispy, Zero Hero, Riled-Up Riley Minifigures
Day 545: Jakks Pacific S.L.U.G. Zombies Hungry Humbug, Nutty Nate, Captain Payback Minifigures
Day 818: Jakks Pacific S.L.U.G. Zombies Ralph Reindead, Surprise Demise, Blazin' Basel Minifigures 3-Pack
Day 1,824: Jakks Pacific S.L.U.G. Zombies Gangrene Gene, Ferpcious Frankie, Johnson Minifigures 3-Pack
Day 1,863: Jakks Pacific S.L.U.G. Zombies Santa Claws, Eli the Expired Elf, Gator Jones Minifigures 3-Pack