All-Stars Batman
Not too expensive

Legends of Batman Action Figure
Item No.: Asst. T3682 No. R5772
Manufacturer: Mattel
Includes: Stand, batarang, grappling hook gun
Action Feature: n/a
Retail: $18.99
Availability: December 2009
Other: A great example of Batman

PREVIOUS
RSS
NEXT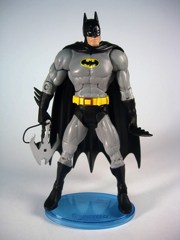 While Kenner cranked out Batman figures in numerous costumes, sizes, and colors, Mattel's offerings in its collector-oriented DC Universe Classics line were generally derived from the same mold with new paint. Multiple flavors of a "grey and black" Batman were produced, so you could pick up whatever tickled your fancy. Do you want a big black bat on his chest? You can get that. How about one splattered in brown clay? You can get that too. I got the one with the yellow circle around the symbol, which I like a lot because it reminds me of Batman: The Animated Series. Oh, and I should write that I'm not a collector of this particular line, I've just picked-and-chosen a few and I assume that you, the reader, aren't necessarily going to buy the mega-huge Super Powers-killer that is this vast, amazing line.
As a kind soul was nice enough to send one to me, I didn't know this one was called "World's Greatest" on some eBay auctions until I did some research. I'd be inclined to agree with those words, it's really nice. It makes use of the more-or-less standard DCUC buck, with bat-enhancements like boots and gloves, plus the cape and some accessories. The grey body suit is adorned with some black extras, and the rubbery cape does a nice job stabilizing the figure in some action poses. Since the deco doesn't try to be fancy, there's not much to knock-- it looks great. If I had to nitpick, the decision to paint the flesh parts of the face (rather than the black parts of the mask) looks a little funky, but it's still pretty great. Sometimes "skin" is best rendered in plastic, rather than painted.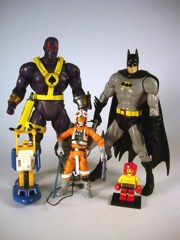 Sculpting is spectacular, with his utility belt and all that jazz. The Four Horsemen did another great job on this guy, with ol' pointy ears looking as awesome as ever. With a hair under 20 joints, he's also one of the best-jointed Batman figures you can buy at a remotely reasonable price, and he makes for a great desk accessory.
Since Mattel has done a decent job doing multiple versions of Batman, if you don't like this one you've got numerous, similar alternatives. The grappling hook gun and batarang make this one extra-fun, though, and he's as close to an "Animated" Batman as this line has. Except for the "Public Enemies" figures but honestly, that's not quite what I meant. The grappling hook's "rope" is a weird one, as it feels like they had some string and managed to meld it into the plastic in a way that's tough to describe and something I haven't seen before.
I'd love to say "If you only buy one Batman figure, make it this one" but I don't have enough "modern" Batmen to know that this is indeed the best, but I can tell you that I'm incredibly happy with it. Short of somehow making it more like the cartoons from the 1990s, I can't imagine anything I'd rather see. If you can see it cheap, get it, I doubt you'll regret it.
--Adam Pawlus
Additional Images

Click here to see more Mattel figures in Figure of the Day.
See more Batman figures in Figure of the Day:
Day 1: Funko Force 2.0 Comic-Con Exclusive Batman
Day 398: Kenner Batman: The Animated Series Clayface
Day 408: Kenner Legends of Batman Future Batman
Day 441: Kenner Batman: The Animated Series Harley Quinn
Day 443: Kenner Batman: The Animated Series Machine Gun Joker
Day 444: Kenner Batman: The Animated Movie Mask of the Phantasm Phantasm
Day 445: Ertl Batman Returns Penguin Commando Die-Cast Metal Figure
Day 446: Kenner Legends of Batman Knightquest Batman
Day 447: Mattel DC Universe Classics All-Stars Batman
Day 457: Kenner Batman: The Animated Series Ra's Al Ghul
Day 685: Mattel Hot Wheels Batmobile (Tim Burton, 2013)
Day 708: Mattel Hot Wheels Batman Live Batmobile
Day 714: Mattel Matchbox Batmobile Die-Cast Metal Vehicle
Day 735: Mattel Batman Classic TV Series Batman & Robin Action Figure Set
Day 740: Mattel Batman Classic TV Series The Penguin Action Figure
Day 742: Mattel Hot Wheels Batcopter Die-Cast Metal Vehicle
Day 756: Mattel Batman Classic TV Series The Joker Action Figure
Day 761: Mattel Batman Classic TV Series The Riddler Action Figure
Day 778: Mattel Batman Classic TV Series Batman Action Figure
Day 780: Mattel Batman Classic TV Series Catwoman Action Figure
Day 783: Mattel Batman Classic TV Series Surf's Up Batman Action Figure
Day 898: Mattel Batman Batman
Day 1.172: Mattel Batman The Joker
Day 1,197: Funko Batman Ice Freeze Batman Reject
Day 1,305: Funko Pop! DC Comics Super Heroes Orange Batman Vinyl Figure
Day 1,312: DC Collectibles Batman Tony Millionaire Batman Statue
Day 1,383: Mattel Hot Wheels Dawn of Justice Batmobile
Day 1,388: Bif Bang Pow! Peg Pals Batman Armored
Day 1,400: Funko Dorbz DC Comics Super Heroes Orange Batman Vinyl Figure
Day 1,512: Jakks Pacific Batman v. Superman: Dawn of Justice Jokers Wild Batman
Day 1,539: Mattel Batman v. Superman Mighty Minis Series 2 Silver Batman
Day 1,680: The LEGO Batman Movie Catman
Day 1,753: Funko 9POA Batman 1966 TV Series Batman and Robin Action Figures with Batmobile
Day 1,847: Funko Pop! DC Comics Super Heroes Retro Batman Vinyl Figure
Day 1,983: Entertainment Earth Justice League Batman Push Puppet
Day 2,100: Fisher-Price Imaginext DC Super Friends Batman & Swamp Thing Action Figures
Day 2,190: Kenner Batman: The Dark Knight Collection Tec-Shield Batman Action Figure
Day 2,199: Kenner Batman Returns Penguin Commandos Action Figures
Day 2,217: Kenner Batman: The Dark Knight Collection Iron Winch Batman Action Figure
Day 2,239: Fisher-Price Imaginext DC Super Friends Slammers Arctic Sled with Mr. Freeze Set
Day 2,249: Fisher-Price Imaginext DC Super Friends Slammers Batmobile with Batman Set

Want to buy this figure? Check Batman availability at our sponsors:
Entertainment Earth