Phantasm
Once rare, now cheap

Batman: The Animated Movie Mask of the Phantasm Action Figure
Item No.: n/a
Manufacturer: Kenner
Includes: Gun, removable mask, scythe arm weapon
Action Feature: Chopping Arm Action
Retail: $5.99
Availability: ca. 1993
Other: The first (and best) release

PREVIOUS
RSS
NEXT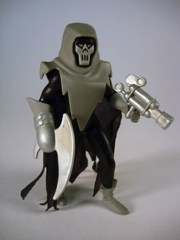 Shorter than the average figure in the line, The Phantasm was the title character of the first "DCAU" animated movie. While the marketing tried really hard to keep the character's true identity secret, Kenner packaged her with the mask off to the side so it was obvious it was really Bruce's lady friend Andrea Beaumont. The movie was intended for home video but released to theaters on sort of short notice, so the action figure line was kind of a pain. Figures could be had, but the Phantasm, unsurprisingly, was super-scarce for years in the USA, but was reportedly pretty easy to get in Europe. This was the story for numerous Kenner releases in the 1990s. For quite a while, she was a $20-$30 figure, today she isn't even a $10 figure. A repaint was reissued in a gift set later, but you don't want that. Get the original as seen here.
The figure isn't half bad, but she does contain some of the lesser elements of Kenner figures of her day. Her skin is a little shiny, she has difficulty standing on her own due to the leg poses, and the decision to give her a "quick change" costume was, if you ask me, weak. It's a neat feature, don't get me wrong, and at the time it was pretty uncommon to have a secondary character, beyond the hero, get an "unmasking" feature. That kind of thing was reserved for Batman himself, and few to no others.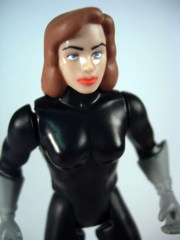 The figure interacts with her accessories flawlessly, and her blade weapon fits, appropriately, like a glove. He has no problems holding her glove and the mask is pretty much a perfect fit, plus it has a cloth element which adds to the figure's bulk while masking her true identity/gender. The overall look of the costumed villain is great, but the human head underneath needs some work. The hair is pretty striking, but both the Phantasm and Poison Ivy could have stood to get some improvement in the sculpt and/or deco department.
She's cheap now, so she's totally worth getting. The line as a whole is quite good, although one depressing aspect of Kenner's line is as it dwindled, new figures were released only in 4-packs at Toys R Us. This means if you wanted Alfred, Commissioner Gordon, or a decent Batgirl, it was going to cost you $20 and force one or more Batman figures down your throat. The prices of these sets has only continued to go up, so in case you were curious, that's what drove me away from the line before Kenner gave up the license and Mattel got it. Gift sets are not a good thing most of the time.
--Adam Pawlus
Additional Images
Help 16bit.com!
We get a piece of every purchase you make from our sponsor through this link. If you were going to buy something, click here first and it helps fund the site! Thanks for your support!

See more Kenner figures in Figure of the Day:
Day 98: Kenner Beast Wars Transformers Noctorro Action Figure
Day 99: Kenner Beast Wars Transformers Air Hammer Action Figure
Day 100: Kenner Beast Wars Transformers Torca Action Figure
Day 101: Kenner Beast Wars Transformers Terragator Action Figure
Day 102: Kenner Beast Wars Transformers Quickstrike Action Figure
Day 114: Kenner Total Justice Mail-In Superman Action Figure
Day 133: Kenner Q*Bert Wind-Up Q*Bert Action Figure
Day 138: Kenner Jurassic Park Chaos Effect Compstegnathus Action Figure
Day 172: Kenner Jurassic Park The Lost World Chasmosaurus Action Figure
Day 195: Kenner ALIENS Arachnid Alien Action Figure
Day 211: Kenner Predator Cracked Tusk Predator Action Figure
Day 234: Kenner ALIENS Scorpion Alien Action Figure
Day 250: Kenner ALIENS Panther Alien Action Figure
Day 256: Kenner ALIENS Gorilla Alien Action Figure
Day 261: Kenner ALIENS Bull Alien Action Figure
Day 285: Kenner ALIENS Hive Wars Warrior Predator
Day 317: Kenner ALIENS vs. Predator 10-Inch Alien Action Figure
Day 346: Kenner Jurassic Park Ian Malcolm Action Figure
Day 356: Kenner Action Masters Predator
Day 359: Kenner ALIENS Hive Wars Acid Alien Action Figure
Day 365: Kenner ALIENS Vasquez Action Figure
Day 366: Kenner Jurassic Park Ellie Sattler Action Figure
Day 381: Kenner ALIENS Action Masters Ripley
Day 397: Kenner ALIENS Mantis Alien
Day 398: Kenner Batman: The Animated Series Clayface
Day 408: Kenner Legends of Batman Future Batman
Day 421: Kenner Bone Age Crag the Clubber Action Figure
Day 437: Kenner SilverHawks Copper Kidd Action Figure
Day 441: Kenner Batman: The Animated Series Harley Quinn
Day 443: Kenner Batman: The Animated Series Machine Gun Joker
Day 444: Kenner Batman: The Animated Movie Mask of the Phantasm Phantasm
Day 446: Kenner Legends of Batman Knightquest Batman
Day 457: Kenner Batman: The Animated Series Ra's Al Ghul
Day 533: Kenner Jurassic Park Chaos Effect Amargospinus

See more Batman figures in Figure of the Day:
Day 1: Funko Force 2.0 Comic-Con Exclusive Batman
Day 398: Kenner Batman: The Animated Series Clayface
Day 408: Kenner Legends of Batman Future Batman
Day 441: Kenner Batman: The Animated Series Harley Quinn
Day 443: Kenner Batman: The Animated Series Machine Gun Joker
Day 444: Kenner Batman: The Animated Movie Mask of the Phantasm Phantasm
Day 445: Ertl Batman Returns Penguin Commando Die-Cast Metal Figure
Day 446: Kenner Legends of Batman Knightquest Batman
Day 447: Mattel DC Universe Classics All-Stars Batman
Day 457: Kenner Batman: The Animated Series Ra's Al Ghul

Want to buy this figure? Check Batman availability at our sponsors:
Entertainment Earth