Optimus Prime Blaster
Tiny, fun, Targetmaster-esque

Transformers Prime Gacha Arms Micron
Item No.: n/a
Manufacturer: Takara-Tomy
Includes: n/a
Action Feature: Transforms into gun
Retail: 200 yen ($6+ from importers)
Availability: June 2012
Other: Greatness

PREVIOUS
RSS
NEXT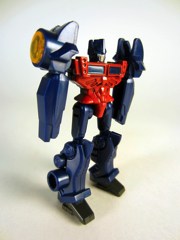 While completely absent from the USA, Transformers Prime in Japan is jam-packed with Microns (our Mini-Cons) for whatever reason. What's particularly stunning is that some of them take the form of full-size characters like Optimus Prime. This teeny tiny 2 1/2-inch high robot is Optimus, as is the much larger toy. So Optimus can hold Optimus as a gun, which is nothing short of peculiar, but it is indeed fun. This figure is part of a six-piece capsule toy line called Transformers Prime Gacha Arms Micron, and as part of series 1 he's the winner. He's also the reason I ordered the set, as Bumblebee feels a little flimsy and the odd creatures (a gecko seemingly named Zad or Zard and a snake named Gob) each come in two unpainted colors. We'll get to them, let's just look at Optimus Prime.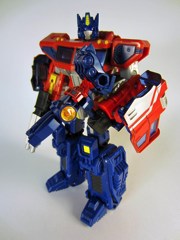 The toy is molded in a dark blue color with minimal paint, a red chest and some silver with blue on his face. It really brings this cheap toy to life, and when I say cheap, I mean it. I've bought Kabaya Microns and these feel about as cheap. Interestingly made in Vietnam and not China (like many recent Transformers toys), the little guy has a spark crystal on his shoulder with an Autobot symbol inside. The streamlined design looks like a step or two beyond the current TV show, and almost feels like something out of the distant future of Beast Machines. And I mean that in the "I like these designs" kind of way. Little Optimus has no hands, but he does have jointed shoulders, hips, and knees with ball joints at the shoulders and knees. The range of movement is absolutely acceptable, but he does feel a little flimsier than earlier Mini-Cons but seems to have a stronger sculpt and paint job. The body has little detail outside the head, so in many ways it feels like a throwback.
Transforming him to a gun is a little tricky, getting the arms just right being the main problem. Once in gun mode, the hands become the barrel and the legs fold up to make the back half of the gun. His chest is clearly visible, but I gotta say it still looks pretty cool. There are no (intentionally) moving parts in gun mode, so he's just a nice accessory for your larger (and potentially cheaper) toys. If you're a sucker for this kind of gun-to-robot toy like I am, you know you should get one by now.
As a part of a series, you most likely will buy the set of 6 and not just Optimus. If you're at all on the fence, let me assure you: you're right. Just get Optimus. The others are goofy fun, but the big bot himself is the highlight of the set. Bumblebee has loose legs and a weak weapon mode, the snakes are basically cool put have no paint, and the lizards are delightfully weird... but the key thing is, they're weird. If you got these out of a gumball machine for $2 you might feel like you paid too much, but if you collect Japanese toys you understand why things cost more here. Even at $10, I'd be fine shelling out for Optimus in gun form. I love Targetmasters-esque toys. The others... maybe not quite that much. If released here as promotional gift-with-purchase items or some sort of bonus accessory, I'd probably shell out $10 or so for toys I didn't want just to get more of these in other colors or molds.
--Adam Pawlus
Additional Images

Want to buy this figure? Check Transformers availability at our sponsors:
Entertainment Earth
Click here to see more Transformers figures in Figure of the Day.
See more Takara-Tomy figures in Figure of the Day:
Day 180: Takara-Tomy Transformers Animated Ironhide (Bulkhead) Key Chain
Day 435: Takara-Tomy Transformers Prime Gacha Arms Micron Optimus Prime Blaster
Day 476: Takara-Tomy Transformers Prime Bumblebee Sword Action Figure
Day 495: Takara-Tomy Beast Saga Raioga Action Figure
Day 529: Takara-Tomy Beast Saga Kingdom of Sea Death Action Figure Set
Day 534: Takara-Tomy Beast Saga Dolphin Burst Action Figure
Day 540: Takara-Tomy Beast Saga Kingdom of Gloria Action Figure Set
Day 544: Takara-Tomy Beast Saga Aldyle Action Figure
Day 549: Takara-Tomy Beast Saga Dorfan Action Figure
Day 551: Takara-Tomy Beast Saga Eledram Elephant Action Figure
Day 564: Takara-Tomy Beast Saga DX Starter Set Action Figure Set
Day 568: Takara-Tomy Beast Saga Tarlock Action Figure
Day 573: Takara-Tomy Beast Saga Long Giraf Action Figure
Day 579: Takara-Tomy Beast Saga Garrison G Action Figure
Day 580: Takara-Tomy Beast Saga GachaBooster General Hawk Knight Action Figure
Day 585: Takara-Tomy Beast Saga Beast Machines Sky Darling Vehicle
Day 586: Takara-Tomy Beast Saga Killer Shark Burst Action Figure
Day 593: Takara-Tomy Beast Saga Rynas Action Figure
Day 595: Takara-Tomy Beast Saga Seylas Action Figure
Day 597: Takara-Tomy Transformers Prime Zad Action Figure
Day 601: Takara-Tomy Beast Saga Bamet Burst Action Figure
Day 616: Takara-Tomy Beast Saga Long Giraf Burst Action Figure
Day 622: Takara-Tomy Beast Saga Bamet Action Figure
Day 626: Takara-Tomy Beast Saga Killer Shark Action Figure
Day 637: Takara-Tomy Beast Saga Liorga Action Figure
Day 642: Takara-Tomy Beast Saga Aldyle Burst Action Figure
Day 663: Takara-Tomy Beast Saga Janjan Action Figure
Day 669: Takara-Tomy Beast Saga Ogre Burst Action Figure
Day 678: Takara-Tomy Beast Saga Swordbill Action Figure
Day 693: Takara-Tomy Beast Saga Guarl Burst Action Figure
Day 715: Takara-Tomy Beast Saga Guarl Action Figure
Day 824: Takara-Tomy Beast Saga Mantaray Action Figure
Day 828: Takara-Tomy Beast Saga Aljaylo Action Figure
Day 839: Takara-Tomy Beast Saga Ogre Action Figure
Day 846: Takara-Tomy Beast Saga Dakker Action Figure
Day 856: Takara-Tomy Beast Saga Moreek Action Figure
Day 873: Takara-Tomy Beast Saga Wonderriver Action Figure
Day 905: Takara-Tomy Transformers Masterpiece Edition Lambor G-2 Ver.
Day 937: Takara-Tomy Beast Saga Rynas Burst Action Figure
Day 974: Takara-Tomy Beast Saga Super Win Deck Impact Set Action Figure Set
Day 993: Takara-Tomy Beast Saga Kannigal Burst Action Figure
Day 1,127: Takara-Tomy Transformers Sega Genesis Megatron Action Figure
Day 1,207: Takara-Tomy Transformers United Rumble & Frenzy
Day 1,224: Takara-Tomy Transformers Adventure Roadblock
Day 1,242: Takara-Tomy Transformers Go! Go
Day 1,247: Takara-Tomy Transformers Go! Sen
Day 1,259: Takara-Tomy Transformers Go! Geki
Day 1,262: Takara-Tomy Transformers Masterpiece Bumble G-2 Ver.
Day 1,273: Takara-Tomy Transformers Go! Ex
Day 1,284: Takara-Tomy Transformers Go! Shou
Day 1,310: Takara-Tomy Transformers Legends Slipstream
Day 1,327: Takara-Tomy Transformers Unite Warriors Grand Scourge
Day 1,328: Takara-Tomy Transformers Unite Warriors Nightbird Shadow
Day 1,326: Takara-Tomy Beast Saga Buffam Action Figure
Day 1,328: Takara-Tomy Transformers Adventure Override
Day 1,332: Takara-Tomy Beast Saga Bunikis Action Figure
Day 1,339: Takara-Tomy Beast Saga Aljaylo Burst Action Figure
Day 1,357: Takara-Tomy Transformers United Stepper
Day 1,381: Takara-Tomy Beast Saga Eledram Burst Action Figure
Day 1,429: Takara-Tomy Transformers Legends Armada Starscream Super Mode
Day 1,468: Takara-Tomy Transformers Unite Warriors Grand Galvatron
Day 1,471: Takara-Tomy Zoids Masterpiece Shield Liger
Day 1,496: Takara-Tomy Beast Saga Dacker Burst Action Figure
Day 1,627: Takara-Tomy Transformers Legends Convobat
Day 1,670: Takara-Tomy Transformers Legends Leo Prime
Day 1,814: Takara-Tomy Beast Saga Mantaray Burst Action Figure
Day 1,842: Takara-Tomy Transformers Legends Blackarachnia
Day 1,911: Takara-Tomy Beast Saga Wolfen Burst Action Figure
Day 1,964: Takara-Tomy Beast Saga Buffam Burst Action Figure
Day 2,000: Takara-Tomy Zoids Wild ZW-05 Gannontoise Figure Kit
Day 2,006: Takara-Tomy Beast Saga Raioga Burst Action Figure
Day 2,008: Takara-Tomy Zoids Wild ZW-01 Wild Liger Figure Kit
Day 2,013: Takara-Tomy Zoids Wild ZW-03 Kabtor Figure Kit
Day 2,017: Takara-Tomy Zoids Wild ZW-04 Scorpear Figure Kit
Day 2,039: Takara-Tomy Zoids Wild ZW-06 Gabrigator Figure Kit
Day 2,075: Takara-Tomy Zoids Wild ZW-07 Kuwaga Figure Kit
Day 2,191: Takara-Tomy Transformers Generations Selects Deluxe Gulf (Skalor) Action Figure
Day 2,200: Takara-Tomy Transformers Generations Selects Deluxe Turtler (Snaptrap) Action Figure
Day 2,213: Takara-Tomy Beast Saga Kannigal Action Figure