Venom-Spitting Khan
Kobra Khan

Masters of the Universe 200X Action Figure
Item No.: No. n/a
Manufacturer: Mattel
Includes: Blaster, missile, removable squirting head
Action Feature: Firing gun, squirting "spit" feature
Retail: $6.99
Availability: 2003
Other: Scarce, did not receive proper retail release

PREVIOUS
RSS
NEXT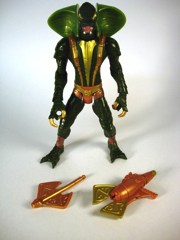 The original line's Snake Men concept didn't quite do it for me-- largely because, in part, I thought the first Snake Man was way cooler than the rest, and this translated to the MOTU line in 2002 in which they decided to kill and resurrect King Hssss like every third episode rather than give me what I want: more Skeletor all the time. I did dig Venom-Spitting Khan as an update to the classic snake of the clan Kobra, because it was such a great idea for a snake figure. Pop off his head, pour in some water, and blammo-- fun, non-invasive action feature. Or it would be, if the kids of 2002 didn't actively mock He-Man on toy store aisles resulting in the last of the 2003 figures being damned to Aldi's shelves and the He-Man.org online store. And Europe, but who cares about Europe?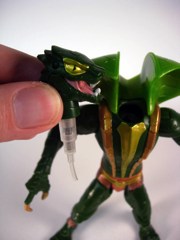 While not as stunning as the 2012 Kobra Khan, as a toy figure, this would have been a great release. His big hands have articulated wrists, and his hip joints have a great range of movement. He feels sturdy, and he has ball joints for shoulders. As redesigned by the Four Horsemen, he got a swell snake hood added to his head, plus arguably the best head redesign in the entire line. The golden eyes are piercing, the white fangs are striking, and oh yes-- he had a swell hinged jaw so he could spit venom in He-Man's eye. It seems like the only thing this figure didn't get was his name-- for either trademark or suit-related reasons, the figure went from being "Kobra Khan" to the more descriptive "Venom-Spitting Khan" which places him in a category with Battle Fisto (Fisto) and The General (Rattlor) and, to a lesser extent, King Hssss being the new spelling of King Hiss. But I digress.
The sculpt is packed with detail, with big scaley sections and mutltiple flavors of metallic paint, with golds and other kinds of golds bringing him to plastic life. It's difficult if not impossible to dislike this figure, it's just too dang fun. He also sports a rocket launcher, modeled loosely after the original toy's Zodac gun but now featuring a little snake head on the projectile. Oh, and his hand is well-designed to carry the gun, which helps.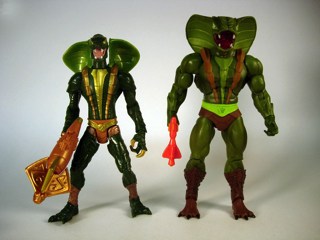 He's a sizable figure, but not huge. If you like your He-Man toys with action features, he's a giant pile of fun and it's sort of sad to see that Mattel's failure with this brand came out of an insanely bright crop of people working with the biggest action toy brand of the early 1980s. They assembled the Four Horsemen, the amazing ex-McFarlane Toys crew. They hired some wonderful animators to do a genuinely fun cartoon. The toys were big and colorful, featuring some cool action features which actually worked. And the entire line was basically dead in about a year and a half. There are many factors to blame, but indifference from kids, an inconsistent timeslot for the cartoon on Cartoon Network, and some of the worst case assortments you may have ever seen couldn't have helped things.
Today, this figure is actually kind of expensive. Don't be surprised if he costs you $25-$35, slightly more than his Snake Men brothers of his day. He's easily the best of them, so if you're only going to get one, get Khan. Or get the new Khan, as that's a pretty good figure too, if you don't like dipping into the great toy backlog of the world.
--Adam Pawlus
Help 16bit.com!
We get a piece of every purchase you make from our sponsor through this link. If you were going to buy something, click here first and it helps fund the site! Thanks for your support!
Additional Images

See more Mattel figures in Figure of the Day:
Day 6: Mattel Masters of the Universe Classics Orko
Day 17: Mattel Masters of the Universe Classics Skeletor
Day 28: Mattel Masters of the Universe Classics Optikk
Day 35: Mattel Xtractaurs Comic Series Battlespike Styracosaurus
Day 41: Mattel Masters of the Universe Classics Chief Carnivus
Day 52: Mattel Masters of the Universe Classics Roboto
Day 90: Mattel Masters of the Universe Classics Mer-Man
Day 143: Mattel Masters of the Universe Classics Shadow Beast
Day 157: Mattel Masters of the Universe Classics Vikor
Day 159: Mattel DC Universe Infinite Heroes Green Lantern Action Figure
Day 165: Mattel Masters of the Universe Meteorbs Dinosorb Action Figure
Day 177: Mattel Masters of the Universe Classics Whiplash Action Figure
Day 179: Mattel DC Universe Infinite Heroes Green Arrow Action Figure
Day 187: Mattel Masters of the Universe Classics She-Ra Action Figure
Day 199: Mattel DC Universe Infinite Heroes Black Canary Action Figure
Day 201: Mattel Masters of the Universe Meteorbs Tuskor Action Figure
Day 235: Mattel Masters of the Universe Classics Catra Action Figure
Day 280: Mattel Masters of the Universe Classics Icarius
Day 296: Mattel Masters of the Universe Classics Snout Spout
Day 318: Mattel Masters of the Universe Classics Bow
Day 319: Mattel M.U.S.C.L.E. Amolman Action Figure
Day 323: Mattel Masters of the Universe Classics Faceless One
Day 328: Mattel Masters of the Universe Classics Battle Armor Skeletor
Day 329: Mattel DC Universe vs. Masters of the Universe Classics Metallic Green Lantern
Day 332: Mattel M.U.S.C.L.E. Springman Action Figure
Day 334: Mattel DC Universe vs. Masters of the Universe Classics Zodac
Day 338: Mattel Masters of the Universe Classics Sy-Klone
Day 343: Mattel Masters of the Universe Classics Battleground Teela
Day 349: Mattel Masters of the Universe Classics Clawful
Day 353: Mattel Masters of the Universe Classics Man-E-Faces
Day 355: Mattel Masters of the Universe Classics Gygor
Day 360: Mattel Masters of the Universe Classics Shadow Weaver
Day 370: Mattel Masters of the Universe Classics Demo-Man
Day 371: Mattel Masters of the Universe Classics Leech
Day 380: Mattel Masters of the Universe Classics Webstor
Day 385: Mattel Masters of the Universe Classics Draego-Man
Day 386: Mattel Masters of the Universe Classics Fearless Photog
Day 401: Mattel Masters of the Universe Classics Thunder Punch He-Man
Day 403: Mattel Masters of the Universe Classics Preternia Disguise He-Man
Day 410: Mattel Masters of the Universe 200X Ram Man
Day 413: Mattel Masters of the Universe Classics Evil-Lyn
Day 420: Mattel Masters of the Universe 200X Venom-Spitting Khan
Day 424: Mattel Masters of the Universe Classics Wun-Dar
Day 430: Mattel Masters of the Universe Classics Horde Prime
Day 432: Mattel Masters of the Universe 200X Mekaneck
Day 438: Mattel Masters of the Universe Classics Tri-Klops
Day 447: Mattel DC Universe Classics All-Stars Batman
Day 449: Mattel Masters of the Universe Classics Stinkor
Day 454: Mattel Masters of the Universe Classics Mighty Spector
Day 459: Mattel Masters of the Universe Classics Fisto
Day 465: Mattel Masters of the Universe Classics Snake Man-At-Arms
Day 472: Mattel Masters of the Universe Classics Kobra Khan
Day 478: Mattel Masters of the Universe Classics Sorceress
Day 498: Mattel Ghostbusters Zuul Action Figure
Day 506: Mattel Masters of the Universe Classics Vykron
Day 531: Mattel Masters of the Universe Classics Dragon Blaster Skeletor
Day 543: Mattel Masters of the Universe Classics Frosta
Day 548: Mattel Masters of the Universe Classics Battleground Evil-Lyn
Day 552: Mattel Back to the Future II Hoverboard Prop Replica
Day 563: Mattel Masters of the Universe Classics Sir Laser-Lot
Day 565: Mattel Masters of the Universe Classics Cy-Chop
Day 567: Mattel Masters of the Universe Classics Castle Grayskullman
Day 576: Mattel Masters of the Universe Classics Mekaneck
Day 583: Mattel Masters of the Universe Classics Rattlor
Day 589: Mattel Masters of the Universe Classics Battle Armor Faker
Day 596: Mattel Masters of the Universe Classics Dekker
Day 602: Mattel Masters of the Universe Classics Megator
Day 606: Mattel Masters of the Universe Classics Granamyr
Day 614: Mattel Masters of the Universe Classics Spikor
Day 623: Mattel Masters of the Universe Classics King Randor Eternos Palace
Day 632: Mattel Masters of the Universe Classics Faker
Day 641: Mattel Masters of the Universe Classics King Hssss
Day 653: Mattel Masters of the Universe Classics King He-Man
Day 658: Mattel Masters of the Universe Classics Jitsu

See more Masters of the Universe figures in Figure of the Day:
Day 6: Mattel Masters of the Universe Classics Orko
Day 17: Mattel Masters of the Universe Classics Skeletor
Day 28: Mattel Masters of the Universe Classics Optikk
Day 41: Mattel Masters of the Universe Classics Chief Carnivus
Day 52: Mattel Masters of the Universe Classics Roboto
Day 90: Mattel Masters of the Universe Classics Mer-Man
Day 143: Mattel Masters of the Universe Classics Shadow Beast
Day 157: Mattel Masters of the Universe Classics Vikor
Day 165: Mattel Masters of the Universe Meteorbs Dinosorb Action Figure
Day 177: Mattel Masters of the Universe Classics Whiplash Action Figure
Day 187: Mattel Masters of the Universe Classics She-Ra Action Figure
Day 201: Mattel Masters of the Universe Meteorbs Tuskor Action Figure
Day 235: Mattel Masters of the Universe Classics Catra Action Figure
Day 255: 1SHOT Toys Glyos-Compatible He-Man Thermal Color Change Head
Day 280: Mattel Masters of the Universe Classics Icarius
Day 296: Mattel Masters of the Universe Classics Snout Spout
Day 318: Mattel Masters of the Universe Classics Bow
Day 323: Mattel Masters of the Universe Classics Faceless One
Day 328: Mattel Masters of the Universe Classics Battle Armor Skeletor
Day 334: Mattel DC Universe vs. Masters of the Universe Classics Zodac
Day 338: Mattel Masters of the Universe Classics Sy-Klone
Day 343: Mattel Masters of the Universe Classics Battleground Teela
Day 349: Mattel Masters of the Universe Classics Clawful
Day 353: Mattel Masters of the Universe Classics Man-E-Faces
Day 355: Mattel Masters of the Universe Classics Gygor
Day 360: Mattel Masters of the Universe Classics Shadow Weaver
Day 370: Mattel Masters of the Universe Classics Demo-Man
Day 371: Mattel Masters of the Universe Classics Leech
Day 380: Mattel Masters of the Universe Classics Webstor
Day 385: Mattel Masters of the Universe Classics Draego-Man
Day 386: Mattel Masters of the Universe Classics Fearless Photog
Day 401: Mattel Masters of the Universe Classics Thunder Punch He-Man
Day 403: Mattel Masters of the Universe Classics Preternia Disguise He-Man
Day 410: Mattel Masters of the Universe 200X Ram Man
Day 413: Mattel Masters of the Universe Classics Evil-Lyn
Day 420: Mattel Masters of the Universe 200X Venom-Spitting Khan
Day 424: Mattel Masters of the Universe Classics Wun-Dar
Day 430: Mattel Masters of the Universe Classics Horde Prime
Day 432: Mattel Masters of the Universe 200X Mekaneck
Day 438: Mattel Masters of the Universe Classics Tri-Klops
Day 449: Mattel Masters of the Universe Classics Stinkor
Day 454: Mattel Masters of the Universe Classics Mighty Spector
Day 459: Mattel Masters of the Universe Classics Fisto
Day 465: Mattel Masters of the Universe Classics Snake Man-At-Arms
Day 472: Mattel Masters of the Universe Classics Kobra Khan
Day 478: Mattel Masters of the Universe Classics Sorceress
Day 506: Mattel Masters of the Universe Classics Vykron
Day 531: Mattel Masters of the Universe Classics Dragon Blaster Skeletor
Day 543: Mattel Masters of the Universe Classics Frosta
Day 548: Mattel Masters of the Universe Classics Battleground Evil-Lyn
Day 563: Mattel Masters of the Universe Classics Sir Laser-Lot
Day 565: Mattel Masters of the Universe Classics Cy-Chop
Day 567: Mattel Masters of the Universe Classics Castle Grayskullman
Day 576: Mattel Masters of the Universe Classics Mekaneck
Day 583: Mattel Masters of the Universe Classics Rattlor
Day 589: Mattel Masters of the Universe Classics Battle Armor Faker
Day 596: Mattel Masters of the Universe Classics Dekker
Day 602: Mattel Masters of the Universe Classics Megator
Day 606: Mattel Masters of the Universe Classics Granamyr
Day 614: Mattel Masters of the Universe Classics Spikor
Day 623: Mattel Masters of the Universe Classics King Randor Eternos Palace
Day 632: Mattel Masters of the Universe Classics Faker
Day 641: Mattel Masters of the Universe Classics King Hssss
Day 653: Mattel Masters of the Universe Classics King He-Man
Day 658: Mattel Masters of the Universe Classics Jitsu