Comrado Sarvos
Think Pink

Glyos 2010 Figure
Item No.: n/a
Manufacturer: Onell Design
Includes: Bonus Phanost head
Action Feature: Take apart, swap limbs
Retail: $8.00
Availability: 2010
Other: Two characters in one

PREVIOUS
RSS
NEXT

While Glyos figures like Comrado Sarvos form a line of many similar figures, they're all pretty fun and neat. There aren't a lot of internet-exclusive direct-to-consumer figure lines, so it's hard to be too grumpy over the fact that there are lots and lots of repaints in this line. Particularly since the designers throw in bonus parts, this figure is Sarvos (the round head with big black eyes) but if you don't like it? There's a Phanost head, which is a rocky creature with a pretty amazing paint job, covered in cracks.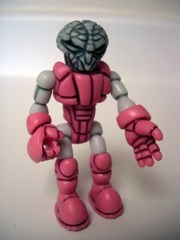 Like the other figures in the line, the main play feature is customization. Each figure is articulated in several spots, and is made of about a dozen parts which all pop apart and can be swapped with other figures. If you've ever played with Stikfas or Xevoz, and for some reason still haven't tried Glyos, they're fundamentally quite similar. The key difference is that Stikfas and Xevoz have ball joints, while Glyos have the flat joints you came to love in the 1970s through the 1990s on most of the Kenner toys.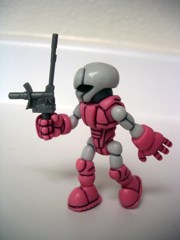 At about 3 inches high, the figure isn't exactly big and for something released in the last few years, is surprisingly (and refreshingly) simple. It's not covered in paint, it isn't textured to death, the plastic isn't too stiff, and it has no problems standing or sitting. Like other figures in the line, it does what you would expect out of toys in the 1980s and 1990s. If you like how it looks, you're going to have fun with it. And if you don't? Well, go play with one, and tell me if you don't like it.
My only complaint with these figures has been a lack of accessories. Future Onell Design figures like the Glyan actually incorporate small blaster accessories into the design, but the early figures like Pheyden are just a nifty figure, and you have to supply your own gear. Pictured is a Hasbro gun I swiped off a Republic Scout Speeder. They make great Glyos accessories, but you're going to have to sacrifice a small Star Wars vehicle to get them, so maybe you don't want to do that. The white and pink color scheme reminds me of Arcee from Transformers, so it's a charming little release. Onell Design figures frequently launch on a Friday night and sell out within hours (or as of late, hour) so your only hope now is eBay or to trade with someone who has one. Onell does put out a new recolor of its molds on a fairly regular basis, so the next time there's a Sarvos up there, go ahead and get one. And get a Glyan or a Crayboth while you're at it, they're lots of fun!
--Adam Pawlus
Additional Images
Help 16bit.com!
We get a piece of every purchase you make from our sponsor through this link. If you were going to buy something, click here first and it helps fund the site! Thanks for your support!

See more Onell Design figures in Figure of the Day:
Day 7: Onell Design Glyos System Gears Edge Pheyden Action Figure
Day 20: Onell Design Glyos System Silver Gobon Action Figure
Day 204: Onell Design Glyos The Rig Volkriun Division Action Figure
Day 227: Four Horsemen Onell Design Exclusive Outer Space Men Xodiac Glyaxia Command Special Edition Action Figure
Day 230: Onell Design Glyos Esedeth Desert Assault Team Glyan Action Figure
Day 231: Onell Design Glyos Standard Pheyden Action Figure
Day 252: Onell Design Glyos Heavy Armored Rig Relgost Wing Divison Action Figure
Day 253: Onell Design Glyos Crayboth Action Figures Set 2
Day 262: Onell Design Glyos Task Force Volkriun Extra Set
Day 269: Onell Design Glyos Relgost Wing Division Glyan Action Figure
Day 281: Onell Design Glyos Glyaxia Command Elite Glyan Action Figure
Day 298: Onell Design Glyos Reforged Govurom Action Figure
Day 321: Onell Design Glyos Task Force Volkriun Sarvos Action Figure
Day 409: Onell Design Glyos Comrado Sarvos Action Figure
Day 425: Onell Design Glyos Zorennor Exploration Division Crayboth Senyrith Action Figure
Day 442: Onell Design Glyos Phaseon Gendrone Unpainted Black Action Figure
Day 461: Onell Design Glyos Zorennor Exploration Division Commander Sullkren Action Figure
Day 469: Onell Design Glyos Venjorun Armorvor Action Figure
Day 497: Onell Design Glyos Hades Mimic Armorvor Action Figure
Day 505: Onell Design Glyos Zed Rig Runner Vehicle
Day 509: Onell Design Glyos Nonilla Pheyden Action Figure
Day 523: Onell Design Glyos Glyaxia Outer Battalion Glyan Action Figure
Day 527: Onell Design Glyos Hades Pheyden MK II Action Figure
Day 537: Onell Design Glyos Stealth Armorvor Action Figure
Day 553: Onell Design Glyos Verexxan Armorvor Action Figure
Day 572: Onell Design Glyos Neo Voss Crayboth Action Figure
Day 592: Onell Design Glyos Task Force Volkriun Core Block Action Figure
Day 607: Onell Design Glyos Neo Nebula Armorvor Action Figure
Day 609: Onell Design Glyos Syclodoc Neutralizer Action Figure
Day 617: Onell Design Glyos Crayboth Nuldireus Action Figure
Day 621: Onell Design Glyos Naspoth Sarvos Action Figure
Day 627: Onell Design Glyos Neo Legion Pheyden Action Figure
Day 631: Onell Design Glyos Neo Nebula Pheyden Action Figure
Day 638: Onell Design Glyos Mordireus Sarvos Action Figure
Day 649: Onell Design Glyos Gold Crayboth Action Figure
Day 650: Onell Design Glyos Red Swing Joint Set
Day 656: Onell Design Glyos Armorvor Infection Action Figure
Day 659: Onell Design Glyos Gendrone Legion Gobon Action Figure
Day 665: Onell Design Glyos Sonesidar Mimic Armorvor Action Figure

See more Glyos system compatible figures in Figure of the Day:
Day 7: Onell Design Glyos System Gears Edge Pheyden Action Figure
Day 20: Onell Design Glyos System Silver Gobon Action Figure
Day 48: Four Horsemen Outer Space Men Infinity Edition Inferno Action Figure
Day 66: Four Horsemen Outer Space Men Alpha Phase Xodiac the Man from Saturn SDCC Exclusive Action Figure
Day 67: Four Horsemen Outer Space Men Beta Phase Xodiac the Man from Saturn NYCC Exclusive Action Figure
Day 68: Sucklord Glyos-Compatible Sucklord Grey Helmet Head
Day 72: Four Horsemen Outer Space Men Beta Phase Astro-Nautilus the Man from Saturn NYCC Exclusive
Day 85: Four Horsemen Outer Space Men Infinity Edition Xodiac Action Figure
Day 92: Four Horsemen Outer Space Men Holiday Edition Metamorpho Action Figure
Day 93: Four Horsemen Outer Space Men Holiday Edition Inferno Action Figure
Day 95: Four Horsemen Outer Space Men Beta Phase Inferno the Man from Mercury NYCC Exclusive
Day 110: Four Horsemen Outer Space Men Infinity Edition Astro-Nautilus Action Figure
Day 116: Four Horsemen Outer Space Men Beta Phase Metamorpho Action Figure
Day 128: Four Horsemen Outer Space Men Holiday Xodiac Action Figure
Day 139: Four Horsemen Outer Space Men Holiday Astro-Nautilus Action Figure
Day 144: Four Horsemen Outer Space Men Infinity Edition Metamorpho Action Figure
Day 204: Onell Design Glyos The Rig Volkriun Division Action Figure
Day 206: Four Horsemen Outer Space Men Alpha Series Alpha 7 Action Figure
Day 227: Four Horsemen Onell Design Exclusive Outer Space Men Xodiac Glyaxia Command Special Edition Action Figure
Day 228: Four Horsemen Outer Space Men Alpha Phase Inferno the Flame Man of Mercury SDCC Exclusive
Day 230: Onell Design Glyos Esedeth Desert Assault Team Glyan Action Figure
Day 231: Onell Design Glyos Standard Pheyden Action Figure
Day 241: Four Horsemen Outer Space Men Alpha Phase Astro-Nautilus the Man from Neptune SDCC Exclusive
Day 245: Rawshark Studios Callgrim Norisar Ambush Action Figure
Day 252: Onell Design Glyos Heavy Armored Rig Relgost Wing Divison Action Figure
Day 253: Onell Design Glyos Crayboth Action Figures Set 2
Day 255: 1SHOT Toys Glyos-Compatible He-Man Thermal Color Change Head
Day 258: Four Horsemen Outer Space Men Alpha Series Electron+ Action Figure
Day 262: Onell Design Glyos Task Force Volkriun Extra Set
Day 269: Onell Design Glyos Relgost Wing Division Glyan Action Figure
Day 270: Four Horsemen Outer Space Men Alpha Series Mystron Action Figure
Day 281: Onell Design Glyos Glyaxia Command Elite Glyan Action Figure
Day 288: Four Horsemen Outer Space Men Alpha Series Commander Comet Action Figure
Day 291: Four Horsemen Outer Space Men Beta Series Mystron Action Figure
Day 298: Onell Design Glyos Reforged Govurom Action Figure
Day 299: Four Horsemen Outer Space Men Galactic Holiday Electron+ Action Figure
Day 304: Four Horsemen Outer Space Men Beta Series Alpha 7 Action Figure
Day 307: Callgrim Grim Squad Armodoc Action Figure
Day 316: Four Horsemen Outer Space Men Beta Series Commander Comet Action Figure
Day 321: Onell Design Glyos Task Force Volkriun Sarvos Action Figure
Day 325: Spy Monkey Creations Doppelganger Armory Series 1 Accessory Pack
Day 330: Four Horsemen Outer Space Men Infinity Edition Commander Comet Action Figure
Day 331: Four Horsemen Outer Space Men Galactic Holiday Alpha 7 Action Figure
Day 337: Four Horsemen Outer Space Men Galactic Holiday Mystron Action Figure
Day 340: Four Horsemen Outer Space Men Cosmic Creators Mel Birnkrant Inferno Action Figure
Day 361: Four Horsemen Outer Space Men Galactic Holiday Commander Comet Action Figure
Day 379: Four Horsemen Outer Space Men Galactic Holiday Electron+ Action Figure
Day 388: Four Horsemen Outer Space Men Galactic Holiday Alpha 7 Action Figure
Day 393: Callgrim The Order Triton Action Figure
Day 407: Four Horsemen Outer Space Men Infinity Edition Mystron Action Figure
Day 409: Onell Design Glyos Comrado Sarvos Action Figure
Day 416: Four Horsemen Outer Space Men Cosmic Creators Mel Birnkrant Xodiac Action Figure
Day 425: Onell Design Glyos Zorennor Exploration Division Crayboth Senyrith Action Figure
Day 431: Four Horsemen Outer Space Men Cosmic Creators Mel Birnkrant Astro-Nautilus Action Figure
Day 442: Onell Design Glyos Phaseon Gendrone Unpainted Black Action Figure
Day 461: Onell Design Glyos Zorennor Exploration Division Commander Sullkren Action Figure
Day 469: Onell Design Glyos Venjorun Armorvor Action Figure
Day 475: Four Horsemen Outer Space Men Cosmic Creators Mel Birnkrant Metamorpho Action Figure
Day 477: Four Horsemen Outer Space Men Alpha Phase Gemini Action Figure
Day 480: Four Horsemen Outer Space Men Cosmic Creators Four Horsemen Metamorpho Action Figure
Day 497: Onell Design Glyos Hades Mimic Armorvor Action Figure
Day 505: Onell Design Glyos Zed Rig Runner Vehicle
Day 509: Onell Design Glyos Nonilla Pheyden Action Figure
Day 510: Spy Monkey Creations Weaponeers of Monkaa Empyreus Action Figure
Day 511: Four Horsemen Outer Space Men Alpha Phase Orbitron Action Figure
Day 512: The GodBeast Customs Glyos Dark Purple Crab Head Glyos Accessory
Day 521: Banimon Red Army 51st Corps Action Figure
Day 523: Onell Design Glyos Glyaxia Outer Battalion Glyan Action Figure
Day 527: Onell Design Glyos Hades Pheyden MK II Action Figure
Day 532: The GodBeast Customs Glyos Green CyberGator Head Glyos Accessory
Day 537: Onell Design Glyos Stealth Armorvor Action Figure
Day 539: Four Horsemen Outer Space Men 2.0 Inferno Action Figure
Day 547: Four Horsemen Outer Space Men Cosmic Creators Four Horsemen Xodiac Action Figure
Day 553: Onell Design Glyos Verexxan Armorvor Action Figure
Day 554: Callgrim Fragarian Action Figure
Day 555: The GodBeast Customs Glyos Green Glyos-Compatible Skull Head Glyos Accessory
Day 572: Onell Design Glyos Neo Voss Crayboth Action Figure
Day 581: Four Horsemen Outer Space Men Cosmic Creators Four Horsemen Astro-Nautilus Action Figure
Day 588: Four Horsemen Outer Space Men Cosmic Creators Four Horsemen Inferno Action Figure
Day 592: Onell Design Glyos Task Force Volkriun Core Block Action Figure
Day 594: Four Horsemen Outer Space Men Beta Phase Cyclops Action Figure
Day 599: Four Horsemen Outer Space Men 2.0 Astro-Nautilus Action Figure
Day 600: Seth Longmire Custom Glyos Glyan Squad Verihex Action Figure
Day 604: Four Horsemen Outer Space Men 2.0 Metamorpho Action Figure
Day 607: Onell Design Glyos Neo Nebula Armorvor Action Figure
Day 609: Onell Design Glyos Syclodoc Neutralizer Action Figure
Day 611: Four Horsemen Outer Space Men Galactic Holiday Orbitron Action Figure
Day 612: Banimon Fire Eaters (Red Army Men) Action Figure
Day 613: Spy Monkey Creations Weaponeers of Monkaa Palidar Action Figure
Day 617: Onell Design Glyos Crayboth Nuldireus Action Figure
Day 619: Four Horsemen Outer Space Men Beta Phase Orbitron Action Figure
Day 621: Onell Design Glyos Naspoth Sarvos Action Figure
Day 627: Onell Design Glyos Neo Legion Pheyden Action Figure
Day 631: Onell Design Glyos Neo Nebula Pheyden Action Figure
Day 636: Four Horsemen Outer Space Men Alpha Phase Cyclops Action Figure
Day 638: Onell Design Glyos Mordireus Sarvos Action Figure
Day 640: Four Horsemen Outer Space Men Infinity Edition Orbitron Action Figure
Day 648: Four Horsemen Outer Space Men Galactic Holiday Gemini Action Figure
Day 649: Onell Design Glyos Gold Crayboth Action Figure
Day 650: Onell Design Glyos Red Swing Joint Set
Day 654: Four Horsemen Outer Space Men Infinity Edition Gemini Action Figure
Day 656: Onell Design Glyos Armorvor Infection Action Figure
Day 657: The GodBeast Customs Glyos Grey CyberRhino Head Glyos Accessory
Day 659: Onell Design Glyos Gendrone Legion Gobon Action Figure
Day 665: Onell Design Glyos Sonesidar Mimic Armorvor Action Figure