Ankylosaurus
Dino-Riders-esque

Imaginext Feature Dinosaur
Item No.: Asst. W3618 No. W3620
Manufacturer: Fisher-Price
Includes: Human figure, mask, drill, dinosaur rig accessory, yellow "volcanium" piece
Action Feature: Firing projectile, rotating door
Retail: $10.99
Availability: ca. 2011
Other: May be on clearance if you're really lucky

PREVIOUS
RSS
NEXT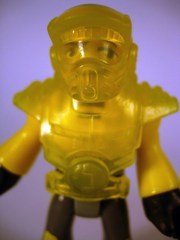 I can't remember who told me this, but someone in the industry let me know that Imaginext is currently being run by a 1980s toy fiend. So it's no surprise that the Ankylosaurus and his dinosaur buddies all reek of two other great "feature"-driven 1980s toy lines-- Tyco's Dino-Riders (rumored to be owned by Mattel, who also owns the Tyco brand) and Kenner's M.A.S.K. (still owned by Hasbro.) As you can see, what you get here is an adorable kid-friendly dinosaur, a clear yellow mask (similar to the "Split Seconds" line from Kenner) and a bunch of other play gear for about ten bucks. If it came in an enclosed box so it wouldn't be covered in shopper bacteria before your kid buys it to stick in his mouth/up his nose, what you'd have here is a recipe for greatness. As it's marketed to toddlers, it doesn't get a lot of traction with collectors.
The schtick is the same as the original Dino-Riders line: you've got a cool dinosaur with an action feature. You can put a harness on him with some sort of weapons or gear, plus there are masks. The silver vac-metal masks are a swell optional accessory for the figures, to act as safety helmets, a nice garnish, or some sort of dinosaur-controlling mechanism. It fits snuggly, and looks sharp. The mining rig has two clear yellow "picks" which can be pushed up with your finger, and gravity slams them down. They aren't spring-loaded, but th dinosaur's tail certainly is-- it'll flop down with a nice, but not too big, punch. As articulation goes, the Ankylosaurus has about 5 points of articulation with 4 moving legs and the tail, making it about normal for a kid's dinosaur toy. Heck, it's even better than many-- maybe not as good as ReSaurus' line in the late 1990s, or the various Jurassic Park lines, but it's really good for the toddler set.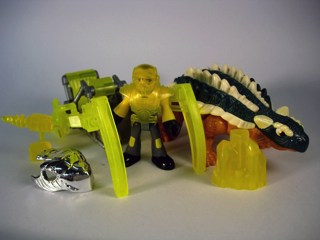 The figure is the same normal male Imaginext mold with some yellow stripes on it. It looks good but it doesn't seem particularly exciting-- it's a great example of how flexible this one Fisher-Price figure sculpt turned out to be, but the figure in and of itself isn't particularly interesting. What makes it cool to you toy nerds out there is that it has a clear yellow accessory that reeks of the Matt Trakker mask from M.A.S.K., but with the clear coloring from its often-ignored and short-lived "Split Seconds" subline. Short of having some sort of weird hologram sticker on it, this set is pretty much the synthesis of much of what made late-1980s toys fantastic. Well, except one thing: the toys themselves have no real names or narrative, no cool characterization is to be had unless you check out the DVDs and I admit I have not done so. Why couldn't they just call it the "Pick-Axe Ankylosaurus with Major Matt Mason" or something? (C'mon Mattel, squat on some trademarks!)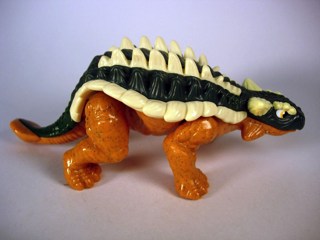 I scored one at a grocery store on clearance for six bucks. At that price, this is one of the best things you can buy-- at the normal price of $10.99, it's still not bad. Compare it to your average Star Wars figure or most action figures, and it's almost depressing that the only kind of toy like this available today for this price is aimed at preschoolers. Why isn't there a $10 figure-with-dinosaur toy aimed at older grade school kids, or better still, collectors? Kids have it good, man.
Scroll down below for the Glyos and other figure compatibility gallery.
--Adam Pawlus
Additional Images
Other Figure Postscript
The scale lends itself to some collectors buying these for other toys, so I grabbed some Glyos figures, a Hasbro Playskool C-3PO, and a Battle Beasts Pillager Pig. And this is what you get.
Additional Images

Want to buy this figure or others like it? Check Fisher-Price availability at our sponsors:
Entertainment Earth
See more Fisher-Price figures in Figure of the Day:
Day 79: Fisher-Price Adventure People Alpha Star Astronaut Action Figure
Day 233: Fisher-Price Imaginext Space Station Toy Set
Day 404: Fisher-Price Imaginext Dinosaur Ankylosaurus
Day 528: Fisher-Price Imaginext Dinosaur Raptor
Day 643: Fisher-Price Adventure People Alpha Star Alien Creature
Day 766: Fisher-Price Imaginext Collectible Figures Diver
Day 796: Fisher-Price Imaginext Collectible Figures Robot
Day 830: Fisher-Price Imaginext Collectible Figures Mummy
Day 842: Fisher-Price Imaginext Space Ion Scorpion
Day 847: Fisher-Price Imaginext Space Ion Crab
Day 853: Fisher-Price Imaginext Space Alpha Blade
Day 954: Fisher-Price Imaginext Dinosaur Dimetrodon
Day 2,002: Fisher-Price Imaginext Series 10 Collectible Figures Spaceman & Alien
Day 2,014: Fisher-Price Imaginext Series 11 Collectible Figures X-Ray Man & Dog
Day 2,018: Fisher-Price Imaginext Series 11 Collectible Figures Radiation Man
Day 2,024: Fisher-Price Imaginext Series 11 Collectible Figures Triple Threat Snake
Day 2,032: Fisher-Price Imaginext Series 11 Collectible Figures M.U.S.C.L.E. Men
Day 2,036: Fisher-Price Imaginext Series 6 Collectible Figures Chicken Suit
Day 2,092: Fisher-Price Imaginext Series 11 Collectible Figures Fishbot
Day 2,096: Fisher-Price Imaginext Series 12 Collectible Figures Big Building Robot
Day 2,099: Fisher-Price Imaginext Series 12 Collectible Figures Clawtron
Day 2,100: Fisher-Price Imaginext DC Super Friends Batman & Swamp Thing Action Figures
Day 2,101: Fisher-Price Imaginext Series 7 Collectible Figures Buster of Ghosts
Day 2,102: Fisher-Price Imaginext Pirates Shark Minisub Figure with Vehicle
Day 2,103: Fisher-Price Imaginext Jurassic World Dr. Malcolm & Dimetrodon Action Figures
Day 2,104: Fisher-Price Imaginext Egypt Mummy Guards Action Figures
Day 2,108: Fisher-Price Imaginext Series 9 Mystery Figures Grim Reaper
Day 2,122: Fisher-Price Imaginext Series 6 Collectible Figures 4 Arm Alien
Day 2,133: Fisher-Price Imaginext Series 7 Collectible Figures Headless Horseman
Day 2,194: Fisher-Price Imaginext Series 9 Mystery Figures Yeti Snowboarder
Day 2,227: Fisher-Price Imaginext Series 9 Mystery Figures Shark Pirate
Day 2,239: Fisher-Price Imaginext DC Super Friends Slammers Arctic Sled with Mr. Freeze Set
Day 2,249: Fisher-Price Imaginext DC Super Friends Slammers Batmobile with Batman Set

See more Imaginext figures in Figure of the Day:
Day 233: Fisher-Price Imaginext Space Station Toy Set
Day 404: Fisher-Price Imaginext Dinosaur Ankylosaurus
Day 528: Fisher-Price Imaginext Dinosaur Raptor
Day 766: Fisher-Price Imaginext Collectible Figures Diver
Day 796: Fisher-Price Imaginext Collectible Figures Robot
Day 830: Fisher-Price Imaginext Collectible Figures Mummy
Day 842: Fisher-Price Imaginext Space Ion Scorpion
Day 847: Fisher-Price Imaginext Space Ion Crab
Day 853: Fisher-Price Imaginext Space Alpha Blade
Day 954: Fisher-Price Imaginext Dinosaur Dimetrodon
Day 2,002: Fisher-Price Imaginext Series 10 Collectible Figures Spaceman & Alien
Day 2,014: Fisher-Price Imaginext Series 11 Collectible Figures X-Ray Man & Dog
Day 2,018: Fisher-Price Imaginext Series 11 Collectible Figures Radiation Man
Day 2,024: Fisher-Price Imaginext Series 11 Collectible Figures Triple Threat Snake
Day 2,032: Fisher-Price Imaginext Series 11 Collectible Figures M.U.S.C.L.E. Men
Day 2,036: Fisher-Price Imaginext Series 6 Collectible Figures Chicken Suit
Day 2,092: Fisher-Price Imaginext Series 11 Collectible Figures Fishbot
Day 2,096: Fisher-Price Imaginext Series 12 Collectible Figures Big Building Robot
Day 2,099: Fisher-Price Imaginext Series 12 Collectible Figures Clawtron
Day 2,100: Fisher-Price Imaginext DC Super Friends Batman & Swamp Thing Action Figures
Day 2,101: Fisher-Price Imaginext Series 7 Collectible Figures Buster of Ghosts
Day 2,102: Fisher-Price Imaginext Pirates Shark Minisub Figure with Vehicle
Day 2,103: Fisher-Price Imaginext Jurassic World Dr. Malcolm & Dimetrodon Action Figures
Day 2,104: Fisher-Price Imaginext Egypt Mummy Guards Action Figures
Day 2,108: Fisher-Price Imaginext Series 9 Mystery Figures Grim Reaper
Day 2,122: Fisher-Price Imaginext Series 6 Collectible Figures 4 Arm Alien
Day 2,133: Fisher-Price Imaginext Series 7 Collectible Figures Headless Horseman
Day 2,194: Fisher-Price Imaginext Series 9 Mystery Figures Yeti Snowboarder
Day 2,227: Fisher-Price Imaginext Series 9 Mystery Figures Shark Pirate
Day 2,239: Fisher-Price Imaginext DC Super Friends Slammers Arctic Sled with Mr. Freeze Set
Day 2,249: Fisher-Price Imaginext DC Super Friends Slammers Batmobile with Batman Set