Crazy Scientist
I know someone with a coat like that, sorta

LEGO Minifigures Series 4
Item No.: 8804
Manufacturer: LEGO
Includes: Stand, beaker
Action Feature: n/a
Retail: $2.99-$3.99
Availability: April 2011
Other: #16 in a collection of 16

PREVIOUS
RSS
NEXT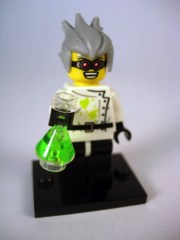 The Crazy Scientist is one of many figures which debuted in the Minifigures range, but is going to be exported to the main line (albeit with slight modifications) later this year. A redeco of the figure (same here) will be hitting in a couple of months, with zanier goggles and a moustache. This version is a little more, uh, "classic" in that he lacks futuristic-looking gear and has some green splatter, which feels very much out of the 1980s or 1990s. (Heck, take a look at Space Cadet Raphael from earlier this week!)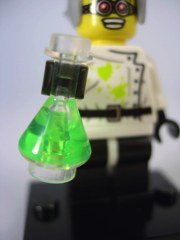 While not the most ornate figure in the batch, he does have a slick design with a white lab coat, black pants, and weird (and surprisingly detailed) red goggles-- the coloring is quite remarkable, plus he has sorta bushy grey eyebrows and giant teeth. You can almost hear him laughing maniacally while he puts together some cool new creation, or dares to drink whatever it is in his green beaker accessory. I'm going to guess he's finally going to be drinking his last juicebox of Ecto-Cooler.
While I would have preferred an unslimed version of the character, hey, it's still cool and s a nice way to populate our LEGO cities with more than cops, firemen, and the occasional banker. Obviously this guy is going to be operating largely behind closed doors, but it's nice to see an increasingly diverse set of skills being deployed in a LEGO City. I still eagerly await the day we get the LEGO comic book store employee.
--Adam Pawlus
Help 16bit.com!
We get a piece of every purchase you make from our sponsor through this link. If you were going to buy something, click here first and it helps fund the site! Thanks for your support!
Additional Images
| | |
| --- | --- |
| | |

See more LEGO figures in Figure of the Day:
Day 2: LEGO Minifigures Series 2 Disco Dude
Day 33: LEGO Minifigures Series 1 Super Wrestler
Day 36: LEGO Minifigures Series 2 Mime
Day 38: LEGO Minifigures Series 2 Karate Master
Day 77: LEGO Minifigures Series 1 Ninja
Day 85: LEGO Minifigures Series 1 Spaceman
Day 106: LEGO Minifigures Series 2 Witch
Day 123: LEGO Minifigures Series 1 Robot
Day 130: LEGO Ninjago 2112 Cole Action Figure
Day 136: LEGO Bionicle 8563 Tahnok Action Figure
Day 148: LEGO Minifigures Series 1 Cheerleader
Day 152: LEGO Minifigures Series 1 Crash Test Dummy
Day 161: LEGO Minifigures Series 1 Forestman
Day 174: LEGO Minifigures Series 3 Gorilla Suit Guy
Day 176: LEGO Minifigures Series 3 Mummy
Day 181: LEGO Bionicle 8534 Tahu Action Figure
Day 182: LEGO Minifigures Series 3 Sumo Wrestler
Day 188: LEGO Minifigures Series 3 Tennis Player
Day 190: LEGO Minifigures Series 3 Rapper
Day 195: LEGO Minifigures Series 3 Space Alien
Day 198: LEGO Minifigures Series 1 Deep Sea Diver
Day 215: LEGO Minifigures Series 3 Fisherman
Day 218: LEGO Minifigures Series 2 Weightlifter
Day 220: LEGO Bionicle Stars 7116 Tahu Action Figure
Day 225: LEGO Minifigures Series 3 Baseball Player
Day 239: LEGO Minifigures Series 2 Lifeguard
Day 260: LEGO Minifigures Series 2 Ringmaster
Day 267: LEGO Minifigures Series 3 Tribal Chief (Indian)
Day 275: LEGO Minifigures Series 2 Traffic Cop
Day 347: LEGO Minifigures Series 4 Punk Rocker
Day 358: LEGO Minifigures Series 3 Pilot
Day 368: LEGO Minifigures Series 5 Lizard Man
Day 378: LEGO Minifigures Series 5 Lumberjack
Day 389: LEGO Minifigures Series 5 Evil Dwarf
Day 402: LEGO Minifigures Series 4 Crazy Scientist
Day 414: LEGO Minifigures Series 5 Gangster
Day 422: LEGO Minifigures Series 5 Ice Fisherman
Day 434: LEGO Minifigures Series 4 Artist
Day 452: LEGO Minifigures Series 4 Hazmat Guy
Day 455: LEGO Minifigures Series 7 Computer Programmer
Day 462: LEGO UFO Shell Exclusive Spacecraft
Day 467: LEGO Minifigures Series 4 The Monster
Day 474: LEGO Minifigures Series 6 Intergalactic Girl
Day 489: LEGO Minifigures Series 6 Clockwork Robot
Day 501: LEGO Minifigures Series 6 Classic Alien
Day 522: LEGO Minifigures Series 6 Genie
Day 535: LEGO Minifigures Series 4 Kimono Girl
Day 535: LEGO Minifigures Series 4 Werewolf
Day 633: LEGO Minifigures Series 7 Galaxy Patrol

Want to buy this figure? Check LEGO availability at our sponsors:
Entertainment Earth