Diving Duckbill
Japanese name "Duck Diver"

Battle Beasts Series 3
Item No.: #71
Manufacturer: Hasbro
Includes: Purple spear, seven more figures
Action Feature: n/a
Retail: est. $13.99
Availability: ca. 1987
Other: Japanese name "Duck Diver"

PREVIOUS
RSS
NEXT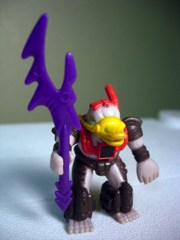 Series 3 of Battle Beasts was thought by many (myself included) to be the end of the line-- additional "Shadow Beasts" and "Laser Beasts" were issued in very limited numbers in the USA and later Japan, but it seemed to my not-old-enough-to-go-on-a-toy-run-self that Diving Duckbill and friends were the end of the line at the time. The sets were increased from randomly-packed pairs to a specific group of 8 figures, which was more exciting from a gift standpoint but slightly less so if you had to basically whine like a little bitch to convince your parents that yes, you should be able to take the ten bucks your aunt sent you to get yet another batch of these little guys. (This set was particularly awesome, containing a Zebra, Penguin, Flamingo, and Orangutan among others.)
Diving Duckbill was one of the reasons I went after this set, because I like all good kids was nuts for Australian wildlife and also, like modern kids, nuts about penguins. This platypus was given the name of "Duck Diver" in Japan, which makes a lot of sense given they gave him a snorkel... which makes no sense to me. The platypus can swim, so I can't say I'm entirely sure why he needs what seems to be a teeny-tiny SCUBA tank on his back. Of course, I'm not entirely sure but it looks like there are rockets on his shins, which is a heck of a nice sculpted detail rather than the typical fins or little boxes you see on these figures. The gear seems to serve more of a purpose, which is great. The weapon is a sort of a spear, or maybe a can opener, or perhaps a nod to the real-life poison barbs on the webbed feet of a platypus. I can't say I'm sure, nor am I sure why he has a yellow duck bill when the real deal has one that's much darker. I loved the wacky colors as a kid, and I can still appreciate them today-- but I can also see that the vast majority of the toys in this line could be easily rerelased in "realistic" colors. Purple elephants? Bright yellow camels? Were it not for the line's seeming crippling obscurity leading up to the recent batch of new Minimates and Diamond Select's new announcement, I'd say it's a wonder they didn't just reissue them as repainted capsule toys in the early 2000s.
The 2-inch figure was one of very few which didn't incorporate its animal inspiration's name as a part of the action figure's name. This figure was one of the last to see widespread distribution in the USA in decent numbers. These were durable plastic guys with strong gripping hands, so you could have him hold his weapon and smack around other figures with it. The funny thing is this was more common in the 1980s than it was in the 1990s and beyond-- you can't expect most Star Wars or G.I. Joe figures to stand or hold their guns these days, as they would either drop the weapon or the lightsaber would just snap. While Diving Duckbill can only hold his might weapon in his right hand, it's worth noting his left hand is outstretched for swimming plus he sports sculpted fingers and tiny claws. Off the top of my head, I can't remember any other 1980s or 1990s platypus action figures, or aside from stuff at the zoo, other platypus toys. Combining animals with violence worked well for me as a kid, I just wish it continued a little longer.
--Adam Pawlus
Additional Images

Click here to see more Hasbro figures in Figure of the Day.
See more Battle Beasts figures in Figure of the Day:
Day 82: Diamond Select Battle Beasts Minimates SDCC Gold Alligator Action Figure
Day 373: Diamond Select Battle Beasts Minimates Case Red Alligator Action Figure
Day 374: Hasbro Battle Beasts Sawtooth Shark Action Figure
Day 375: Hasbro Battle Beasts Wolfgang Walrus Action Figure
Day 376: Hasbro Battle Beasts Diving Duckbill Action Figure
Day 377: Hasbro Battle Beasts Spark Shark Action Figure
Day 390: Diamond Select Battle Beasts Minimates C2E2 2012 Red Vorin
Day 391: Hasbro Battle Beasts Anarchy
Day 395: Diamond Select Battle Beasts Minimates C2E2 2012 Grey Vorin
Day 417: Hasbro Battle Beasts Run Amuck Duck
Day 436: Hasbro Battle Beasts Horny Toad
Day 450: Diamond Select Battle Beasts Minimates SDCC 2012 Vorin & Zik
Day 451: Hasbro Battle Beasts Sledgehammer Elephant
Day 460: Diamond Select Battle Beasts Minimates SDCC 2012 Gold Vorin
Day 463: Diamond Select Battle Beasts Minimates C2E2 Exclusive Black Alligator
Day 451: Hasbro Battle Beasts Pillaging Polar Bear
Day 577: Hasbro Battle Beasts Slasher Seahorse
Day 610: Diamond Select Battle Beasts Minimates Gruntos the Walrus & Tate Reynolds
Day 639: Hasbro Battle Beasts Triple Threat Snake
Day 674: Hasbro Battle Beasts Hare Razing Rabbit
Day 720: Diamond Select Battle Beasts Minimates Shadow Merk
Day 723: Hasbro Battle Beasts Pillager Pig
Day 914: Hasbro Battle Beasts Rainbow Sam
Day 972: Hasbro Battle Beasts Pixilated Pointer
Day 1,084: Hasbro Battle Beasts Sir Sire Horse
Day 1,278: Hasbro Battle Beasts Hardtop Tortoise
Day 1,291: Hasbro Battle Beasts Tanglin Pangolin
Day 1,306: Hasbro Battle Beasts Eager Beaver
Day 1,313: Hasbro Battle Beasts Bodacious Bovine
Day 1,756: Diamond Select Independent Comic Book Minimates Battle Beasts Ruminant and Spyrnus
Day 1,815: Diamond Select Battle Beasts Minimates Stealth Vorin
Day 1,827: Hasbro Battle Beasts Sabre Sword Tiger
Day 1,890: Hasbro Battle Beasts Battling Deer Stalker Chariot
Day 1,905: Diamond Select Battle Beasts Minimates Antalor and Nychirix
Day 1,906: Hasbro Battle Beasts Killer Carp
Day 2,024: Fisher-Price Imaginext Series 11 Collectible Figures Triple Threat Snake
Day 2,074: Hasbro Battle Beasts Octillion Octopus