Wolfgang Walrus
Series 2

Battle Beasts Series 2
Item No.: #37
Manufacturer: Hasbro
Includes: Gold spear, second randomly-selected figure
Action Feature: n/a
Retail: approx. $3.99
Availability: ca. 1987
Other: Japanese name "Sea Iron"

PREVIOUS
RSS
NEXT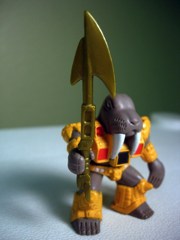 Series 2 of Battle Beasts refined the figures a little bit with better paint jobs, stranger figure choices, and big changes to their feet. The copyright information was moved to the soles of the figures, and a foot peg hole was added-- previously released Series 1 figures had flat feet (like Gormiti toys) and the copyright information was usually on their backs. Wolfgang Walrus is a fine example of a good concept refined in its second series, and he also just happens to look more than a little like the Transformers toy Longtooth. As I'm a sucker for ocean life toys, this was one of the many figures I requested as a kid and by gum I've still got him.
Wolfgang measures about 2-inches tall and has 2 points of articulation, like most figures in the line. His right hand can grip weapons (his own, or most 3mm weapons like LEGO or Transformers Cyberverse) while his left hand is a flipper which can grip nothing. A variation exists too, with unpainted tusks and some added green detail on his armor. Neither seems to be more desirable, but hey-- who doesn't love a good, unnecessary variation? Like all figures in the first chunk of the line, he has feet with toes and he wears a robotic suit. In his case, it's more or less a thong. With his grey skin, Takara could have probably easily retooled him into a Manatee if they just dropped the tusks.
Today he sells for about $6-$10, if that, meaning that he's quite a deal. The armor doesn't have any goofy elements, like dead animals as knee pads or some of the other strange elements incorporated on the likes of later Teenage Mutant Ninja Turtles releases. (And yes, we'll be getting to those soon enough.) Wolfgang is just a straight-up Walrus Man, bringing more Walrus to the table than the 1979 Kenner Star Wars figure. For this, I am truly happy. The figure isn't capable of amazing poses or astonishing action features, but he's fun, sturdy, and is in nearly mint condition after years of play and several moves. Truly, these were fun little toys. Their only real flaws came from their weapons, which were easily lost, and their stickers, which sometimes flaked off with age.
--Adam Pawlus
Additional Images

Click here to see more Hasbro figures in Figure of the Day.
See more Battle Beasts figures in Figure of the Day:
Day 82: Diamond Select Battle Beasts Minimates SDCC Gold Alligator Action Figure
Day 373: Diamond Select Battle Beasts Minimates Case Red Alligator Action Figure
Day 374: Hasbro Battle Beasts Sawtooth Shark Action Figure
Day 375: Hasbro Battle Beasts Wolfgang Walrus Action Figure
Day 376: Hasbro Battle Beasts Diving Duckbill Action Figure
Day 377: Hasbro Battle Beasts Spark Shark Action Figure
Day 390: Diamond Select Battle Beasts Minimates C2E2 2012 Red Vorin
Day 391: Hasbro Battle Beasts Anarchy
Day 395: Diamond Select Battle Beasts Minimates C2E2 2012 Grey Vorin
Day 417: Hasbro Battle Beasts Run Amuck Duck
Day 436: Hasbro Battle Beasts Horny Toad
Day 450: Diamond Select Battle Beasts Minimates SDCC 2012 Vorin & Zik
Day 451: Hasbro Battle Beasts Sledgehammer Elephant
Day 460: Diamond Select Battle Beasts Minimates SDCC 2012 Gold Vorin
Day 463: Diamond Select Battle Beasts Minimates C2E2 Exclusive Black Alligator
Day 451: Hasbro Battle Beasts Pillaging Polar Bear
Day 577: Hasbro Battle Beasts Slasher Seahorse
Day 610: Diamond Select Battle Beasts Minimates Gruntos the Walrus & Tate Reynolds
Day 639: Hasbro Battle Beasts Triple Threat Snake
Day 674: Hasbro Battle Beasts Hare Razing Rabbit
Day 720: Diamond Select Battle Beasts Minimates Shadow Merk
Day 723: Hasbro Battle Beasts Pillager Pig
Day 914: Hasbro Battle Beasts Rainbow Sam
Day 972: Hasbro Battle Beasts Pixilated Pointer
Day 1,084: Hasbro Battle Beasts Sir Sire Horse
Day 1,278: Hasbro Battle Beasts Hardtop Tortoise
Day 1,291: Hasbro Battle Beasts Tanglin Pangolin
Day 1,306: Hasbro Battle Beasts Eager Beaver
Day 1,313: Hasbro Battle Beasts Bodacious Bovine
Day 1,756: Diamond Select Independent Comic Book Minimates Battle Beasts Ruminant and Spyrnus
Day 1,815: Diamond Select Battle Beasts Minimates Stealth Vorin
Day 1,827: Hasbro Battle Beasts Sabre Sword Tiger
Day 1,890: Hasbro Battle Beasts Battling Deer Stalker Chariot
Day 1,905: Diamond Select Battle Beasts Minimates Antalor and Nychirix
Day 1,906: Hasbro Battle Beasts Killer Carp
Day 2,024: Fisher-Price Imaginext Series 11 Collectible Figures Triple Threat Snake
Day 2,074: Hasbro Battle Beasts Octillion Octopus