Leech
Evil Master of Power Suction

Masters of the Universe Classics Action Figure
Item No.: No. T5800
Manufacturer: Mattel
Includes: Crossbow, net
Action Feature: n/a
Retail: $20.00
Availability: September 2011
Other: He Certainly Does Suck

PREVIOUS
RSS
NEXT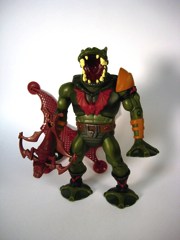 Some of these reviews get banked a ways in advance, but it took me a while to get to even opening Leech due to my sitting on a bunch of figures during a pre-move time and getting to them much, much later. You probably already knew this was a questionable figure, but let me confirm it: you probably don't need this one. By and large I'm a big fan of the line as a whole, but this one had some real problems out of the box: the crossbow was ridiculously bent out of shape (but was repairable), the net accessory was ripped before I even opened it (not fixable), and there are some real paint issues. There's some great paint on here, and there's some real slop-- so I have to give them points for ambition while taking them back for big unpainted areas on his fangs. The developers did a nice job, but the manufacturing and packaging process resulted in-- at least on my sample-- something I'd almost rather not even own.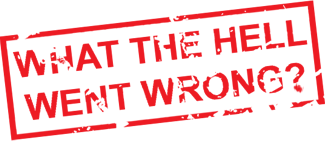 He-Man and She-Ra were things I watched on TV as a kid, but other than Meteorbs I never really had any of the toys. So Leech here is brand-new to me, and I didn't really have any idea of what a new Leech should be. The old action figure had a suction cup face, and this one has a big, fanged mouth that looks more like a dinosaur or demon figure. It looks to be inspired by the original, but he doesn't appear particularly leechlike in his modern incarnation. It doesn't have to look this way now that the action feature is gone, but it still looks distinctive. The figure has a very wide body sculpt and tons of new elements, including bend-and-swivel wrists for his faux suction cup hands. The feet can pivot in multiple directions, and the texture is amazing. If you get in close, you can see shiny areas and flat areas, plus lots of shades of green bring the figure to life. It looks better than a toy, but when you see big green gashes in the teeth, your enthusiasm can leave pretty quick.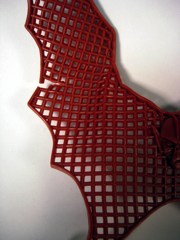 His accessories could be better. I admire the addition of a suction cup net to bring back the original action feature of the figure, but it was warped and torn in the box. The rubber bands apparently ripped right into it, plus mine had a bum crossbow-- the bat wing was actually smashed into itself, but this was quickly fixed with boiling water. It was astonishing how bad it looked, I really wish I took a "before" shot. (But I did some research and you can see how distorted it looks on this He-Man.org forum posting. He's not exaggerating. Mine looked worse.) The crossbow clips on to his wrist, but is a little loose. The sculpt is amazing, it looks downright evil and has painted eyes giving it a little more personality. I appreciate the manufacturers giving him two weapons, but one of them was DOA and the other needed serious work-- at first glance, I thought the crossbow was meant to be a one-winged monster.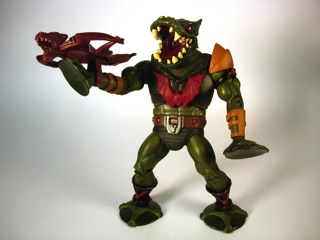 With few new Horde members each year you, like I, were probably excited when you heard he was coming. Since mine sat in a box for a few months, I was actually pretty bummed when I was greeted by broken gear and bad paint. I like the overall sculpt of the figure-- he's big and mean, and the Four Horsemen crammed tons of detail on this one. I can tell this wasn't a simple figure to update, so I commend them for doing the best with what they had. It doesn't mean I'm not bitter we didn't get a better figure, but I guess I need someone to hang out on a shelf behind Hordak until the shelf gets full... and then goes into a box somewhere again. If you buy one, I'd suggest trying to get a loose sample-- investigate the parts for broken elements first, because they can sneak up on you in a packaged figure. If you love She-Ra and the Horde, and are considering blowing some money, I would suggest you save up and spend even MORE money and get Shadow Weaver first. (And Catra. And Hordak.) You'll thank me later.
--Adam Pawlus
Additional Images

Click here to see more Mattel figures in Figure of the Day.
See more Masters of the Universe figures in Figure of the Day:
Day 6: Mattel Masters of the Universe Classics Orko
Day 17: Mattel Masters of the Universe Classics Skeletor
Day 28: Mattel Masters of the Universe Classics Optikk
Day 41: Mattel Masters of the Universe Classics Chief Carnivus
Day 52: Mattel Masters of the Universe Classics Roboto
Day 90: Mattel Masters of the Universe Classics Mer-Man
Day 143: Mattel Masters of the Universe Classics Shadow Beast
Day 157: Mattel Masters of the Universe Classics Vikor
Day 165: Mattel Masters of the Universe Meteorbs Dinosorb Action Figure
Day 177: Mattel Masters of the Universe Classics Whiplash Action Figure
Day 187: Mattel Masters of the Universe Classics She-Ra Action Figure
Day 201: Mattel Masters of the Universe Meteorbs Tuskor Action Figure
Day 235: Mattel Masters of the Universe Classics Catra Action Figure
Day 255: 1SHOT Toys Glyos-Compatible He-Man Thermal Color Change Head
Day 280: Mattel Masters of the Universe Classics Icarius
Day 296: Mattel Masters of the Universe Classics Snout Spout
Day 318: Mattel Masters of the Universe Classics Bow
Day 323: Mattel Masters of the Universe Classics Faceless One
Day 328: Mattel Masters of the Universe Classics Battle Armor Skeletor
Day 334: Mattel DC Universe vs. Masters of the Universe Classics Zodac
Day 338: Mattel Masters of the Universe Classics Sy-Klone
Day 343: Mattel Masters of the Universe Classics Battleground Teela
Day 349: Mattel Masters of the Universe Classics Clawful
Day 353: Mattel Masters of the Universe Classics Man-E-Faces
Day 355: Mattel Masters of the Universe Classics Gygor
Day 360: Mattel Masters of the Universe Classics Shadow Weaver
Day 370: Mattel Masters of the Universe Classics Demo-Man
Day 371: Mattel Masters of the Universe Classics Leech
Day 380: Mattel Masters of the Universe Classics Webstor
Day 385: Mattel Masters of the Universe Classics Draego-Man
Day 386: Mattel Masters of the Universe Classics Fearless Photog
Day 401: Mattel Masters of the Universe Classics Thunder Punch He-Man
Day 403: Mattel Masters of the Universe Classics Preternia Disguise He-Man
Day 410: Mattel Masters of the Universe 200X Ram Man
Day 413: Mattel Masters of the Universe Classics Evil-Lyn
Day 420: Mattel Masters of the Universe 200X Venom-Spitting Khan
Day 424: Mattel Masters of the Universe Classics Wun-Dar
Day 430: Mattel Masters of the Universe Classics Horde Prime
Day 432: Mattel Masters of the Universe 200X Mekaneck
Day 438: Mattel Masters of the Universe Classics Tri-Klops
Day 449: Mattel Masters of the Universe Classics Stinkor
Day 454: Mattel Masters of the Universe Classics Mighty Spector
Day 459: Mattel Masters of the Universe Classics Fisto
Day 465: Mattel Masters of the Universe Classics Snake Man-At-Arms
Day 472: Mattel Masters of the Universe Classics Kobra Khan
Day 478: Mattel Masters of the Universe Classics Sorceress
Day 506: Mattel Masters of the Universe Classics Vykron
Day 531: Mattel Masters of the Universe Classics Dragon Blaster Skeletor
Day 543: Mattel Masters of the Universe Classics Frosta
Day 548: Mattel Masters of the Universe Classics Battleground Evil-Lyn
Day 563: Mattel Masters of the Universe Classics Sir Laser-Lot
Day 565: Mattel Masters of the Universe Classics Cy-Chop
Day 567: Mattel Masters of the Universe Classics Castle Grayskullman
Day 576: Mattel Masters of the Universe Classics Mekaneck
Day 583: Mattel Masters of the Universe Classics Rattlor
Day 589: Mattel Masters of the Universe Classics Battle Armor Faker
Day 596: Mattel Masters of the Universe Classics Dekker
Day 602: Mattel Masters of the Universe Classics Megator
Day 606: Mattel Masters of the Universe Classics Granamyr
Day 614: Mattel Masters of the Universe Classics Spikor
Day 623: Mattel Masters of the Universe Classics King Randor Eternos Palace
Day 632: Mattel Masters of the Universe Classics Faker
Day 641: Mattel Masters of the Universe Classics King Hssss
Day 653: Mattel Masters of the Universe Classics King He-Man
Day 658: Mattel Masters of the Universe Classics Jitsu
Day 664: Mattel Masters of the Universe Classics Fang Man
Day 667: Mattel Masters of the Universe Classics Ram Man
Day 683: Mattel Masters of the Universe Classics Bubble Power She-Ra
Day 694: Mattel Masters of the Universe Classics Karatti
Day 713: Mattel Masters of the Universe Classics Swiftwind
Day 728: Mattel Masters of the Universe Classics Octavia
Day 736: Mattel Masters of the Universe Classics New Adventures Galactic Protector He-Man
Day 738: Mattel Masters of the Universe Classics Icer
Day 746: Mattel Masters of the Universe Classics Moss Man
Day 753: Mattel Masters of the Universe Classics Shokoti
Day 758: Mattel Masters of the Universe Classics Castaspella
Day 776: Mattel Masters of the Universe Classics Batros
Day 782: Mattel Masters of the Universe Classics Sky High with Jet Sled
Day 799: Mattel Masters of the Universe Classics End of Wars Weapons Pak
Day 810: Mattel Masters of the Universe Classics Netossa
Day 816: Mattel Masters of the Universe Classics Nepthu
Day 820: Mattel Masters of the Universe Classics Castle Grayskull
Day 822: Mattel Masters of the Universe Classics Clamp Champ
Day 826: Mattel Masters of the Universe Classics Geldor
Day 834: Mattel Masters of the Universe Classics Strobo
Day 849: Mattel Masters of the Universe Classics Standor
Day 858: Mattel Masters of the Universe Classics Strong-Or
Day 868: Mattel Masters of the Universe Classics Plundor
Day 870: Mattel Masters of the Universe Classics Hydron
Day 886: Mattel Masters of the Universe Classics Two Bad
Day 893: Mattel Masters of the Universe Classics Lord Dactus
Day 900: Mattel Masters of the Universe Classics Unnamed One
Day 902: Mattel Masters of the Universe Classics Mantenna
Day 921: Mattel Masters of the Universe Classics Sea Hawk
Day 942: Mattel Masters of the Universe Classics Snake Face
Day 977: Mattel Masters of the Universe Classics Scorpia
Day 984: Mattel Masters of the Universe Classics Keldor
Day 995: Mattel Masters of the Universe Classics Skeletor (New Adventures)
Day 997: Mattel Masters of the Universe Classics Beast Man
Day 1,022: Mattel Masters of the Universe Classics Entrapta
Day 1,043: Mattel Masters of the Universe Classics Sweet Bee
Day 1,053: Mattel Masters of the Universe Classics Madame Razz and Broom
Day 1,058: Mattel Masters of the Universe Classics Extendar
Day 1,066: Mattel Masters of the Universe Classics Glimmer
Day 1,074: Mattel Masters of the Universe Classics Eldor
Day 1,085: Mattel Masters of the Universe Classics Gwildor
Day 1,097: Mattel Masters of the Universe Classics Flogg
Day 1,130: Mattel Masters of the Universe Classics Lizard Man
Day 1,131: Mattel Masters of the Universe Classics Loo-Kee & Kowl
Day 1,135: Mattel Masters of the Universe Classics Ninja Warrior
Day 1,147: Mattel Masters of the Universe Classics Oo-Larr
Day 1,151: Mattel Masters of the Universe Classics Tung Lashor
Day 1,156: Mattel Masters of the Universe Classics Galactic Protector She-Ra
Day 1,166: Funko Hikari Vinyl Masters of the Universe Mystic Powers Skeletor
Day 1,169: Mattel Masters of the Universe Classics Huntara
Day 1,201: Mattel Masters of the Universe Classics Goat Man
Day 1,209: Mattel Masters of the Universe Classics Light Hope
Day 1,223: Mattel Masters of the Universe Classics Mermista
Day 1,234: Mattel Masters of the Universe Classics Sssqueeze
Day 1,250: Super7 M.O.T.U.S.C.L.E. Set B
Day 1,263: Super7 M.O.T.U.S.C.L.E. Set A
Day 1,265: Mattel Masters of the Universe Classics Heads of Eternia
Day 1,283: Mattel Masters of the Universe Classics Blast Attak
Day 1,287: Mattel Masters of the Universe Classics Blast Callix
Day 1,288: Super7 M.O.T.U.S.C.L.E. Set C
Day 1,292: Mattel Masters of the Universe Classics Mosquitor
Day 1,297: Mattel Masters of the Universe Classics Spinnerella
Day 1,302: Super7 M.O.T.U.S.C.L.E. SDCC Promo Skeletor
Day 1,303: Mattel Masters of the Universe Classics King Chooblah
Day 1,314: Mattel Masters of the Universe Classics Blade
Day 1,319: Mattel Masters of the Universe Classics Terror Claws Skeletor and Flying Fists He-Man
Day 1,356: Mattel Masters of the Universe Classics He-Ro II
Day 1,379: Mattel Masters of the Universe Classics Queen Grayskull
Day 1,385: Mattel Masters of the Universe Classics Lord Masque
Day 1,389: Mattel Masters of the Universe Classics Perfuma
Day 1,394: Mattel Masters of the Universe Classics Dragstor
Day 1,407: Mattel Masters of the Universe Classics Prahvus
Day 1,411: Mattel Masters of the Universe Classics He-Man (Filmation)
Day 1,426: Mattel Masters of the Universe Classics Angella
Day 1,435: Mattel Masters of the Universe Classics Trap Jaw (Filmation)
Day 1,448: Mattel Masters of the Universe Classics Saurod
Day 1,460: Mattel Masters of the Universe Classics Ceratus
Day 1,464: Mattel Masters of the Universe Classics Vultak
Day 1,493: Mattel Masters of the Universe Classics Darius
Day 1,502: Mattel Masters of the Universe Classics Evil Seed
Day 1,503: Mattel Masters of the Universe Classics Skeletor
Day 1,517: Mattel Masters of the Universe Classics Double Mischief
Day 1,520: Mattel Masters of the Universe Classics Despara
Day 1,549: Mattel Masters of the Universe Classics Beast Man
Day 1,574: Mattel Masters of the Universe Classics Filmation Evil Seed
Day 1,596: Mattel Masters of the Universe Classics Evil-Lyn
Day 1,628: Super7 Masters of the Universe M.U.S.C.L.E. Series 2 Set C
Day 1,632: Mattel Masters of the Universe Classics Clawful
Day 1,633: Super7 Masters of the Universe M.U.S.C.L.E. Series 2 Set B
Day 1,639: Super7 Masters of the Universe M.U.S.C.L.E. Series 2 Set D
Day 1,645: Funko Masters of the Universe Dorbz Skeletor
Day 1,639: Super7 Masters of the Universe M.U.S.C.L.E. Series 2 Set A
Day 1,681: Mattel Masters of the Universe Classics Adora
Day 1,719: Mattel Masters of the Universe Classics Horde Wraith
Day 1,718: Mega Construx Heroes Masters of the Universe Skeletor Action Figure
Day 1,840: Super7 Masters of the Universe M.U.S.C.L.E. Series 3 Set D
Day 1,843: Super7 Masters of the Universe M.U.S.C.L.E. Series 3 Set E
Day 1,862: Super7 Masters of the Universe M.U.S.C.L.E. Series 3 Set C
Day 1,870: Mega Construx Heroes Masters of the Universe He-Man Action Figure
Day 1,877: Super7 Masters of the Universe M.U.S.C.L.E. Series 3 Set F
Day 1,879: Mega Construx Heroes Masters of the Universe Beast Man Action Figure
Day 1,886: Mega Construx Heroes Masters of the Universe Teela Action Figure
Day 1,922: Super7 Masters of the Universe M.U.S.C.L.E. Series 3 Set B
Day 1,937: Super7 Masters of the Universe M.U.S.C.L.E. Series 3 Set A
Day 2,104: Fisher-Price Imaginext Egypt Mummy Guards Action Figures
Day 2,161: Super7 Masters of the Universe Transforming He-Man Action Figure