Shadow Weaver
Evil Mistress of Dark Magic

Masters of the Universe Classics Action Figure
Item No.: No. W8907
Manufacturer: Mattel
Includes: Magic wand, magic book, clear stand
Action Feature: "Hovers" on clear display stand
Retail: $20.00 (give or take $490)
Availability: February 2012
Other: Subscription-only figure for 2012

PREVIOUS
RSS
NEXT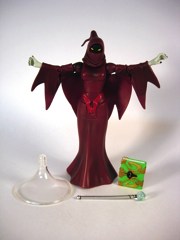 I originally had Fearless Photog slotted in here, but because my Shadow Weaver showed up late I decided to bump him back a few weeks. (I work ahead.) Why am I doing this? So you can either decide that Shadow Weaver is worth overpaying for, or do what I suggest: start watching lots of eBay auctions, and get yours when there's a slight dip in the market. A quick glance on eBay says the lowest she's selling for is about $66 shipped in the USA, but goes as high as $150. She's not worth $150. I don't even know that she's worth $60, but I won't lie to you when it comes to hyping this figure because I didn't even know what a Shadow Weaver was until I caught reruns of She-Ra on the Qubo channel about a year and a half ago. "Oh cool," I thought, "evil Orko with boobs. Wonder why they didn't make a figure of her?" (Probably because in the vintage line, the She-Ra girls were dolls. And this would make for a dull doll.)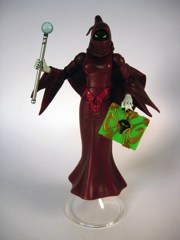 Her design is somewhere between "they cheaped out on the legs!" and "they didn't cheap out enough on the legs!" The figure has about 11 points of articulation, with standard MOTUC movement from the waist on up, plus a 1990s Star Wars-style "unileg" hip joint. Personally, I'd have preferred they drop the waist and hip joints completely since they don't add much to her poseability, but that's me. She includes a clear display base to make it look like she's floating, which is great, and it also sort of provides a joint. You can tilt her a little on it, so she can look like she's floating forward or to the side if you're so inclined.
The design of the figure is, like the rest, a mix of classic 1980s-ish fantasy with modern articulation. She doesn't look exactly like she popped off the screen, but quite close with her Horde belt, black fingernails, and gray, barely-visible skin. The yellow eyes pop out of her black face quite nicely, and that design is mirrored on her magic book as well. The flowing robes look like she's actually hovering, so when you get right down to it they did a fantastic job. I should note, due to the way her robes flow she's a little wobbly when standing directly on a flat surface like a shelf or a table.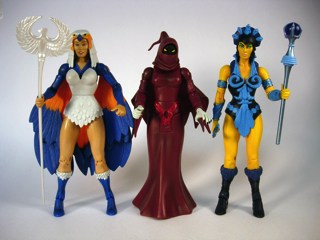 I have nothing to whine about when it comes to the paint, and her flexible "cape" looks strange at first but flows nicely when removed from the packaging. But her gear? They did a nice job here. The wand has a little crystal ball at the end of it which you can actually see through, and it looks great. Evil-Lyn's various orbs have been translucent, but you really need to shine a bright light through them to realize they're not opaque. I'd love to see this color of plastic used on a future Evil-Lyn staff, because it works. The want is painted silver with darker markings, and it looks like it's metal from a decent distance. Quality stuff, man. The book is also good, but it reminds me of the 2000s Simpsons line in that it's an accessory and there's not much I can do with it. Sure, she can hold it in her left hand, but after that? It just looks good. A face sits on the cover and is surrounded in a gold metal pattern which leads you to the spine, where you'll see sculpted faux hinges. A magical lock brings the green tome to life, but the green part is just a little too clean and new for what is probably an ancient book of spells and mystery. It's not bad, but what am I complaining about? This book is probably going to go in a box somewhere.
To touch on one final detail about the figure itself, the hands are quite good. The right hand was designed to hold her wand, while the left is an excellent example of getting a lot of out a design. The fingers are extended in a menacing, casting-a-spell pose but the fingers and thumbs are positioned so she can carry some accessories, like her book, as well. Kudos to the sculptors for making sure she can interact with her accessories successfully! (I realize that probably sounds like a back-handed compliment but it isn't meant as one. I got a lot of figures that just won't hold their stuff.) Plus she reminds me of a mishmash of several bosses and villains from The Legend of Zelda series, specifically Zelda II and A Link to the Past. (Gender bent, of course.)
--Adam Pawlus
Help 16bit.com!
We get a piece of every purchase you make from our sponsor through this link. If you were going to buy something, click here first and it helps fund the site! Thanks for your support!
Additional Images
Other Tidbits
This is the third "Club Eternia" exclusive figure. The previous two were Wun-Dar, a He-Man variant based on a mysterious brown-haired He-Man figure from the 1980s, and Preternia Disguise He-Man, based on a costume from the 1980s (and new 2012) mini-comics.
Shadow Weaver makes her toy debut here. Her on-package bio (see below) confirms an obscure tidbit from a UK comic, before she turned evil her name was "Light Spinner."
The figure was "free" with the Club Eternia program, which costs $20 to sign up for-- and it requires you to buy another $490 worth of toys. So in another, more accurate light, it's $510ish with another 22 or so figures and large creatures.
Despite her origins as a villain on a cartoon made to sell dolls to girls, this may be the most-desirable character in the Masters of the Universe Classics toy line at press time.
Shadow Weaver is the first toy officially made from Mattel's acquisition of the license for Filmation (cartoon) characters. Mattel previously made other characters which debuted in the old cartoons (like Orko) only when they previously existed as a Mattel toy or appeared in the 2002-era Masters media.

See more Mattel figures in Figure of the Day:
Day 6: Mattel Masters of the Universe Classics Orko
Day 17: Mattel Masters of the Universe Classics Skeletor
Day 28: Mattel Masters of the Universe Classics Optikk
Day 35: Mattel Xtractaurs Comic Series Battlespike Styracosaurus
Day 41: Mattel Masters of the Universe Classics Chief Carnivus
Day 52: Mattel Masters of the Universe Classics Roboto
Day 90: Mattel Masters of the Universe Classics Mer-Man
Day 143: Mattel Masters of the Universe Classics Shadow Beast
Day 157: Mattel Masters of the Universe Classics Vikor
Day 159: Mattel DC Universe Infinite Heroes Green Lantern Action Figure
Day 165: Mattel Masters of the Universe Meteorbs Dinosorb Action Figure
Day 177: Mattel Masters of the Universe Classics Whiplash Action Figure
Day 179: Mattel DC Universe Infinite Heroes Green Arrow Action Figure
Day 187: Mattel Masters of the Universe Classics She-Ra Action Figure
Day 199: Mattel DC Universe Infinite Heroes Black Canary Action Figure
Day 201: Mattel Masters of the Universe Meteorbs Tuskor Action Figure
Day 235: Mattel Masters of the Universe Classics Catra Action Figure
Day 280: Mattel Masters of the Universe Classics Icarius
Day 296: Mattel Masters of the Universe Classics Snout Spout
Day 318: Mattel Masters of the Universe Classics Bow
Day 319: Mattel M.U.S.C.L.E. Amolman Action Figure
Day 323: Mattel Masters of the Universe Classics Faceless One
Day 328: Mattel Masters of the Universe Classics Battle Armor Skeletor
Day 329: Mattel DC Universe vs. Masters of the Universe Classics Metallic Green Lantern
Day 332: Mattel M.U.S.C.L.E. Springman Action Figure
Day 334: Mattel DC Universe vs. Masters of the Universe Classics Zodac
Day 338: Mattel Masters of the Universe Classics Sy-Klone
Day 343: Mattel Masters of the Universe Classics Battleground Teela
Day 349: Mattel Masters of the Universe Classics Clawful
Day 353: Mattel Masters of the Universe Classics Man-E-Faces
Day 355: Mattel Masters of the Universe Classics Gygor
Day 360: Mattel Masters of the Universe Classics Shadow Weaver
Day 370: Mattel Masters of the Universe Classics Demo-Man
Day 371: Mattel Masters of the Universe Classics Leech
Day 380: Mattel Masters of the Universe Classics Webstor
Day 385: Mattel Masters of the Universe Classics Draego-Man
Day 386: Mattel Masters of the Universe Classics Fearless Photog
Day 401: Mattel Masters of the Universe Classics Thunder Punch He-Man
Day 403: Mattel Masters of the Universe Classics Preternia Disguise He-Man
Day 410: Mattel Masters of the Universe 200X Ram Man
Day 413: Mattel Masters of the Universe Classics Evil-Lyn
Day 420: Mattel Masters of the Universe 200X Venom-Spitting Khan
Day 424: Mattel Masters of the Universe Classics Wun-Dar
Day 430: Mattel Masters of the Universe Classics Horde Prime
Day 432: Mattel Masters of the Universe 200X Mekaneck
Day 438: Mattel Masters of the Universe Classics Tri-Klops
Day 447: Mattel DC Universe Classics All-Stars Batman
Day 449: Mattel Masters of the Universe Classics Stinkor
Day 454: Mattel Masters of the Universe Classics Mighty Spector
Day 459: Mattel Masters of the Universe Classics Fisto
Day 465: Mattel Masters of the Universe Classics Snake Man-At-Arms
Day 472: Mattel Masters of the Universe Classics Kobra Khan
Day 478: Mattel Masters of the Universe Classics Sorceress
Day 498: Mattel Ghostbusters Zuul Action Figure
Day 506: Mattel Masters of the Universe Classics Vykron
Day 531: Mattel Masters of the Universe Classics Dragon Blaster Skeletor
Day 543: Mattel Masters of the Universe Classics Frosta
Day 548: Mattel Masters of the Universe Classics Battleground Evil-Lyn
Day 552: Mattel Back to the Future II Hoverboard Prop Replica
Day 563: Mattel Masters of the Universe Classics Sir Laser-Lot
Day 565: Mattel Masters of the Universe Classics Cy-Chop
Day 567: Mattel Masters of the Universe Classics Castle Grayskullman
Day 576: Mattel Masters of the Universe Classics Mekaneck
Day 583: Mattel Masters of the Universe Classics Rattlor
Day 589: Mattel Masters of the Universe Classics Battle Armor Faker
Day 596: Mattel Masters of the Universe Classics Dekker
Day 602: Mattel Masters of the Universe Classics Megator
Day 606: Mattel Masters of the Universe Classics Granamyr
Day 614: Mattel Masters of the Universe Classics Spikor
Day 623: Mattel Masters of the Universe Classics King Randor Eternos Palace
Day 632: Mattel Masters of the Universe Classics Faker
Day 641: Mattel Masters of the Universe Classics King Hssss
Day 653: Mattel Masters of the Universe Classics King He-Man
Day 658: Mattel Masters of the Universe Classics Jitsu
Day 664: Mattel Masters of the Universe Classics Fang Man
Day 667: Mattel Masters of the Universe Classics Ram Man

See more Masters of the Universe figures in Figure of the Day:
Day 6: Mattel Masters of the Universe Classics Orko
Day 17: Mattel Masters of the Universe Classics Skeletor
Day 28: Mattel Masters of the Universe Classics Optikk
Day 41: Mattel Masters of the Universe Classics Chief Carnivus
Day 52: Mattel Masters of the Universe Classics Roboto
Day 90: Mattel Masters of the Universe Classics Mer-Man
Day 143: Mattel Masters of the Universe Classics Shadow Beast
Day 157: Mattel Masters of the Universe Classics Vikor
Day 165: Mattel Masters of the Universe Meteorbs Dinosorb Action Figure
Day 177: Mattel Masters of the Universe Classics Whiplash Action Figure
Day 187: Mattel Masters of the Universe Classics She-Ra Action Figure
Day 201: Mattel Masters of the Universe Meteorbs Tuskor Action Figure
Day 235: Mattel Masters of the Universe Classics Catra Action Figure
Day 255: 1SHOT Toys Glyos-Compatible He-Man Thermal Color Change Head
Day 280: Mattel Masters of the Universe Classics Icarius
Day 296: Mattel Masters of the Universe Classics Snout Spout
Day 318: Mattel Masters of the Universe Classics Bow
Day 323: Mattel Masters of the Universe Classics Faceless One
Day 328: Mattel Masters of the Universe Classics Battle Armor Skeletor
Day 334: Mattel DC Universe vs. Masters of the Universe Classics Zodac
Day 338: Mattel Masters of the Universe Classics Sy-Klone
Day 343: Mattel Masters of the Universe Classics Battleground Teela
Day 349: Mattel Masters of the Universe Classics Clawful
Day 353: Mattel Masters of the Universe Classics Man-E-Faces
Day 355: Mattel Masters of the Universe Classics Gygor
Day 360: Mattel Masters of the Universe Classics Shadow Weaver
Day 370: Mattel Masters of the Universe Classics Demo-Man
Day 371: Mattel Masters of the Universe Classics Leech
Day 380: Mattel Masters of the Universe Classics Webstor
Day 385: Mattel Masters of the Universe Classics Draego-Man
Day 386: Mattel Masters of the Universe Classics Fearless Photog
Day 401: Mattel Masters of the Universe Classics Thunder Punch He-Man
Day 403: Mattel Masters of the Universe Classics Preternia Disguise He-Man
Day 410: Mattel Masters of the Universe 200X Ram Man
Day 413: Mattel Masters of the Universe Classics Evil-Lyn
Day 420: Mattel Masters of the Universe 200X Venom-Spitting Khan
Day 424: Mattel Masters of the Universe Classics Wun-Dar
Day 430: Mattel Masters of the Universe Classics Horde Prime
Day 432: Mattel Masters of the Universe 200X Mekaneck
Day 438: Mattel Masters of the Universe Classics Tri-Klops
Day 449: Mattel Masters of the Universe Classics Stinkor
Day 454: Mattel Masters of the Universe Classics Mighty Spector
Day 459: Mattel Masters of the Universe Classics Fisto
Day 465: Mattel Masters of the Universe Classics Snake Man-At-Arms
Day 472: Mattel Masters of the Universe Classics Kobra Khan
Day 478: Mattel Masters of the Universe Classics Sorceress
Day 506: Mattel Masters of the Universe Classics Vykron
Day 531: Mattel Masters of the Universe Classics Dragon Blaster Skeletor
Day 543: Mattel Masters of the Universe Classics Frosta
Day 548: Mattel Masters of the Universe Classics Battleground Evil-Lyn
Day 563: Mattel Masters of the Universe Classics Sir Laser-Lot
Day 565: Mattel Masters of the Universe Classics Cy-Chop
Day 567: Mattel Masters of the Universe Classics Castle Grayskullman
Day 576: Mattel Masters of the Universe Classics Mekaneck
Day 583: Mattel Masters of the Universe Classics Rattlor
Day 589: Mattel Masters of the Universe Classics Battle Armor Faker
Day 596: Mattel Masters of the Universe Classics Dekker
Day 602: Mattel Masters of the Universe Classics Megator
Day 606: Mattel Masters of the Universe Classics Granamyr
Day 614: Mattel Masters of the Universe Classics Spikor
Day 623: Mattel Masters of the Universe Classics King Randor Eternos Palace
Day 632: Mattel Masters of the Universe Classics Faker
Day 641: Mattel Masters of the Universe Classics King Hssss
Day 653: Mattel Masters of the Universe Classics King He-Man
Day 658: Mattel Masters of the Universe Classics Jitsu
Day 664: Mattel Masters of the Universe Classics Fang Man
Day 667: Mattel Masters of the Universe Classics Ram Man