Faceless One
Ancient Lord of Zelsia

Masters of the Universe Classics Action Figure
Item No.: No. T5796
Manufacturer: Mattel
Includes: Havok Staff, green Ram Stone, large cape
Action Feature: n/a
Retail: $20.00
Availability: June 2011
Other: As seen on the 2002 cartoon

PREVIOUS
RSS
NEXT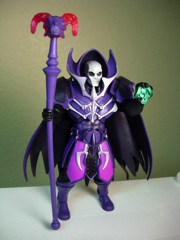 If you read the forums, the Masters of the Universe Classics line is the worst thing ever. I disagree-- even when the figures get weird like the Faceless One here, usually there's something to like. I do have a complainey observation, though, so let's get it out of the way. On the cartoons, he had a glowing, shadowy face-- which I assume is tough to translate to plastic. The actual head of the figure seems quite well defined, unlike other "faceless" toys like The Blank (Dick Tracy) or The Question (DC Universe). Action figures are, like comics or trading cards, another way to interpret characters so some changes are often made to make for a better, more interesting, or cheaper plaything. In the Faceless One's cases, I think it was just a stylistic decision-- because with lips, pronounced lines on his head, a nose, and dark eye sockets, he's not really all that faceless. The head is really cool and a little ghoulish, which I have no problem with, but to make it match the packaging art would probably require some forced painted shadow deco-- which, actually, Hasbro has used and it does look neat when done right.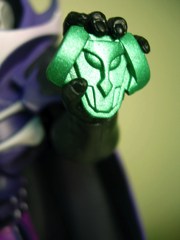 Nikolas Powers' (that's his real name, you see) body is largely held over from Count Marzo, specifically his left amulet-clutching hand and armored legs. The greaves are pretty simple, looking sharp and relatively normal compared to his insanely ornate costume. I'm used to dudes in bandoliers and fluffy underoos, so seeing this guy-- with a decked-out armored skirt and a massive, chunky cape which covers his back and a lot of his front, well, it feels quite different from the rest of the line. He's bulky, he's meaty. The cape holds well, and comes off easily-- very easily. Some figures are next to impossible to get out of the package because of the death grip the cape holds on their necks, but this one came out quite easily. Since it's largely going to be a display piece, that's OK-- I just want it to hang there anyway.
Compared to the art, it's pretty close-- the costume has most of the major elements, but the colors are tweaked and the "skirt" is different. Rather than have his robes reach the floor, they cut off at about the knees. Articulation is standard MOTUC fare, 19 joints (or more, depending on how you count) give him a decent range of movement-- but some of those are going to be restricted by the big bulky plastic costume. If you remove his cape, he can bend his legs a fair amount so it's entirely possible he could be placed in a vehicle someday.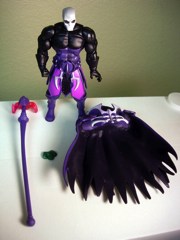 So the sculpt is good, and the gear is acceptable. One accessory is the Skeletor staff with the head cast in clear red and painted purple. If you display it with the light just right, it gives the accessory an otherworldly magic quality which really is nice to see. His other losable item is a ram amulet, or Ramulet. The Ramulet is metallic green and fits nicely into his hand. Like, perfectly. I couldn't ask for an accessory which fits better into a hand than this-- the staff requires low levels of force, but this just plain fits nicely. Oh, and I should note that despite the hands being sculpted like gloves, you can see fingernails and wrinkles on his digits if you look close... so don't look too close.
As Evil-Lyn's dad and a potential baddie who was underused, this figure's greatest success is existing. A limited number of new characters from the 2002 show got made as toys, so it's nice to see one, even if he isn't a perfect translation of the animation model-- he's a neat, evil looking figure and I think that's ultimately what counts. The original guys feel a little more ramshackle, so this figure's elegant lines and additional coloring almost seems out-of-place compared to the almost-naked classic combatants... but I still like it. He'll go on the shelf, in the back, but his presence is such that even on the back shelf, you can't miss this guy and his creepy empty black eye sockets.
--Adam Pawlus
Help 16bit.com!
We get a piece of every purchase you make from our sponsor through this link. If you were going to buy something, click here first and it helps fund the site! Thanks for your support!
Additional Images
Help 16bit.com!
We get a piece of every purchase you make from our sponsor through this link. If you were going to buy something, click here first and it helps fund the site! Thanks for your support!

See more Mattel figures in Figure of the Day:
Day 6: Mattel Masters of the Universe Classics Orko
Day 17: Mattel Masters of the Universe Classics Skeletor
Day 28: Mattel Masters of the Universe Classics Optikk
Day 35: Mattel Xtractaurs Comic Series Battlespike Styracosaurus
Day 41: Mattel Masters of the Universe Classics Chief Carnivus
Day 52: Mattel Masters of the Universe Classics Roboto
Day 90: Mattel Masters of the Universe Classics Mer-Man
Day 143: Mattel Masters of the Universe Classics Shadow Beast
Day 157: Mattel Masters of the Universe Classics Vikor
Day 159: Mattel DC Universe Infinite Heroes Green Lantern Action Figure
Day 165: Mattel Masters of the Universe Meteorbs Dinosorb Action Figure
Day 177: Mattel Masters of the Universe Classics Whiplash Action Figure
Day 179: Mattel DC Universe Infinite Heroes Green Arrow Action Figure
Day 187: Mattel Masters of the Universe Classics She-Ra Action Figure
Day 199: Mattel DC Universe Infinite Heroes Black Canary Action Figure
Day 201: Mattel Masters of the Universe Meteorbs Tuskor Action Figure
Day 235: Mattel Masters of the Universe Classics Catra Action Figure
Day 280: Mattel Masters of the Universe Classics Icarius
Day 296: Mattel Masters of the Universe Classics Snout Spout
Day 318: Mattel Masters of the Universe Classics Bow
Day 319: Mattel M.U.S.C.L.E. Amolman Action Figure
Day 323: Mattel Masters of the Universe Classics Faceless One
Day 328: Mattel Masters of the Universe Classics Battle Armor Skeletor
Day 329: Mattel DC Universe vs. Masters of the Universe Classics Metallic Green Lantern
Day 332: Mattel M.U.S.C.L.E. Springman Action Figure
Day 334: Mattel DC Universe vs. Masters of the Universe Classics Zodac
Day 338: Mattel Masters of the Universe Classics Sy-Klone
Day 343: Mattel Masters of the Universe Classics Battleground Teela
Day 349: Mattel Masters of the Universe Classics Clawful
Day 353: Mattel Masters of the Universe Classics Man-E-Faces
Day 355: Mattel Masters of the Universe Classics Gygor
Day 360: Mattel Masters of the Universe Classics Shadow Weaver
Day 370: Mattel Masters of the Universe Classics Demo-Man
Day 371: Mattel Masters of the Universe Classics Leech
Day 380: Mattel Masters of the Universe Classics Webstor
Day 385: Mattel Masters of the Universe Classics Draego-Man
Day 386: Mattel Masters of the Universe Classics Fearless Photog
Day 401: Mattel Masters of the Universe Classics Thunder Punch He-Man
Day 403: Mattel Masters of the Universe Classics Preternia Disguise He-Man
Day 410: Mattel Masters of the Universe 200X Ram Man
Day 413: Mattel Masters of the Universe Classics Evil-Lyn
Day 420: Mattel Masters of the Universe 200X Venom-Spitting Khan
Day 424: Mattel Masters of the Universe Classics Wun-Dar
Day 430: Mattel Masters of the Universe Classics Horde Prime
Day 432: Mattel Masters of the Universe 200X Mekaneck
Day 438: Mattel Masters of the Universe Classics Tri-Klops
Day 447: Mattel DC Universe Classics All-Stars Batman
Day 449: Mattel Masters of the Universe Classics Stinkor
Day 454: Mattel Masters of the Universe Classics Mighty Spector
Day 459: Mattel Masters of the Universe Classics Fisto
Day 465: Mattel Masters of the Universe Classics Snake Man-At-Arms
Day 472: Mattel Masters of the Universe Classics Kobra Khan
Day 478: Mattel Masters of the Universe Classics Sorceress
Day 498: Mattel Ghostbusters Zuul Action Figure
Day 506: Mattel Masters of the Universe Classics Vykron
Day 531: Mattel Masters of the Universe Classics Dragon Blaster Skeletor
Day 543: Mattel Masters of the Universe Classics Frosta
Day 548: Mattel Masters of the Universe Classics Battleground Evil-Lyn
Day 552: Mattel Back to the Future II Hoverboard Prop Replica
Day 563: Mattel Masters of the Universe Classics Sir Laser-Lot
Day 565: Mattel Masters of the Universe Classics Cy-Chop
Day 567: Mattel Masters of the Universe Classics Castle Grayskullman
Day 576: Mattel Masters of the Universe Classics Mekaneck
Day 583: Mattel Masters of the Universe Classics Rattlor
Day 589: Mattel Masters of the Universe Classics Battle Armor Faker
Day 596: Mattel Masters of the Universe Classics Dekker
Day 602: Mattel Masters of the Universe Classics Megator
Day 606: Mattel Masters of the Universe Classics Granamyr
Day 614: Mattel Masters of the Universe Classics Spikor
Day 623: Mattel Masters of the Universe Classics King Randor Eternos Palace
Day 632: Mattel Masters of the Universe Classics Faker
Day 641: Mattel Masters of the Universe Classics King Hssss
Day 653: Mattel Masters of the Universe Classics King He-Man
Day 658: Mattel Masters of the Universe Classics Jitsu
Day 664: Mattel Masters of the Universe Classics Fang Man

See more Masters of the Universe figures in Figure of the Day:
Day 6: Mattel Masters of the Universe Classics Orko
Day 17: Mattel Masters of the Universe Classics Skeletor
Day 28: Mattel Masters of the Universe Classics Optikk
Day 41: Mattel Masters of the Universe Classics Chief Carnivus
Day 52: Mattel Masters of the Universe Classics Roboto
Day 90: Mattel Masters of the Universe Classics Mer-Man
Day 143: Mattel Masters of the Universe Classics Shadow Beast
Day 157: Mattel Masters of the Universe Classics Vikor
Day 165: Mattel Masters of the Universe Meteorbs Dinosorb Action Figure
Day 177: Mattel Masters of the Universe Classics Whiplash Action Figure
Day 187: Mattel Masters of the Universe Classics She-Ra Action Figure
Day 201: Mattel Masters of the Universe Meteorbs Tuskor Action Figure
Day 235: Mattel Masters of the Universe Classics Catra Action Figure
Day 255: 1SHOT Toys Glyos-Compatible He-Man Thermal Color Change Head
Day 280: Mattel Masters of the Universe Classics Icarius
Day 296: Mattel Masters of the Universe Classics Snout Spout
Day 318: Mattel Masters of the Universe Classics Bow
Day 323: Mattel Masters of the Universe Classics Faceless One
Day 328: Mattel Masters of the Universe Classics Battle Armor Skeletor
Day 334: Mattel DC Universe vs. Masters of the Universe Classics Zodac
Day 338: Mattel Masters of the Universe Classics Sy-Klone
Day 343: Mattel Masters of the Universe Classics Battleground Teela
Day 349: Mattel Masters of the Universe Classics Clawful
Day 353: Mattel Masters of the Universe Classics Man-E-Faces
Day 355: Mattel Masters of the Universe Classics Gygor
Day 360: Mattel Masters of the Universe Classics Shadow Weaver
Day 370: Mattel Masters of the Universe Classics Demo-Man
Day 371: Mattel Masters of the Universe Classics Leech
Day 380: Mattel Masters of the Universe Classics Webstor
Day 385: Mattel Masters of the Universe Classics Draego-Man
Day 386: Mattel Masters of the Universe Classics Fearless Photog
Day 401: Mattel Masters of the Universe Classics Thunder Punch He-Man
Day 403: Mattel Masters of the Universe Classics Preternia Disguise He-Man
Day 410: Mattel Masters of the Universe 200X Ram Man
Day 413: Mattel Masters of the Universe Classics Evil-Lyn
Day 420: Mattel Masters of the Universe 200X Venom-Spitting Khan
Day 424: Mattel Masters of the Universe Classics Wun-Dar
Day 430: Mattel Masters of the Universe Classics Horde Prime
Day 432: Mattel Masters of the Universe 200X Mekaneck
Day 438: Mattel Masters of the Universe Classics Tri-Klops
Day 449: Mattel Masters of the Universe Classics Stinkor
Day 454: Mattel Masters of the Universe Classics Mighty Spector
Day 459: Mattel Masters of the Universe Classics Fisto
Day 465: Mattel Masters of the Universe Classics Snake Man-At-Arms
Day 472: Mattel Masters of the Universe Classics Kobra Khan
Day 478: Mattel Masters of the Universe Classics Sorceress
Day 506: Mattel Masters of the Universe Classics Vykron
Day 531: Mattel Masters of the Universe Classics Dragon Blaster Skeletor
Day 543: Mattel Masters of the Universe Classics Frosta
Day 548: Mattel Masters of the Universe Classics Battleground Evil-Lyn
Day 563: Mattel Masters of the Universe Classics Sir Laser-Lot
Day 565: Mattel Masters of the Universe Classics Cy-Chop
Day 567: Mattel Masters of the Universe Classics Castle Grayskullman
Day 576: Mattel Masters of the Universe Classics Mekaneck
Day 583: Mattel Masters of the Universe Classics Rattlor
Day 589: Mattel Masters of the Universe Classics Battle Armor Faker
Day 596: Mattel Masters of the Universe Classics Dekker
Day 602: Mattel Masters of the Universe Classics Megator
Day 606: Mattel Masters of the Universe Classics Granamyr
Day 614: Mattel Masters of the Universe Classics Spikor
Day 623: Mattel Masters of the Universe Classics King Randor Eternos Palace
Day 632: Mattel Masters of the Universe Classics Faker
Day 641: Mattel Masters of the Universe Classics King Hssss
Day 653: Mattel Masters of the Universe Classics King He-Man
Day 658: Mattel Masters of the Universe Classics Jitsu
Day 664: Mattel Masters of the Universe Classics Fang Man