Glove
with Love Base (and John Lennon)

Yellow Submarine Action Figures
Item No.: n/a
Manufacturer: McFarlane Toys
Includes: John Lennon figure
Action Feature: n/a
Retail: $10ish
Availability: September 1999
Other: Released on blister or clamshell packaging

PREVIOUS
RSS
NEXT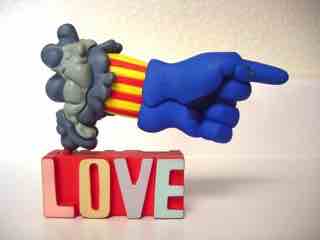 In the movie Yellow Submarine-- which you should probably make sure you see before you turn 20-- the fab four are going alone a magical world and they face all sorts of obstacles, including the vile Blue Meanies. They have a number of agents, including this Glove here. He's got an eye for a thumbnail, and the base is actually representative to a change in this handy fellow near the end of the movie when John Lennon (which is bundled with this figure when sold "individually") sings "All You Need Is Love" at it.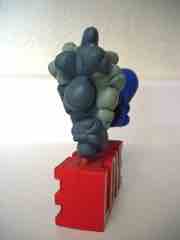 As a sidekick figure, this is an impressive release-- it's easy to forget now, but McFarlane Toys used to go absolutely nuts when it came to accessories. This was sold with a Beatle, and while its articulation is limited to a joint where the glove's smoke touches the base, it's a great sculpt with fabulous coloring. It looks so bright and colorful, like someone really did capture a 2D image and bring it into our world in a skillful way. There are multiple shades of blue and grey on the hand alone, plus lots of other color on the base and elsewhere on the Glove which just looks super-cool. Seriously, look at the thing-- if Hallmark released this as an ornament or a statue or something, it'd probably be $25, and McFarlane bundled with with John Freaking Lennon for roughly the price of a piece of paper with Andrew Jackson's face on it. Obviously it's not a toy as such, but as a decoration or a desk thing, it's gorgeous!
The line kicked off as an incredibly hot commodity, like most of McFarlane's music lines, but reissues and time have tempered the price down below $10. So if you want this awesome 6-inch long, 4 1/2-inch tall figurine, go get it before the world wakes up and realizes it should cost more money. (And that's not even considering the John Lennon figure.)
--Adam Pawlus
Additional Images
Help 16bit.com!
We get a piece of every purchase you make from our sponsor through this link. If you were going to buy something, click here first and it helps fund the site! Thanks for your support!

See more McFarlane Toys figures in Figure of the Day:
Day 147: McFarlane Toys Yellow Submarine John Lennon Action Figure
Day 155: McFarlane Toys Yellow Submarine Love Glove Action Figure
Day 168: McFarlane Toys Yellow Submarine Ringo Starr Action Figure
Day 184: McFarlane Toys Yellow Submarine Jeremy Action Figure
Day 197: McFarlane Toys Yellow Submarine Paul McCartney Action Figure
Day 357: McFarlane Toys The Maxx Action Figure

See more Music figures in Figure of the Day:
Day 147: McFarlane Toys Yellow Submarine John Lennon Action Figure
Day 151: Funko Music Pop! Vinyl Ozzy Osbourne Vinyl Figure
Day 155: McFarlane Toys Yellow Submarine Love Glove Action Figure
Day 168: McFarlane Toys Yellow Submarine Ringo Starr Action Figure
Day 184: McFarlane Toys Yellow Submarine Jeremy Action Figure
Day 197: McFarlane Toys Yellow Submarine Paul McCartney Action Figure
Day 213: NECA Iggy Pop Action Figure
Want to buy this figure? Check Beatles availability at our sponsors:
Entertainment Earth