Ozzy Osbourne
Vinyl Collector Figure

Music Pop! Rock Vinyl Figure #12
Item No.: 2311
Manufacturer: Funko
Includes: n/a
Action Feature: n/a
Retail: $9.99
Availability: February 2011
Other: ex-Black Sabbath

PREVIOUS
RSS
NEXT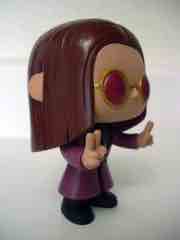 One of the things about Funko's Pop! Vinyl line is that they really went out of their way to touch on as much as possible-- while video games seem to be ignored so far, they did tap musicians like Ozzy Osbourne as well as Run DMC, Public Enemy, and, of course, Elvis. (Isn't there something wonderful about all these guys being placed in the same toy line?) Ozzy's look is a little more modern, with longer, straight hair, his round glasses, and a coat which I gotta say I don't recognized. (I also don't profess to be an expert on the many looks of the Prince of Darkness here.)
One of the dangers-- or advantages-- of this 4-inch figure format is that it smooths out any rough edges, and Ozzy has a lot of jagged edges. The figure is undeniably cute, with a subtle bump on his head for a nose, no visible mouth (much like Hello Kitty) and a smattering of accessories like rings, a necklace, and his boots. It's undoubtedly Ozzy but it's really weird to think of the guy who's known for some eerie rock and being the face of an entire genre of music to much of the USA as an adorable plastic figure.
With only head articulation, Ozzy is effectively a nice desk accessory or statue, and doesn't make much of a plaything. I don't think Ozzy would enjoy you playing with him anyway, but it's a really neat stylized figure which would look good hanging around your stereo or (assuming you're old enough to have any) CD collection. Do kids still have CDs? I assume so. Here's hoping future releases include Alice Cooper and Devo! Funko's off to a great start with this range.
--Adam Pawlus
Additional Images
Help 16bit.com!
We get a piece of every purchase you make from our sponsor through this link. If you were going to buy something, click here first and it helps fund the site! Thanks for your support!

See more Funko figures in Figure of the Day:
Day 1: Funko Force 2.0 Comic-Con Exclusive Batman
Day 80: Metallic Cobra Commander Wackly Wobbler
Day 120: Funko Gremlins Pop! Vinyl Stripe Vinyl Figure
Day 126: Funko Beetlejuice Pop! Vinyl Beetlejuice Vinyl Figure
Day 131: Funko Thor Pop! Vinyl Thor Vinyl Figure Bobble Head
Day 141: Funko Thor Pop! Vinyl Loki Vinyl Figure Bobble Head
Day 151: Funko Music Pop! Vinyl Ozzy Osbourne Vinyl Figure
Day 160: Funko G.I. Joe "Pimp Daddy" Destro
Day 207: Funko Disney Pop! Vinyl Mr. Incredible Vinyl Figure
Day 224: Funko Batman Blox Vinyl Batman Vinyl Figure
Day 249: Funko Marvel Universe Pop! Vinyl Iron Man Vinyl Figure Bobble Head
Day 293: Funko Disney Pop! Vinyl Mike Wazowski Vinyl Figure
Day 306: Funko Marvel Universe Pop! Vinyl The Hulk Vinyl Figure Bobble Head
Day 345: Funko Disney Pop! Vinyl Sulley Vinyl Figure
Day 427: Funko Marvel Universe Pop! Vinyl SDCC Exlusive Spider-Man Vinyl Figure Bobble Head

See more Music figures in Figure of the Day:
Day 147: McFarlane Toys Yellow Submarine John Lennon Action Figure
Day 151: Funko Music Pop! Vinyl Ozzy Osbourne Vinyl Figure
Day 155: McFarlane Toys Yellow Submarine Love Glove Action Figure
Day 168: McFarlane Toys Yellow Submarine Ringo Starr Action Figure
Day 184: McFarlane Toys Yellow Submarine Jeremy Action Figure
Day 197: McFarlane Toys Yellow Submarine Paul McCartney Action Figure
Day 213: NECA Iggy Pop Action Figure
Want to buy this figure? Check Funko Pop! Vinyl availability at our sponsors:
Entertainment Earth