Witch
Blind Packed Minifigure

LEGO Minifigures Series 2
Item No.: 8684
Manufacturer: LEGO
Includes: Stand, hat, broom
Action Feature: n/a
Retail: $2.99
Availability: August 2010
Other: #4 in a collection of 16

PREVIOUS
RSS
NEXT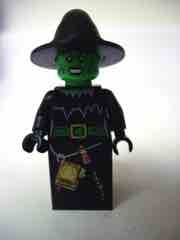 One of the really great things about the LEGO Minifigures range is that you get to see LEGO artists make some really great figures using, on the whole, really old parts. The Witch hat has been around for years, and this isn't even the first witch figure-- there was a yellow-headed one with bad teeth in the 1990s as part of a castle theme which ended up getting dumped at Kay-Bee Toy Stores on the cheap. (Yes I bought one, yes I was in college, and yes, I managed to somehow haul it back while riding my bike. Don't judge me, you read this, that makes you an enabler.) This time around, she looks a little more traditional-- or should I say trad-witch-ional? (No, I shouldn't.)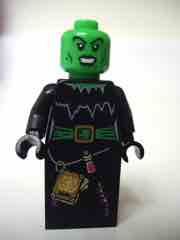 The weird thing about this figure is that without a nose, I'm not entirely sure what kind of witch they're going for. Clearly this isn't a "good witch," but I mean is this supposed to be a "hot witch," which is, of course, an insane discussion to have with one's self when referring to a small, non-sexual block figure meant for children. The eyebrows, makeup, bright white teeth, and nice cheekbones make me think they're going for something hotter, but there some dark green warts. Maybe they're beauty marks, I don't know, it's tough to tell after you've grown up in the post-Cindy Crawford world. I figure they'd have tacked on a few more wrinkles if they were going for "ugly" with this figure's deco, they've done those before on the zombie and, of course, Darth Vader. Some figures even have some sort of smile lines.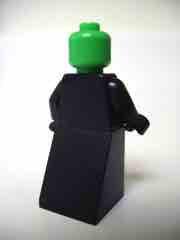 The main reason to get this figure-- or any of these figures-- is to augment something you're already building. As a collectible thing, the fun wears out pretty quick, but if you play with them or add them to your LEGO castles and towns, I think you're in for a treat. The witch eschews the traditional legs in favor of a sloped brick, so she doesn't have any articulation other than her head and arms. This is OK, though, because there are some great details on her dress like the spellbook with a frog skeleton and the word "Spells" written on the cover, complete with a purple bookmark. The level of detail is higher than you might expect for a LEGO figure, so I can safely say that of series 2, this is one of the highlights-- do get one, given the chance.
--Adam Pawlus
Help 16bit.com!
We get a piece of every purchase you make from our sponsor through this link. If you were going to buy something, click here first and it helps fund the site! Thanks for your support!

See more LEGO figures in Figure of the Day:
Day 2: LEGO Minifigures Series 2 Disco Dude
Day 33: LEGO Minifigures Series 1 Super Wrestler
Day 36: LEGO Minifigures Series 2 Mime
Day 38: LEGO Minifigures Series 2 Karate Master
Day 77: LEGO Minifigures Series 1 Ninja
Day 85: LEGO Minifigures Series 1 Spaceman
Day 106: LEGO Minifigures Series 2 Witch
Day 123: LEGO Minifigures Series 1 Robot
Day 130: LEGO Ninjago 2112 Cole Action Figure
Day 136: LEGO Bionicle 8563 Tahnok Action Figure
Day 148: LEGO Minifigures Series 1 Cheerleader
Day 152: LEGO Minifigures Series 1 Crash Test Dummy
Day 161: LEGO Minifigures Series 1 Forestman
Day 174: LEGO Minifigures Series 3 Gorilla Suit Guy
Day 176: LEGO Minifigures Series 3 Mummy
Day 181: LEGO Bionicle 8534 Tahu Action Figure
Day 182: LEGO Minifigures Series 3 Sumo Wrestler
Day 188: LEGO Minifigures Series 3 Tennis Player
Day 190: LEGO Minifigures Series 3 Rapper
Day 195: LEGO Minifigures Series 3 Space Alien
Day 198: LEGO Minifigures Series 1 Deep Sea Diver
Day 215: LEGO Minifigures Series 3 Fisherman
Day 218: LEGO Minifigures Series 2 Weightlifter
Day 220: LEGO Bionicle Stars 7116 Tahu Action Figure
Day 225: LEGO Minifigures Series 3 Baseball Player
Day 239: LEGO Minifigures Series 2 Lifeguard
Day 260: LEGO Minifigures Series 2 Ringmaster
Day 267: LEGO Minifigures Series 3 Tribal Chief (Indian)
Day 275: LEGO Minifigures Series 2 Traffic Cop
Day 347: LEGO Minifigures Series 4 Punk Rocker
Day 358: LEGO Minifigures Series 3 Pilot
Day 368: LEGO Minifigures Series 5 Lizard Man
Day 378: LEGO Minifigures Series 5 Lumberjack
Day 389: LEGO Minifigures Series 5 Evil Dwarf
Day 402: LEGO Minifigures Series 4 Crazy Scientist
Day 414: LEGO Minifigures Series 5 Gangster
Day 422: LEGO Minifigures Series 5 Ice Fisherman
Day 434: LEGO Minifigures Series 4 Artist
Day 452: LEGO Minifigures Series 4 Hazmat Guy
Day 455: LEGO Minifigures Series 7 Computer Programmer
Day 462: LEGO UFO Shell Exclusive Spacecraft
Day 467: LEGO Minifigures Series 4 The Monster
Day 474: LEGO Minifigures Series 6 Intergalactic Girl
Day 489: LEGO Minifigures Series 6 Clockwork Robot
Day 501: LEGO Minifigures Series 6 Classic Alien
Day 522: LEGO Minifigures Series 6 Genie
Day 535: LEGO Minifigures Series 4 Kimono Girl
Day 535: LEGO Minifigures Series 4 Werewolf
Day 633: LEGO Minifigures Series 7 Galaxy Patrol

Want to buy this figure? Check LEGO availability at our sponsors:
Entertainment Earth