Ostriches Set
The other other white meat

African Safari Playmobil Set
Item No.: No. 4831
Manufacturer: Playmobil
Includes: 2 ostriches, eggs, nest
Action Feature: n/a
Retail: $8.99
Availability: Spring 2010 (USA)
Other: Some US-exclusive mass-market sets include the ostriches in a different set configuration

PREVIOUS
RSS
NEXT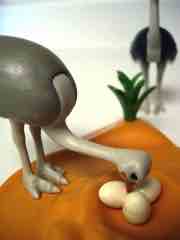 I don't know what took so long, but this is the first Playmobil set I'm reviewing. I'm a huge fan of the line, I had a few sets as a kid and then in college I found out there was a homeless guy being blown out via mail order... which I missed out on until several years later when I bought it on eBay. Hundreds of dollars (and sets) later... well, here's the Ostriches Set, part of the African Safari line that popped up in the USA in 2010.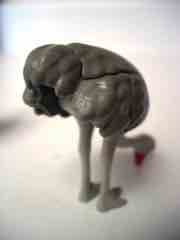 At about 3-inches tall, each ostrich has two points of articulation. The neck can move, and so can the legs-- and that's it. This allows the figure to do things like a normal ostrich, like stand... and maybe look around a bit. That's all they do, right? Stand and be expensive, gourmet hamburger meat substitute? Because of their status as a meat substitute, the wings are not articulated despite being a separate molded piece. It really does enrich their appearance, but it doesn't make them extra fun or anything. Well, I guess you can pose them to moon you, that's pretty cool.
While limited articulation isn't unusual for Playmobil animals or figures, but the German toymaker opted to make the legs totally removable. As you can see in the photos, this allows one of these birds to "hatch" the egg accessory in a little dirt nest. Clever! They pop on and off fairly easily.
One thing that fascinates me to no end is that most Playmobil toys' color comes from plastic, not paint. Playmobil figures' eyes and mouth are actually injection-molded brown plastic, and animals are constructed similarly in many cases. The ostriches seem to have molded black eyes and orange beaks, which gives them a very distinctive (more expensive) appearance. The plastic color they use is pretty much textured like the many animals produced over the years, giving the ostrich little tiny almost invisible streaks of color. Since the Playmobil MO is basically to look vaguely like a child's drawing, this gives it a subtle, nuanced, scribbly appearance which really works nicely.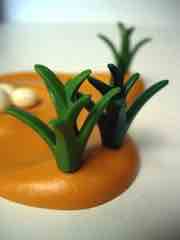 The display base is... well, it's a display base. You can plug in some shrubs and stick the eggs on it. It's a nice accessory that helps display the figures, so if you're an adult with a thing for large flightless birds this might be a good desk accessory for you. Since the set has two birds-- one mostly grey, and one black with white-- you get the beginnings of a fine feathered family, or an expensive lunch at the Fuddrucker's.
If you can't get enough ostriches-- or don't like this set-- Target and Toys "R" Us sold an exclusive smaller safari outpost set in late 2010 that essentially remixed the entire theme's sets at a lower cost. If you're lucky, you might still be able to find them. (You are not lucky.) I like this set a lot, for eight or nine bucks it's a fun addition to the ever-growing German plastic zoo that, as of now, really could use a wooly mammoth. (Get on that, Germany.)
--Adam Pawlus
Help 16bit.com!
We get a piece of every purchase you make from our sponsor through this link. If you were going to buy something, click here first and it helps fund the site! Thanks for your support!
Additional Images

See more Playmobil toys in Figure of the Day:
Day 94: Playmobil African Safari 4831 Ostriches Set
Day 125: Playmobil Specials 4683 Mongollian Warrior Action Figure
Day 132: Playmobil Specials Cave Man Action Figure
Day 140: Playmobil Specials Palace Guard Action Figure
Day 163: Playmobil Figures Ghost Action Figure
Day 186: Playmobil Top Agents Secret Agent Action Figure
Day 266: Playmobil Dinosaurs 4173 Pteranodon
Day 271: Playmobil "Fi?ures" Figures Uncle Sam Action Figure
Day 276: Playmobil "Fi?ures" Figures Zorro Action Figure
Day 322: Playmobil Treasure Hunters 4848 Temple Guardian Figure
Day 363: Playmobil www.tourismus.nuernberg.de 6107 Albrecht Durer Figure